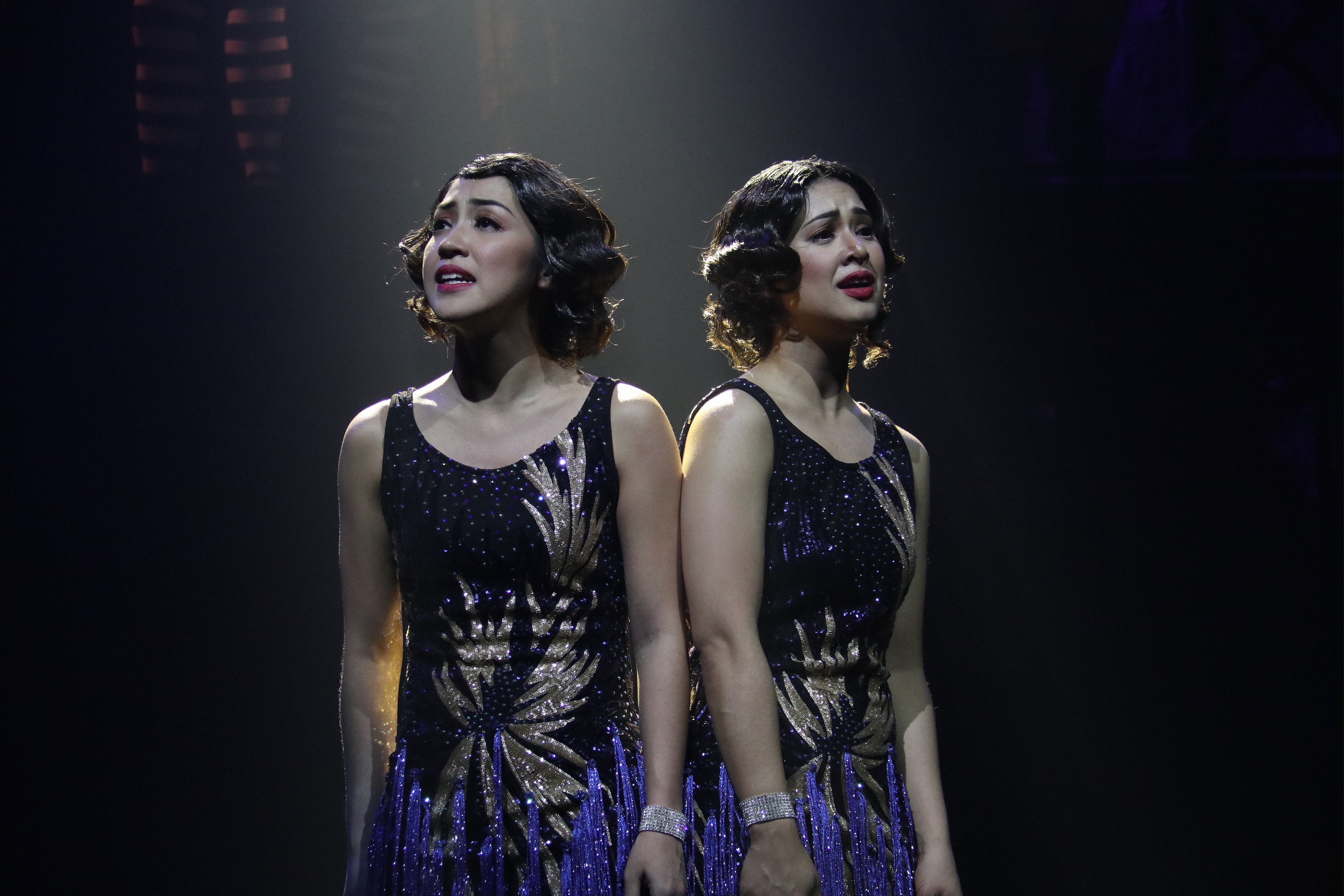 REVIEW: Leading ladies take center stage in "Side Show"
Daisy and Violet Hilton were spectacles all their lives. Born conjoined in the early 20th century, with medicine and society not knowing what to make of them, they were fated to become side show acts. They were ogled at in life and beyond, it seems, with Bill Russell's Side Show being its own spectacle, giving the twins' story a glitzy treatment that turned tragical real life into glamorized family-friendly musical.
Atlantis Theatrical Entertainment Group (ATEG) brings this musical at a time where differences are celebrated, accepted, and denigrated in equal measure. It's not utopia, but it's a lot better than nearly a century ago. Women, too, have a lot more options than choosing to be with whichever man will exploit them the least. We can now view their story in hindsight, as entertainment with catchy songs and dazzling stagecraft.
The material sticks with the frivolities; the piquant personal drama, the vaudeville circuit. Even with director Steven Conde's somber approach, Russell's book isn't one for moral lessons, itself a form of putting the Hiltons on display as they were in their life. It does feature beautiful music (Henry Krieger), and this particular staging offers up a production that is heartily enjoyable, subject matter notwithstanding.
The ringmaster (Wency Cornejo) introduces his line-up as though a rare collection. While some have quirky talents like a geek (of the eating-live-chickens sort) and a fortune teller, most are there simply because they don't look like every one else. His headliner was a pair of twins, Daisy (Gab Pangilinan) and Violet (Kayla Rivera), literally joined at the hip. Despite their 'malformation', or so the musical called it, they had beautiful voices.
Their singing attracted Terry (Markki Stroem), a talent scout, and Buddy (David Ezra), a musician, who lured them away from their hard life as side show acts to become vaudeville stars with Jake (Arman Ferrer), the side show's cannibal, in tow. They enjoy professional success, but their personal lives are understandably tangled. They become involved with Buddy and Terry, and their love stories are just as arduous as you'd expect falling in love as a conjoined twin.
Suddenly, the show about two ostracized women trying to build a better life for themselves turns into a complicated love pentagon. Buddy asks Violet to marry him, while Terry grapples with his own feelings for Daisy. Right before Buddy and Violet's wedding, a producer (flimsily played by Chesko Rodriguez) gives them a motion picture offer. Buddy tries to call it off, and and Jake confesses that he's in love with Violet. With the public waiting for a conjoined twin's wedding, and a movie deal on the line, Daisy asks Terry to marry her instead. When Terry was unwilling, Daisy urges her sister and Buddy to go through the wedding anyway, to benefit their careers.
The show ends in a bout of painful irony, beautifully staged with haunting and haunted looks from Pangilinan and Rivera. You can take the twins away from the circus, but you can't take the circus out of the twins.
Conde leans into the romance, with the romantic numbers being the show's most stand-out moments. From the twins' lamentation of whether anyone will love them ("Who Will Love Me as I Am?"), to Jake's expression of unrequited love (Ferrer's show-stopping take of "You Should Be Loved") and Terry imagining a life with Daisy if he could ever get her alone (the stirring "Private Conversation" as a waltz, dreamily performed by Stroem and Pangilinan).
The parade of "freaks" had distinct looks and quirks. While the material didn't afford them much depth, the ensemble sang so beautifully, it puts the music at the forefront. Ring Antonio, especially, was excellent in her turn as the Hilton sisters' opportunist caretaker. Cornejo, on the other hand, gave a contrived performance from start to finish as Sir, the insidious menace of this abusive guardian reduced to a nearly incoherent drawl.
It's the Hiltons who are rightly the center, and Pangilinan and Rivera exuded charm and likability that made everyone want to root for them— audience included. They're not so much synchronized as they are in sync, moving together but distinctly different in every way. Rivera is more subdued and introverted (perhaps by design) while Pangilinan is the more commanding of the two. This was Pangilinan's biggest leading role to date, and she proved so charismatic, that she gave Daisy a fire that was more than ambition, but a great longing for independence and a poignant ache that she can't have it.
Lawyn Cruz's set design is that of a dingy backstage, giving every scene a gritty feel, whether it's backstage of a shady circus, or a glamorous high society party. Odelon Simpao's costume, Johann dela Fuente's hair and make up, and Jonjon Villareal's lighting design cut through the drab, especially Simpao's eye-catching costumes for the "freaks", and the many dresses and gowns the twins donned throughout the show.
Add Side Show to the list of well-staged Broadway fares from ATEG. Conde has put together a tight show, with central performances from leading ladies that give humanity and depth to the real Daisy and Violet Hilton.
Comments