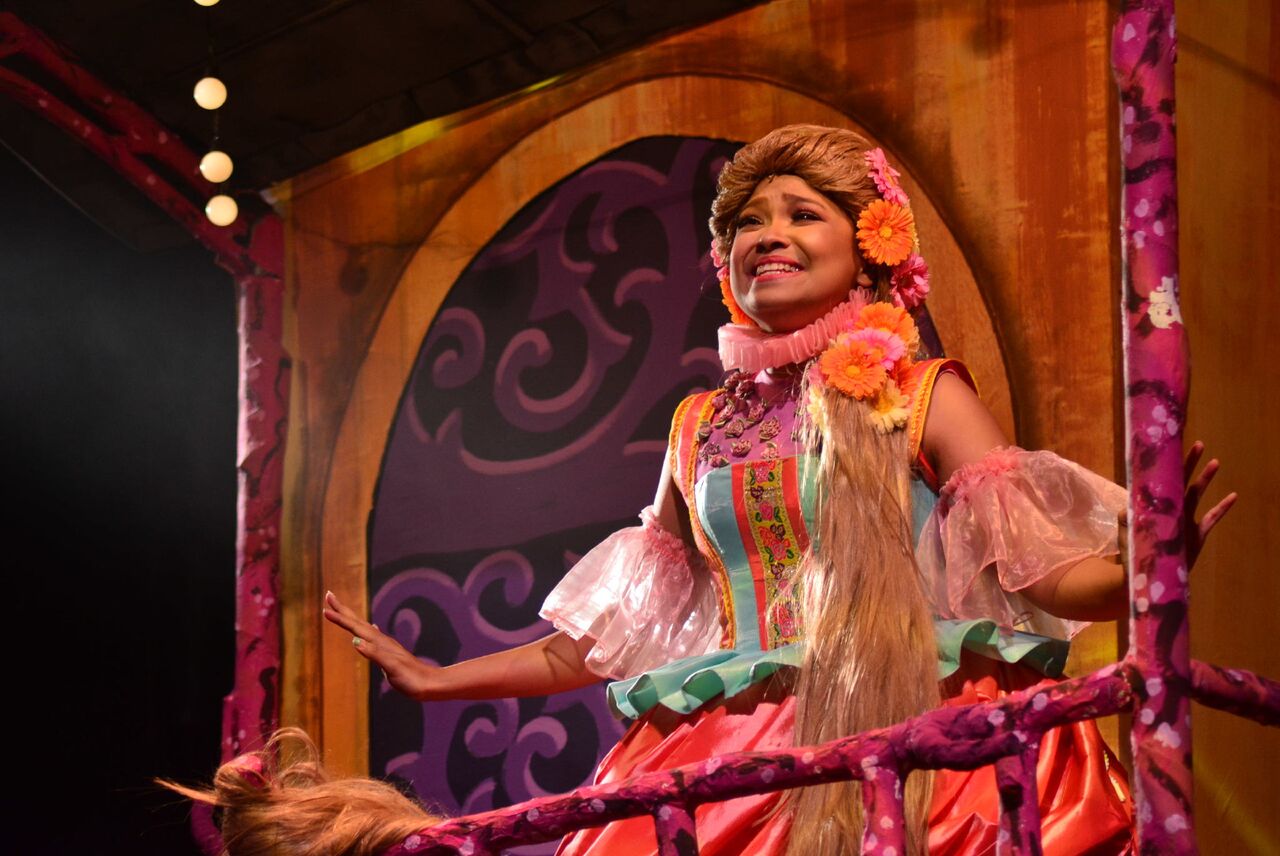 REVIEW: "Rapunzel" is a charming and disarming tale
In an age where the Disney channel is probably readily available on any mom's phone, it was quite refreshing to see a packed theater of kids eager to experience a live theatrical show. Repertory's Theater for Young Audiences continues with its tradition of staging lively children's shows with this year's "Rapunzel, Rapunzel: A Very Hairy Fairy Tale".
A very… hairy fairy tale, you ask? Yes, you read that right. While the show is indeed an adaptation of the classic children's story, that of a fair maiden trapped in a tower whose only access to the outside world is to let down her very long hair, REP adds a comical twist to this latest rendition, based on the story, music and lyrics of Janet Yates Vogt and Mark Friedman.
Amidst a colorful forest backdrop and a prominent tower to the side, a dignified purple dragon named Socrates (played by Raymund Concepcion) regales the audience with the story of a lady stuck in a tower. Rapunzel (played by Justine Narciso) rightful heir to the kingdom, is hidden away by her scheming aunt Lady Zaza (played by Mikkie Bradshaw-Volante). Lady Zaza, with her giant hoop skirt and an even bigger fringe haircut, hopes to keep Rapunzel away until after her 18th birthday so that she could usurp the throne.
Thwarting that plan however is Sir Roderick (played by Hans Eckstein), who after being bored with slaying dragons, has decided that his next quest is to rescue Rapunzel before Lady Zaza is crowned queen. With him is his best friend Edgar (played by Chino Veguillas), hair stylist extraordinaire of the kingdom, who is also on his own personal quest to find the perfect head of hair. While scouring the deep, dank, dark forest, they run into a gypsy woman (played by Bituin Escalante) whose magical necklace was stolen by Lady Zaza.
The story is simple and straightforward as expected from a children's show. The plot is cute and quirky, and the music is fun and lively. Director Joy Virata shows her subject mastery in keeping everything light, vibrant, and succinct. Costume designer Raven Ong should also certainly be noted for whipping up a whimsical feast for the eyes.
The charm of Rapunzel however is anchored on the dedication of its cast and crew. They have obviously gone all in for the kids (and the kids-at-heart). No joke was too corny to make, no dance move too exaggerated to do, and no accent too ridiculous to express. There were many instances when the characters would look directly into the crowd and ask the kids' involvement, and it was clear that the audience's enthusiasm energized the actors even more. In fact, the whole cast stays on after the show to say hello and take pictures with their new fans.
Repertory can certainly include Rapunzel in their long list of its successful children's shows. It's a great bonding experience for families, and hopefully a great introduction to theater for first-time young audiences.
Comments