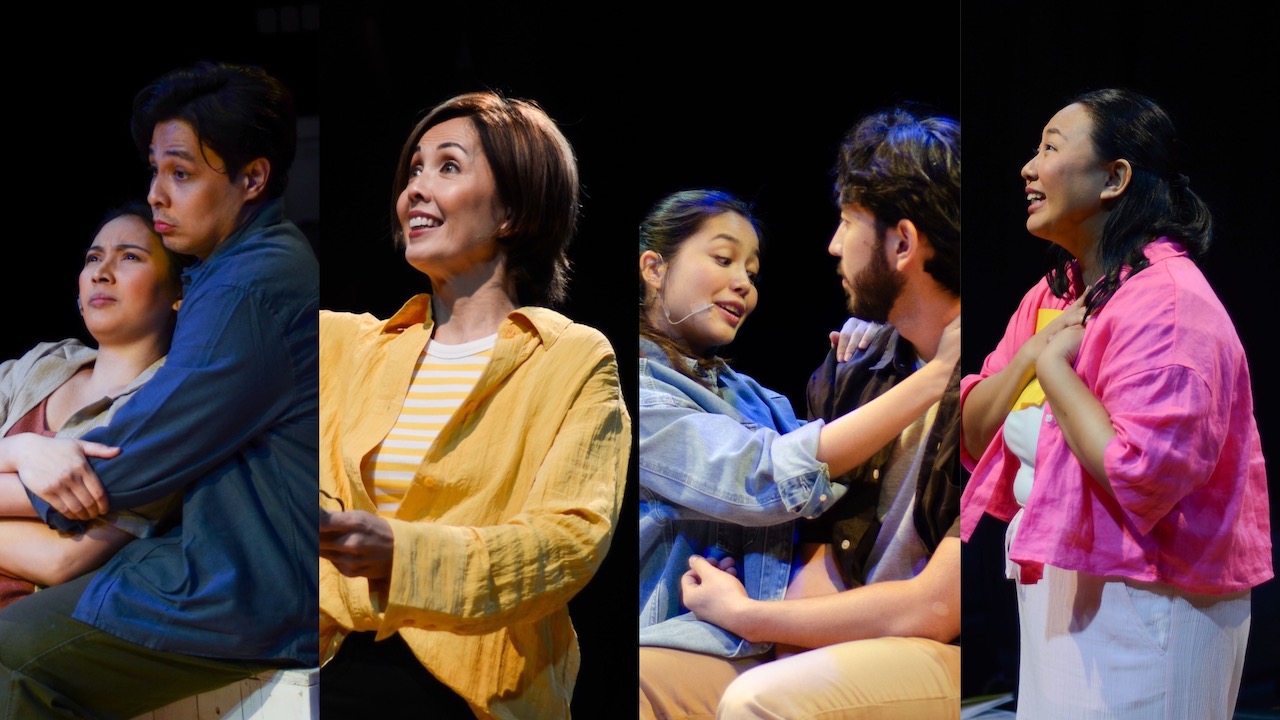 REVIEW: 'Lungs' and 'Every Brilliant Thing' are intense rollercoasters of emotions
You know it's a good production when a large part of the audience collectively cries *on cue* during a specific moment. You know it's worth watching when people next to you gasp and you feel the shock, disbelief, and even disgust reverberating after a character's big revelation. 
Presented as a twin-bill experience, Lungs and Every Brilliant Thing by The Sandbox Collective are definitely not for those looking to escape reality. Both plays tackle subjects that are so heavy, the audience is advised that mental health professionals are on standby if they need help processing what they've just watched. 
With both scripts written by Duncan McMillan, these productions directed by Caisa Borromeo (Lungs) and Jenny Jamora (Every Brilliant Thing) speak to their audience in the most personal way. Both are staged in the round with limited set and lighting design, making for an even more intimate, shared experience. 
Lungs 
Lungs gives its audience a front-seat view of a young couple's funny, dramatic, and painfully honest conversation as they decide whether to have a child or not. What starts as a simple discussion blows up as they worry endlessly about their carbon footprint and whether it's right to create another person in the midst of all this chaos.  
The show was first staged by The Sandbox Collective in 2018, with Jake Cuenca making his theatrical debut starring opposite Sab Jose. The 2023 cast marks Jose's return as "W" opposite Reb Atadero as "M", as they alternate with Justine Peña and Brian Sy. 
Atadero and Jose's performances, as the younger generation would say, projected "golden retriever" and "black cat" energy. Atadero was the smiley, relatively chill boyfriend while Jose was an anxious, responsible overthinker whose brain never seemed to stop. Atadero made it easy for the audience to root for his character…up until a key point in the story. 
When it came to Peña and Sy, it somehow felt like the roles were reversed. Sy's character was more serious, surer of what he wanted from the start. Peña's anxious monologues were less intense and sounded younger, more innocent. She was so vulnerable and raw, you couldn't help but be heartbroken for her character. 
There are no props, costume changes, or elaborate background music for Lungs. The beauty of this staging is that it's not just the actors telling the story—the emotions of fellow audience members will greatly affect one's viewing experience and will pull you in as you become more invested in the couple's lives. 
Lungs is a wild rollercoaster of emotions packed in an 80–minute performance. You will laugh, you will cry, you may desperately want to be in a relationship because of one scene and completely swear off love due to another. It shows the audience that it's never "just a conversation". A simple discussion between two individuals can evolve and take on a life of its own. It also shows how people you loved and trusted—even "good people"—could change in the blink of an eye. 
Every Brilliant Thing 
In Every Brilliant Thing, we are introduced to the Narrator, an individual whose mother is dealing with severe depression. We watch as the Narrator comes up with a list of "brilliant things" for their mom at only seven years old—things they believe make life worth living such as ice cream, water fights, and "staying up past your bedtime and being allowed to watch TV." We follow their journey as they go to college, fall in love, and discover just how big an impact the list has made in their life. 
The show was first staged in the Philippines in February 2019. This year, Teresa Herrera and Kakki Teodoro are back to show the audience many brilliant things as they reprise their roles and alternate as the Narrator. Jon Santos will also be helming the one-man show for select dates in July, with a Filipino-translated script by Guelan Luarca. 
With one material, Teodoro and Herrera's performances—and Jenny Jamora's direction—made the audience feel like they were taking part in two very different shows. Every Brilliant Thing with Teodoro was performed in a mix of Tagalog and English. The Narrator would refer to her younger self as "a seven-year-old baby girl" and her long list of brilliant things even included Jericho Rosales and Katinko! Teodoro effortlessly commanded the stage and gave the production a more "localized", relatable feel. 
Meanwhile, Herrera as the Narrator was performed in the original English script, transporting the audience to the USA and Los Angeles. This version was more serious and to the point, highlighting the play's grave subject matter and why it's important to be present for the people in your life. 
Since it's interactive and relies on the audience to play different characters such as the Narrator's father and love interest, no production of Every Brilliant Thing is ever the same. It's delightful to see audience members help drive and create the story, with moral support from a crowd that just minutes ago were complete strangers to them. Many were nervous, of course. But Teodoro and Herrera, smoothly navigated their way through audience members' varied degrees of enthusiasm as they suddenly found themselves thrown into the spotlight. 
At one point in the story, the Narrator tells us: "If you live a long life and you get to the end of it without ever once feeling crushingly depressed, then you probably haven't been paying attention." This staging comes at a very apt time as many Filipinos are struggling with their mental health, personal relationships, and grief, especially after the height of the COVID-19 pandemic. 
While the show highlights the gravity of experiencing depression, it leaves the audience feeling hopeful, too. Things may be hard but there are people who love you, people who will remind you of all the brilliant things life has to offer. Every Brilliant Thing could be the push one needs to check on friends, family members, and even acquaintances whom you might not see as much. 
Both Lungs and Every Brilliant Thing are moving reminders of why we go to the theater in the first place. These productions are not meant to be an "escape", but rather eye-openers about real-life issues that people are actually struggling with. 
Tickets: 

Php 2,389.20 - Php 3,801.00  


Show Dates: June 17 - July 15, 2023 
Venue: 

Zobel de Ayala Recital Hall, Maybank Performing Arts Theater


Running Time: 

approximately 80 minutes (Lungs) and 70 minutes (Every Brilliant Thing), with a 20-minute intermission  


Credits: 

Duncan Macmillan (Playwright), Caisa Borromeo (Director, Lungs), Jenny Jamora (Director, Every Brilliant Thing), Guelan Luerca (Translator, Every Brilliant Thing), Jodinand Aguillon (Set Designer), Miggy Panganiban (Lighting Designer), Arvy Dimaculangan (Sound Designer), Krystale Kane (Costume Stylist)


Cast:

 Reb Atadero, Sab Jose, Brian Sy, and Justine Peña (Lungs); Teresa Herrera, Kakki Teodoro, and Jon Santos (Every Brilliant Thing)


Company: 

The Sandbox Collective
Comments