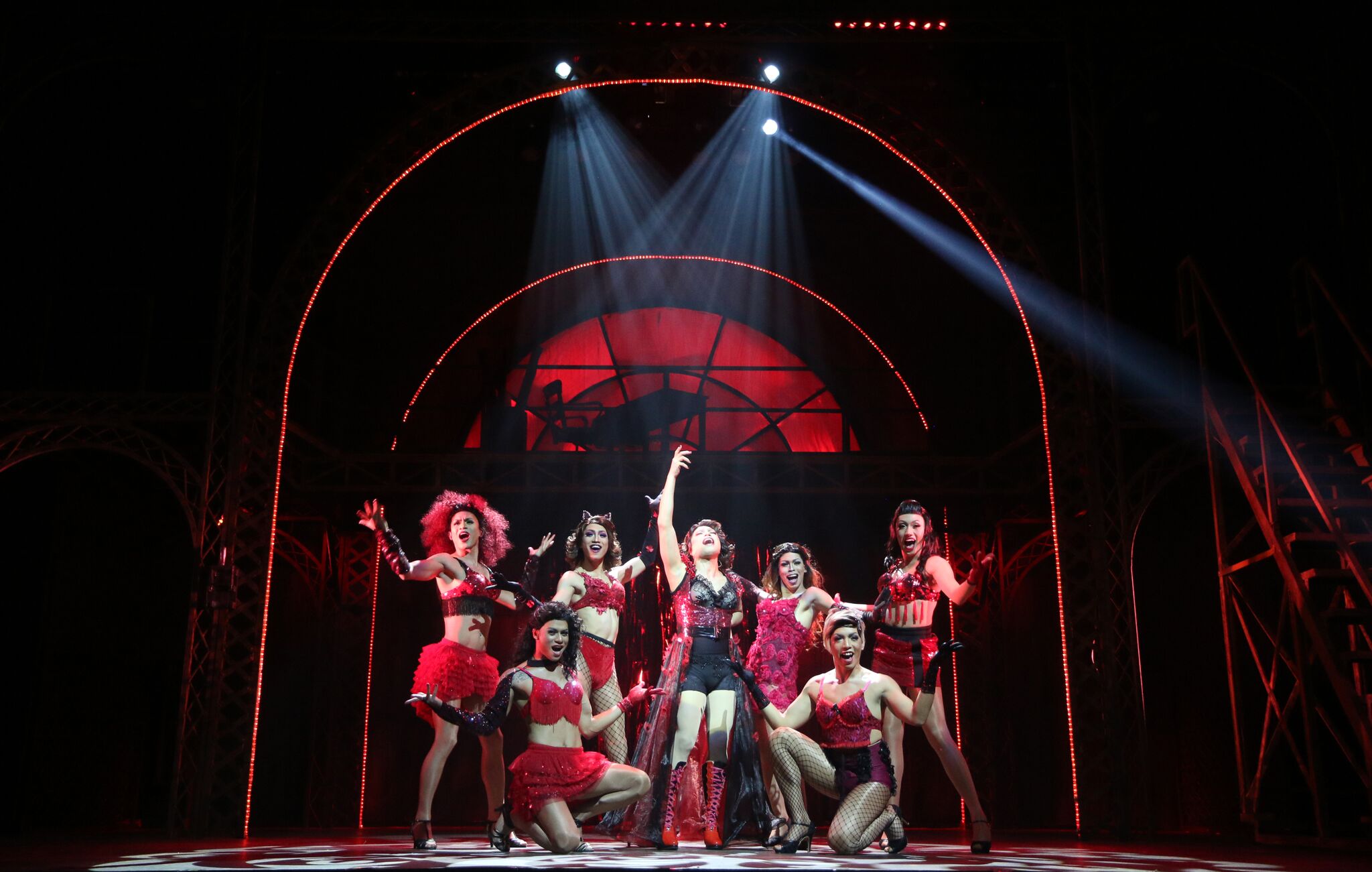 REVIEW: Loco for Lola in "Kinky Boots"
Nyoy Volante has arrived.
I know he's been around for awhile, but his career-defining performance as Lola in ATEG's production of Kinky Boots feels like the dawn of a new Nyoy: the bonafide leading man.
His entrance in "Land of Lola", coyly with his back to the audience and flanked with scantily clad drag queens—called Angels—had the opening night audience on bated breath. He whips his red trench coat and we finally see Lola in all her glory: heels, lingerie, make-up, and a stage presence so palpable, it hits the audience like a freight train.
The theater erupts with thunderous applause and it takes the actors a beat to begin. Not even a verse in and every single person in the audience is already won over and bowled over by Volante's jaw-dropping, awe-striking, star-making turn as the small town-boxer turned high-octane drag queen.
But, I'm getting ahead of myself. Kinky Boots (book by Harvey Fierstein, music and lyrics by Cyndi Lauper) is only partly about Lola. It's also about Charlie Price (Laurence Mossman), reluctant heir to a Northclampton shoe factory whose primary interest in life is "snogging" his ambitious girlfriend Nicola (Tricia Canilao, overwhelmed by trying to pull a British accent). When his father dies, Charlie takes up his mantle despite the impending threat of the factory's closing.
A chance encounter with Lola gives Charlie his lightbulb idea: designing thigh-high boots for a very niche market—drag queens and crossdressers. He hires Lola as lead designer and they, along with a ragtag team of factory workers, try to create a line of shoes to present to Milan's fashion crowd.
The leads are encumbered by the pressures of being sons to their fathers ("Not My Father's Son" is easily Lauper's most memorable ballad for this show). The plot is about as subtle as Lola herself (she sings the act 2 emotional ballad "Hold Me in Your Heart" in a nursing home where—spoiler alert!—his father currently resides). It also touches on LGBT issues and tolerance, but only just (impossible to ignore, with the show's starriest role being a drag queen). The story doesn't really dive too deep into the depths of its own themes, and ultimately, the takeaway is simply "just be who you are".
Still, it's a premise that works largely because of its execution. Under Bobby Garcia's direction, this Manila production tells its story with a whole lot of heart.
The ensemble (Jamie Wilson, Nel Gomez, Christine Flores, Sarah Facuri, Steven Conde, Rhenwyn Gabalonzo, Ron Gohel, Jill Pena, Japs Treopaldo, and Juancho Escoto) work very well together (rickety accents aside), that even less glitzy songs like opening number "The Most Beautiful Thing in the World" are not completely forgettable against Lola and the Angels' frequent bursts of energetic, magnetic song and dance.
The Angels (Ritz Beltan, Jorge Jahnke, Michael Jahnke, Jazztin Cacayan, Mark Pineda, and Gerhard Krysstopher) are showstoppers. Always showing up in new looks that one-up their last (Raven Ong is costume designer with Johann dela Fuente as hair and make-up designer), they are bursting at the seams with entertaining appeal. With Cecile Martinez's choreography, they range from struts and sashays to full-on stunts using conveyor belts. Amazingly, Faust Peneyra's shoe factory set ably contains it all.
In a featured role, Yanah Laurel plays Charlie's unrequited lover, Lauren. It's a comedic role, and Laurel overshoots her mark, hamming it up especially in "The History of Wrong Guys", dwarfing Lauper's already hilarious lyrics with overly wacky antics.
Mossman necessarily plays it straight as young Charlie Price. While his acting leaves much to be desired, he was the most able to pull off a British accent. Fortunate, as he has the most speaking lines in the show. He also showcased his singing prowess with much aplomb through songs like "Take What You Got", "Charlie's Soliloquy", and 2nd act's "Soul of a Man".
All that said, Kinky Boots is without a doubt, Lola's show.
Lola was designed—with her unabashed confidence peppered with inner turmoil—to be loved. The sassy, snazzy drag queen with the heart of gold is somewhat of a trope in musical theater, but Volante embodies a sultry femininity that never tips over into parody. He handily moves with the flow of Lola's narrative, big and bold for one number, vulnerable and exposed the next. For all of it, Volante is in complete control. His Lola is so very human, so very real, that you are so entertained, so moved, and so touched by her.
You'd be hard-pressed to find Nyoy Volante, recognizable musician, under the wig and make-up. He is completely Lola, commanding the stage so well, his presence reverberates to every corner of the RCBC theater. This is really the magic of his portrayal, this ability to transform. Even more impressive when you consider that he was last seen as jittery Frankie Valli in "Jersey Boys".
Such is the trail that Volante blazes that he takes the whole production with him. He is so damn good that we may need to invent a new superlative to sing his praises. All the little bits and bobs that take away from the quality of the show (like shoddy accents and preachy narratives) are nearly inconsequential. By curtain, you will be on your feet, dancing with the company for the show's finale, "Raise You Up / Just Be".
You will come away from the theater with the parting thought that you may have just seen the best show the year has to offer, and you know what? You will be right.
Comments