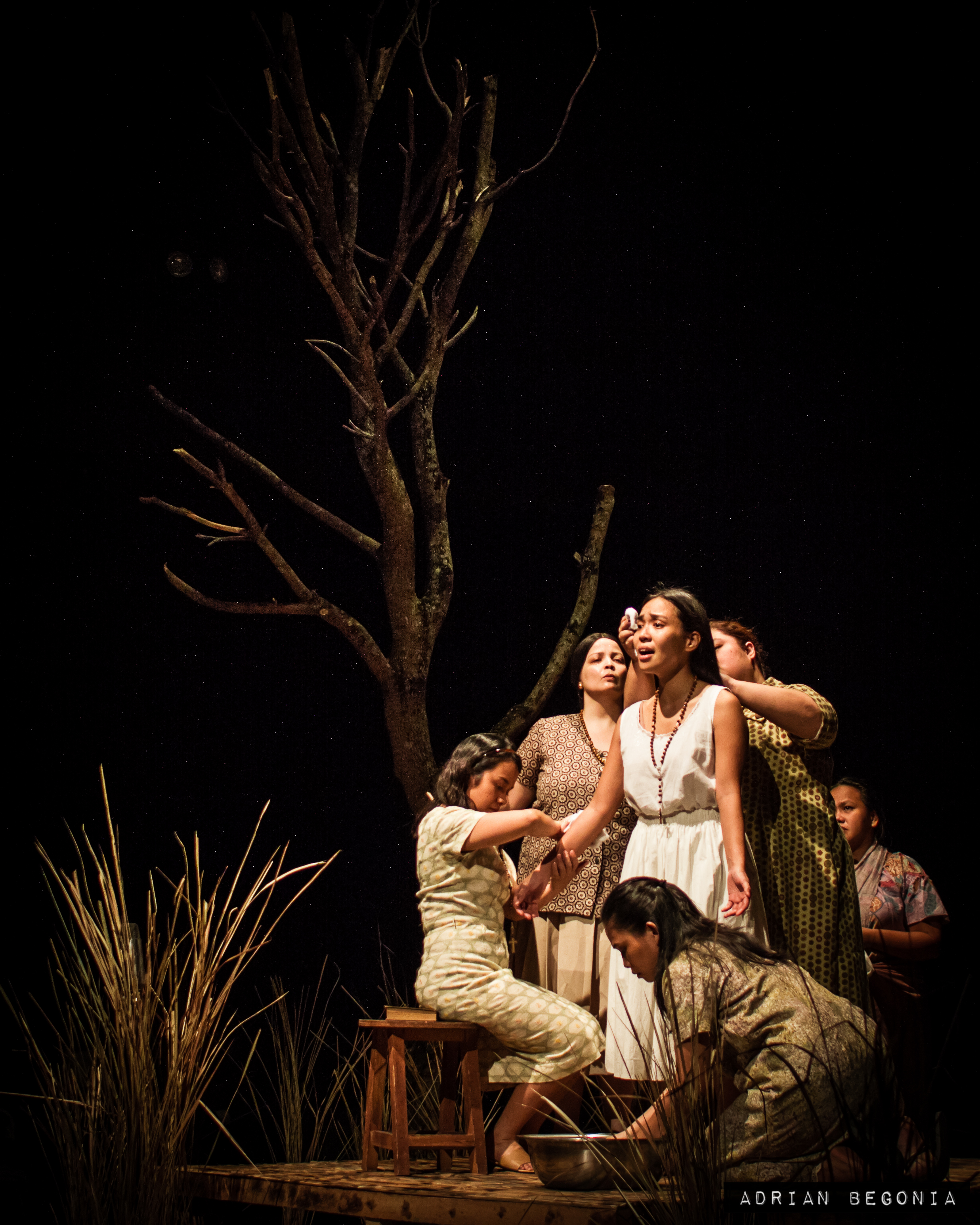 REVIEW: "Himala" is a masterful adaptation
The moment you step into the blackbox theater at Power Mac in Circuit, there's an almost solemn eeriness that engulfs. There's an almost biblical, Old Testament feel to the environment. Ironic, as the show is The Sandbox Collective's staging of "Himala", Ishmael Bernal's cinematic masterpiece most known for Nora Aunor's impassioned speech that begins with, "Walang himala!"
The ambient sound of wind plays long before the show starts. Rickety bamboo canopies are situated over some sections of the audience surrounding the bare stage and that's most of the show's set design. It's only the initial manifestation of Ed Lacson Jr.'s (who is both director and set designer) artful restraint, and thoughtful and intelligent approach to the material.
The bare set captures the essence of the desolate and barren town of Cupang. Believed by its people to be cursed, the barrio is experiencing drought. During a solar eclipse, Elsa (Aicelle Santos) claims that the Virgin Mary has appeared before her, bestowing her the power to heal the sick. News of her powers spread and the once quiet town finds itself a point of interest, with a divine being walking in their midst.
It's a notably very Filipino story, where the culture of small towns and our people's religiosity makes it possible for faith healers to profess their god-like abilities out of the blue with little cynicism from others. Ed Lacson Jr. stays faithful to how Filipino this story is, forgoing the usual accoutrements that accompany Western musicals. You won't witness dance choreography, lavish set-pieces, dazzling costume and make-up, an orchestra, or even microphones in this show. In place of highly involved theatricalities, there is emotion and vulnerability and intensity that was delivered by mere performance alone.
Lacson Jr. chooses to allow Ricky Lee's script, Vince De Jesus' music and lyrics, and even Aicelle Santos' captivating performance to take center stage, and rightfully so. You can feel the generosity, restraint, and control that puts storytelling and emotion above theater chicanery. Theatrics are sparse in Himala, and always, always necessary.
What was abundant, instead, were strong performances with Aicelle Santos at the center. She plays Elsa with an enigmatic presence giving little doubt as to why the people of Cupang would believe her. She does have mannerisms that add to the mystery of Elsa's story. Does she believe in her own divinity? Is she willfully fooling her people?
When her story takes a turn, Santos is right there with Elsa, feeling and conveying a height of emotion that every seat in the room can feel her anger and sadness over what had happened to her and Chayong (Neomi Gonzales). She exhibits both emotion and technique that is nothing short of breathtaking. Performances by the other women in the cast complement Santos impeccably well, especially Gonzales as Elsa's loyal best friend. Kakki Teodoro as Nimia and Bituin Escalante as Elsa's mother, Saling, were just as striking especially in their featured song numbers.
The stage is bare, the performances vulnerable, and the staging does not shy away from the story's darker themes and shows its violence in ways that are rightfully uncomfortable to watch. It's a show that has moments of quiet and disquiet from its leads, but also both chaos and unity from its large ensemble. They all have brought a distinct quality to the people of Cupang that is just as mesmerizing to watch.
Ed Lacson Jr.'s direction leads to a theater adaptation that is not only a credit to its source material, but has the markings of a definitive staging. "Himala: Isang Musikal" is just as fresh, timely, and groundbreaking as the film. It is, in its own right, a masterpiece.
Comments