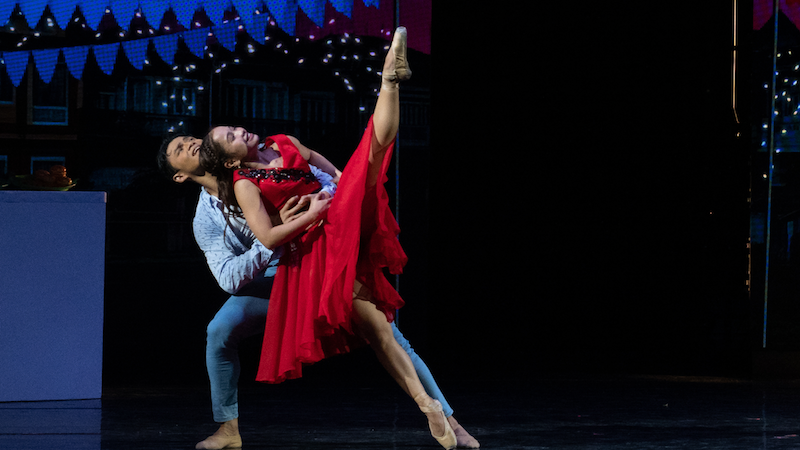 REVIEW: Feel at Home with 'Romeo and Juliet' by Ballet Manila
Ballet Manila opened its 25th Season "Of Hope and Homecoming" with Martin Lawrance's  Romeo and Juliet. Ballet Manila (BM), known for its classical repertoire, has always relied on Romeo and Juliet to gain love from their loyal audiences. In 2001 they premiered a version created by Sergey Vikulov, which became a BM classic. 
In 2015, they did an Asian premiere of Paul Vasterling's version, which was a visual feast. With two very successful classical renditions of the ballet, there is much pressure to show a third version. Thankfully, Lawrance's version is consistent with their new season's theme. Despite the story still being a tragedy, it still brought a lot of hope and home to the audience.
Shakespeare's story of love and tragedy remains ingrained in this adaptation but it is told in a Filipino setting. The main character roles are reimagined to fit the local perspective with the elitist rivalry between the Montagues and Capulets being replaced by a rivalry on local cockfights and political colors. The divide was intensified by a difference in social status. The Capulets (now called Kapuletos) assumed the role of the elite, highly connected with political power, and the Montagues (now called Montanas) assumed the role of ordinary citizens. Still, it remained a story about two star-crossed lovers who chose to love each other until death.

Social Relevance
Shakespeare can be intimidating but the Filipino flavor dissolved this problem. The story was set on a plethora of relatable Filipino cultural markers. From the storytelling, the background, and the nuances, the production was designed to ensure relatability. 
They did not intend for this ballet to be a Western classic but rather a Pinoy teleserye on toes. It quickly established this intent as the ballet early on shows Romeo and his friends doing karaoke to a very popular APO Song called " When I Met You". This was cleverly used to establish that Romeo was a romantic having been linked with so many women only to be shunned by the beautiful Rosalind.  
There were vignettes of dancing on a backdrop of karaoke videos explaining the context of each relationship Romeo had until the upset. In telling the story, phones and social media were incorporated through the screens which really helped narrate the story. Every milestone was accompanied by an Instagram post and mobile text–pretty much how all Filipinos tell their story.

Social circumstances that are unique to the Filipinos were incorporated in the scene such as, sabong, fiesta, blatant vote buying, and political dynasties during election season. The familiarity to these cultural markers were met positively as it elicited appropriate reactions from the audience. It also made the ballet socially relevant, a captured moment from our post-pandemic times. It encapsulated the good, the bad, and the ugly face of the Filipino, which is important in cultural heritage building. 
It is quite surprising that a foreigner like Lawrance could be so adept and sensitive to our culture. This story felt like home. At the same time, it makes me feel hopeful that important stories like Shakespeare may very well be welcomed by more audiences with this kind of approach.
Cinematic Approach
As mentioned earlier, the staging was prepped as a teleserye. The scenes at times almost had a cinematic approach with the two leads likened to a teenage loveteam. The two LED screens were heavily used to show the perspective of both leads, just like a split-screen scene in a movie. 
The incorporation of OPM hits by Yeng Constantino, Sharon Cuneta, and APO hiking society made everything like a standard music video. It even included a Lani Misalucha prenup AVP showing their lovey-dovey moments as a couple, which was played prior to the wedding. While this to me was too long, I completely understood that this was a tribute to how Filipinos do "kilig" weddings and movies. 
The LED screens were very much a part of the storytelling not only because it served as a scene background, but because it added texture dramatics that was able to replace a fully decked out set. Overall, the cinematic approach was like a sensory treat.
Choreographic Palette
Martin Lawrance has almost always produced works that are very dramatic. All his pieces can be performed against a black curtain and it would still feel complete. The same can be said for the big pieces of this production– from Sana'y Maulit Muli, which replaces the balcony scene, to  Ikaw, which replaces the wedding scene, to I'm Kissing You, which replaces the tragic separation of the newlyweds. 
Each pas de deux could easily be a stand-alone piece. Every one of them was seasoned with intricate lyrical choreography, explosive lifts, and quiet moments to let the visuals hit the audience hard. This shows a great understanding of how audiences watch ballets. 
What should be noted about Lawrance's style is his organic flow. Whether it's the group dances or the intimate pas de deux, you will not see a moment of preparation for complicated lifts or combinations. Memorable was a scene by Pearl Dames (as Juliet) and Mark Sumaylo (as her father). While Sumaylo was commanding obedience from Dames, they transitioned to an emotional pas de deux and without warning, the petite dancer was being thrown up and down in the air like a pendulum.  
The same creativity is showcased in the wedding pas de deux where Dames was flying gleefully in the air in one explosive moment. I also like the fact that there was equality between the lead roles. The sharing of moments between Romeo and Juliet made it more engaging. 
This production, I dare say, has challenged the Ballet Manila dancers' musicality and agility. They did justice to Lawrances's splendidly-crafted footwork. This was a mature company who worked to the bone to deliver the technically challenging quick combinations.

Star-Crossed Stars
After having mentioned so many good technical aspects of the production, it really still boils down to how the stars and the ensemble told the story. This ballet's biggest success was the debut of newly minted Principal Dancers, Joshua Enciso and Pearl Dames. Debuts can be awkward but nerves did not visit these two artists on opening night. 
Dames as Juliet was light on her feet despite the technical requirements. Her portrayal was overflowing with emotion. Even with her face partially covered with a mask, her energy flowed beautifully towards the audience. Her understanding of each scene was so clear, her interpretation so potent.  
Usually, the highlight of Romeo and Juliet is the balcony scene depicting romantic love. For this production, I would say that Dames really solidified her place when she and Enciso shared a bed together. In this piece, she really showed the audience that she was changed by the experience. Devoid of tentativeness, she was fully present in the moment– a heartbroken, fearful, and vulnerable Juliet. 
Enciso, on the other hand, has a natural charm. Early on, he was able to capture the audience with his warm smile and expansive movements. He commanded the stage and never let the audience's attention wander to anybody else but him. He partnered with several women with admirable competence. For the principal artists, this was a clean, stress-free (for the audience) debut to be proud of.  
Abigail Oliveiro Sumaylo and Mark Sumaylo as the Kapuletos delivered their usual dependable and highly enjoyable dramatics. Their presence was solid. Supporting the company were able dancers Geri Francisco as Paris, Jessa Balote as the Nurse, Romeo Peralta as Tybalt,  Anselmo Dictado as Mercutio, and Alvin Dictado as Benvolio.
This staging of Romeo and Juliet definitely was refreshing. 
Inconsistencies
However, there were areas that were quite disturbing. While the story was engaging, there were bothersome inconsistencies. For instance, the story revolved around social media covering every one of the couple's milestones, including the supposedly secret wedding of Romeo and Juliet. Everyone was taken aback by how quickly news would spread. However, Paris seemed totally oblivious that Juliet was married. Juliet's parents, as they grieved for Tybalt, had no inkling about it even with posts circulating online.
Another bothersome scene was the death scene. Juliet had taken pills but obviously did not die. The setting did not reflect a morgue. It could have been a penthouse or a very minimalist hospital. The clear windows showing the night sky definitely prove it was not a death facility. So when Paris comes and weeps for her, it is unclear as to what her actual condition was. Romeo arrives from nowhere and tells Paris that he has a right to be there, sees her, and pulls the trigger himself. 
Due to the circumstances presented, the reason to commit suicide was shady at best. Even the fireworks during their death were puzzling. While it was visually enticing, it really did make a dent in the storyline, distracting the audience about what its significance was. Traditionally, fireworks symbolize new beginnings so their appearance on the final death was culturally inconsistent.
Parting is Sweet Sorrow
Overall, this production had a lot to offer. It may not be everyone's cup of tea as this is far from a purist perspective of the ballet. It delivered, however, so many gifts to appreciate. It celebrated our culture. It encouraged the idea of Filipino adaptations. It emphasized the skill and artistry of Ballet Manila as a company. It even managed to make subtle digs at our corrupt system. 
Most importantly, it gave joy to a very invested Aliw Theater audience. It brought hope that more good things were to come, and it brought everyone home to the theater.
Show Dates: Feb 17, 2023 8:00PM , Feb 18, 2023 5PM
Venue: Aliw Theatre
Running Theatre: approximately 2 hours (with a 20 minute intermission)
Artistic Director: Lisa Macuja Elizalde
Choreographer and Director: Martin Lawrance
Full Cast: Jessica Pearl Dames, Joshua Enciso, Abigail Oliveiro, Mark Sumaylo, Romeo Peralta, Anselmo Dictado, Alvin Dictado, Jasmine Pia Dames, Gerardo Francisco, Jessa Balote, Rissa May Camaclang, Shaira May Comeros, Stephanie Santiago, Angelika Tagupa, Ainslea Esplana, Elyssabeth Apilado, Eva Chatal, Marinette Franco, Jefferson Balute, John Carl Concepcion, Noah Esplana, Sean Pelegrin, Raymond Salcedo, Jamil Montibon, Rodney Catnubay, John Balagot
Company: Ballet Manila
Comments