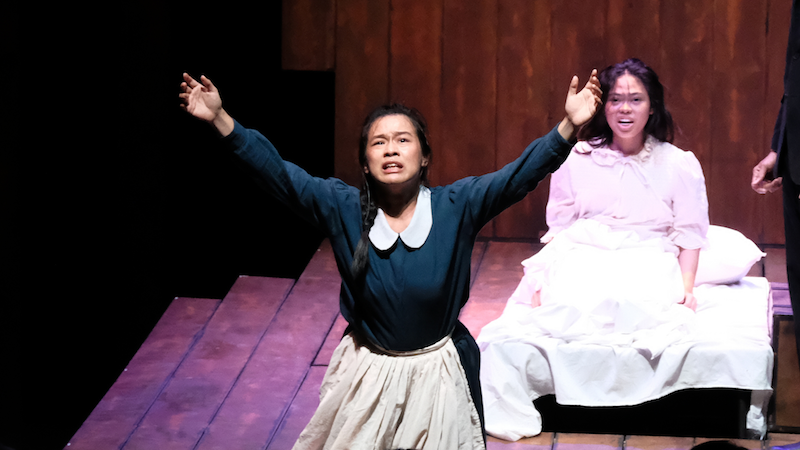 REVIEW: "Ang Pag-Uusig" is always worth revisiting
When this production of Arthur Miller's The Crucible was last on stage, it was 2017. Back then, this piece had been a warning, a reaction to the troubling state of affairs that had been the war on drugs. What the show was trying to say was as clear as how the production said it: that when regimes start to turn draconian, when people start to go on a witch hunt for any reason, the only natural result is for innocent lives to end up on the chopping block.
It felt like a far more focused show then–political, prescient, punchy. I'm not saying it's no longer any of these things in 2023. What it is now–seen and experienced from the other side of the Me Too Movement, a still on-going global pandemic, the proliferation (and commodification) of fake news, the tumultuous 2022 presidential elections–is far more complex and far less indefectible than what it had been when it was staged as an outcry five years ago.
You can look at it through many different lenses now, thanks to its crisp-clear clarity due to Jerry Respeto's translation that never gets too abstruse and Dennis Marasigan's direction that never gets in the way nor opposes the text even when it might no longer pass muster when revisited by a 2023 audience.
For this writer at least, it's no longer so simple to side with the 'few good men' in this story this time around when all of them had a hand to play in their own tragic ends. It's not so simple to see the hysteria as ungendered when it is the women that caused this kerfuffle in Salem, and the many colorful Filipino ways the material was able to call Abigail Williams a whore. It's not so simple to overlook the classism that was also at play where a villager's worth, reputation, and therefore integrity is also informed by their property and professions.
Marasigan didn't have an agenda in presenting this stark, mostly rigid production of Pag-uusig. He let the material speak for itself, telling it as clearly as he could, and allowing his audiences to come away in deep thought, not because it needed decoding, but because you are able to absorb everything he's showing you, and you realize precisely why it's a complex and rich piece of theater.
It's a far more engrossing experience this time around, with an ensemble cast that showed a collective rhythm that vividly presented the people of Salem with almost the same lucidity you might have also seen in the staging of Himala: The Musical. You have a clear idea of what this small town is like and how it might be a microcosm of a larger community or culture that you recognize.
But within this collective rhythm are the individual threads of personal stories you feel compelled to follow when they are in the hands of the company's most capable members, chief of which in this production was Antonette Go who played Abigail Williams. She's returning in this role and if her performance before had been wiley, this time around her cunning was more calculated and therefore more captivating. We're told that what she ultimately wanted was Proctor, but Go portrays her Abigail with an allure that makes you see she's a woman who always knew she wielded power and finally had a means to unleash it upon her small town. 
She is foil to the entire town, but most especially to Proctor, played here by Marco Viaña who continuously proves that he is one of today's most generous performers in the local scene. Like his recent performances in Anak Datu, Doc Resurrecion, and Katsuri where he showed himself the backbone able to ground stories back to reality, he does the same sturdy and dependable work here. His Proctor is no scene stealer because Viaña knows he doesn't have to be. The best of leading men know when it's the right time to play the hero and when it's the right time to just be one man among any and no one's doing it with the same precision as him.
Other performances of note were Lhorvie Nuevo as Elizabeth Proctor (ever-dependable and always incredibly competent, she is rightly contained playing a Puritan wife), Aggy Mago as Mary Warren (superb at portraying the character's maddening quality of defiance and gullibility), Arjhay Babon as Giles Corey (old man acting can get gimmicky, but Babon made it work), and Earle Figuracion as Samuel Parris (his mannered delivery might not be for everyone, but I thought it helped make his character rightly one of the most frustrating ones in the story). 
Compelling and clear, Respeto has translated and Marasigan has directed an adaptation of The Crucible that endures, that remains persistently (even, worryingly) relevant, confronting us with the fact that 'pag-uusig,' or persecution, is everywhere–as is hysteria, and delusion, and witchhunts–and perhaps these are all to blame for many our collective suffering.
Tickets: P1500 (Free Seating)
Show Dates: Feb 17 '23, Feb 18 '23, Feb 19 '23, Feb 24 '23, Feb 25 '23, Feb 26 '23, Mar 3 '23, Mar 4 '23, Mar 5 '23, Mar 10 '23, Mar 11' 23, Mar 12 '23
Venue: CCP Black Box Theater, Pasay City
Running Time: approx. 2 hours and 40 mins (w/ 15 min intermission)
Credits: Jerry Respeto (Translation), Dennis Marasigan (Direction/Lights), Ohm David (Set), Daniel Gregorio (Costume), TJ Ramos (Sounds), James Reyes (Costume)
Cast: Marco Viaña, Lhorvie Nuevo, Jonathan Tadioan, Antonette Go, Mark Lorenz, Earle Figuracion, Arjhay Babon, Edrick Alcontado, Vince Macapobre, Heart Puyong, Judie Dimayuga, Aggy Mago, Mitzi Comia, Sarah Monay, Monique Nellas-Bagadiong, Daniel Gregorio, Francesca Dela Cruz
Company: Tanghalang Pilipino
Comments