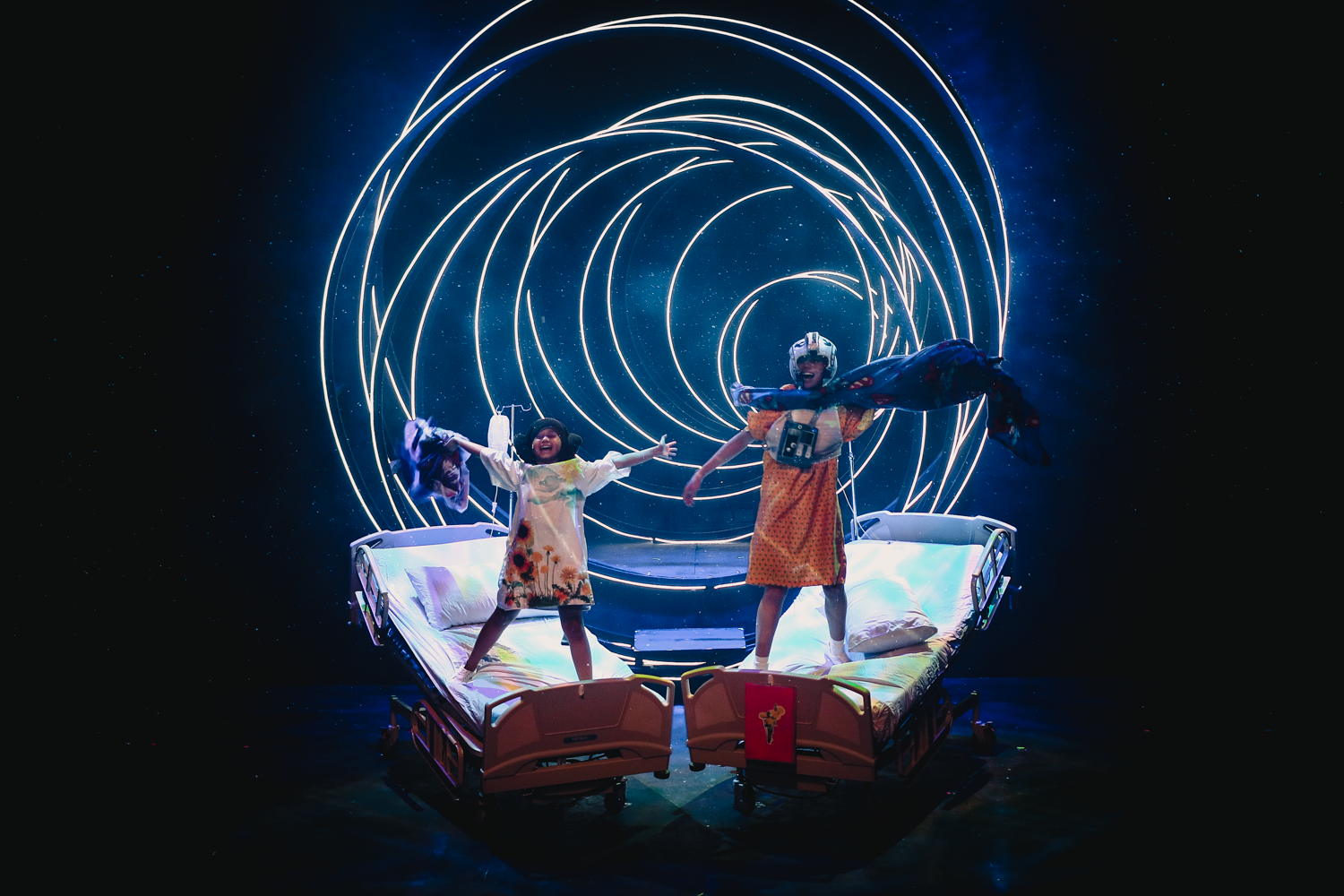 REVIEW: "Dani Girl" is one sweet tear-jerker of a musical
There's been a slew of brave little girls on stage as of late, and more often than not, this brave little girl is played by Felicity Kyle Napuli—and for good reason. The kid is a charmer; a brilliant actress that can ham it up for something like "I Just Can't Wait to Be King" in The Lion King, and deliver the complexity required for essaying someone like Matilda in Matilda. The work she does in Dani Girl is just as complex and entertaining, and even at times emotional considering the show's plot.
Written by Michael Kooman and Christopher Dimond, Dani Girl is about a fierce young girl facing the harrowing fact that the childhood leukemia she thought she'd been cured from is back. She meets the news mostly with agitation (she's nine, after all) and with her imaginary friend-slash-guardian angel, Raf, precociously laments about how in the game of life, someone always or never wins. 
Adding insult to injury, she loses her hair. Her imaginary friend plays her for it, in a trivia game of sorts that she breezes through until the final question: "Why is cancer?"—a question that would stump even adults, but answering this becomes her raison d'etre, roping in her new roommate Marty, as they go on quests that would take them inside a teddy bear, battling anthropomorphized 'cancer', and figuring out a way to get to heaven without dying.
Dani has a vibrant imagination, and this production (once again directed by Toff De Venecia) uses projections (Joee Mejias) to create her rich inner world when the entire show takes place inside her hospital room. In one scene Dani and Raf are play-pretending a quiz show complete with wriggly camera work as we watch them on a projected screen; in another, we watch her and a friend battle a Darth Vader-esque villain complete with makeshift lightsabers and generous use of the smoke machine. It's playful, which is true to its material that—while at times emotional—never really gets dramatic.
It's cancer within the knowledge and understanding of a nine year old, after all. It doesn't get into the nitty gritty. We don't ever see her too sick to jump around in her bed, or manipulate her gurneys to make a space ship. We don't see her get her treatments or even meet any nurse or doctor. It's tackling chronic illness with a storybook twist; a different take certainly, and with underlying religiosity that would play well with local audiences.
It may lack in the overt drama department, but there is no shortage of tear-jerkers in this show and really, it's all to do with the show's central performances. The show has alternating casts, one that features the aforementioned Napuli paired with teenaged Daniel Drilon in the role of Marty (as well as Juliene Mendoza as Raf and Pam Imperial as Mother), and another that brings back the previous run's cast members: Rebecca Coates and Luigi Quesada, with Lorenz Martinez and Shiela Valderrama-Martinez.
The alternating casts make their respective shows two different takes, almost—and both worth a watch. It's fun to see Napuli play a wisecracking little girl with boundless hope and energy to find her answers. With the character being played by an actress close to her actual age, the impact of what she's going through is immediate. It's emotional from the beginning, because we see that she is a little girl. 
With Coates, she has to make us believe that she's not quite ten. She does a damn fine job at it, impressively performing a little girl's mannerisms without ever tipping over into caricature childishness. Her beautiful singing voice also adds such an emotional punch that one of the show's most moving moments was when she was elegizing a teddy bear.
The way the adult characters react to Dani changes depending on the actress playing her, too. It's fascinating to see Lorenz Martinez as Raf and Coates in quick banter during their scenes, while Juliene Mendoza's take on the same role is almost, in a way, humoring the younger actors in their imagination. 
Pam Imperial and Shiela Valderrama-Martinez's performances were very different, too. Valderrama-Martinez's take is more the rigid Catholic mother, more burdened by her reality. The relationship between her and Coates' Dani seem more complicated somehow, compared with Imperial who showed nothing but tenderness towards her young child. 
If you're looking for a good cry, then "Dani Girl" is the show for you. With strong performances from everyone, watching either cast (or both—watch both!) guarantee you're in for an emotional ride. It's certainly sad, but hopeful, too.
Tickets: Php 900.00 - Php 2,000.00
Show Dates: August 10 '19, August 11 '19, August 17 '19, August 18 '19, August 24 '19, August 25 '19, August 31 '19, September 1 '19
Venue: Carlos P. Romulo Auditorium, RCBC Plaza, Makati
Running Time: approx. 2 hours and 15 minutes (w/ 15 min intermission)
Credits: Michael Kooman (book, music & lyrics), Christopher Dimond (book, music & lyrics), Toff De Venecia (director), Sab Jose (assistant director), Ejay Yatco (musical director), Faust Peneyra (set and costume designer), Joee Mejias (projections),

 


Cast: Felicity Kyle Napuli, Rebecca Coates, Daniel Drilon, Luigi Quesada, Juliene Mendoza, Lorenz Martinez, Pam Imperial, Shiela Valderrama-Martinez
Company: The Sandbox Collective
Comments