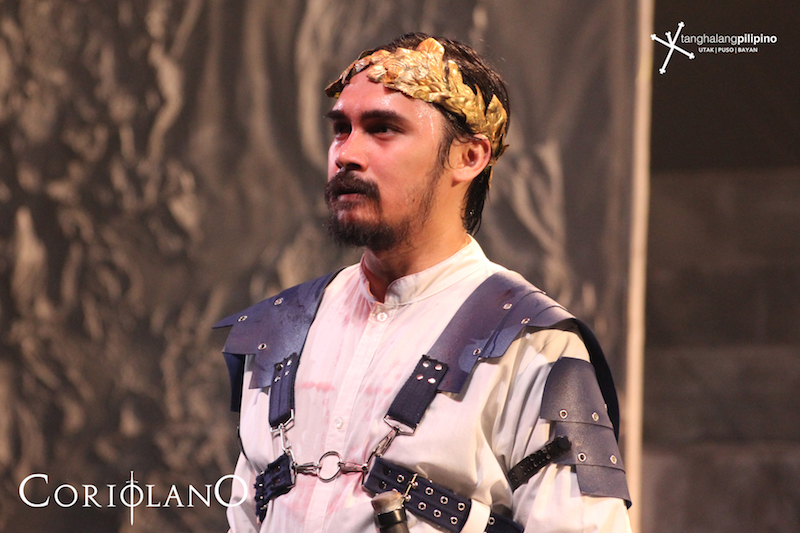 REVIEW: "Coriolano" is a solid translation
Shakespeare is largely considered to be the pinnacle of a classic. His work has held up for centuries, and its themes of choices and human nature have proven to be ageless. Coriolanus is one of the last tragedies written by The Bard, and is largely unknown compared to his more popular titles. And unlike other tragedies like Hamlet or Macbeth that lean more on human psychosis, Coriolanus has a subtle but clear political undertone.
Tanghalang Pilipino takes on the this political nuance by staging Coriolano, a direct Filipino translation of Shakespeare's tragedy. Translated by Guelan Varela-Luarca, Coriolano follows the ambitions of Cayo Marcio, an arrogant soldier turned Roman senator who shows open disdain for the common people. When war breaks out with a rival city, Marcio sees his chance of using his true talent at fighting. He wins against his rival Aufidio, and is rewarded with the title Coriolano upon his return to Rome. Due to his sudden popularity, he is pushed to accede to the title of consul. But before he does so, he must curry favor from the common folk, something which he still shows open disdain for. He succeeds, however, two government appointees convince the people to turn on Coriolanus, and to banish him from Rome. Angered by the people's flightiness, Coriolanus turns to his rival Aufidio to help him destroy his former home.
Much of the difficulty of this production admittedly comes from the language. Colloquial Filipino is quite different from formal Filipino, and it feels even more so when the material is as serious as a Shakespearean tragedy. If formal Filipino is not something that you are exposed to regularly, it definitely takes a while to adjust and to take in the full nuance of the dialogue. That said, there's also something very personal about watching something in your own language. The plot feels more piercing, and a European tale suddenly hits closer to home.
The direction from Carlos Siguion-Reyna is the most notable aspect of this production. There was no scene that wasn't significant, or at least none that didn't push the narrative forward. Even the transitions were very snappy and polished. The show was paced quite well.
The actors were similarly laudable in their efforts. Marco Viaña's Coriolano certainly lived up to his titular role. He was successful in being neither a protagonist or an antagonist. He was arrogant and selfish yet also oddly sympathetic in his honesty. Coriolanus is a character that is clearly elitist and authoritarian, yet the play is written to be sympathetic to him. To a democratic audience, that is a role that should feel conflicting to its viewers, and Viaña was able to capture that nuance. Frances Makil-Ignacio as Coriolano's mother Volumnia was also a crowd favorite. She took command of the stage in each of her scenes.
Tanghalang Pilipino's Coriolano is an impressive translation staged by a talented pool of actors and artistic team. The question is if the intention to stage this is to bring about more conversation regarding the state of our political climate, as well as the intensifying fervor surrounding the upcoming elections. If so, it's a difficult connection to make with one of Shakespeare's less popular work. The production doesn't particularly inspire political reflection, not unless you do some research on the history of the production and start connecting the dots. At best, Coriolano is a solid staging of lesser known Shakespearean tragedy, due mostly to polished direction and acting.
Tickets:

 Php 824.00 - Php 1,030.00


Show Dates:

 Feb 22, '19, Feb 23 '19, Feb 24 '19, Mar 1 '19, Mar 2 '19, Mar 3 '19, Mar 8 '19, Mar 9 ' 19, Mar 10 '19, Mar 13 '19, Mar 14 '19, Mar 15 '19, Mar 16 '19, Mar 17 '19


Venue:

 CCP Little Theater


Running Time: 

approx 3 hrs (w/ 15 minute intermission)


Credits:

 Guelan Varela-Luarca (translator), Carlos Siguion-Reyna (director), Judy Ick (dramaturg), Ohm David (set design), Bonsai Cielo (costume design), Dennis Marasigan (lighting design), TJ Ramos (sound design), Brian Sy (fight choreographer), Remus Villanueva (fight choreography consultant)


Cast:

 Marco Viaña, Sherry Lara, Frances Makil-Ignacio, Brian Sy, Kych Minemoto, Jonathan Tadioan, JV Ibesate, Doray Dayao, Antonette Co, Aldo Vencilao, Lhorvie Nuevo, Joshua Tayco, Ybes Bagadiong, Eunice Pacia, Manok Nellas, Jeremi Flores, Ariel Cruz, Jhen Monsanto, Patricia Maliwat


Company:

 Tanghalang Pilipino




Comments