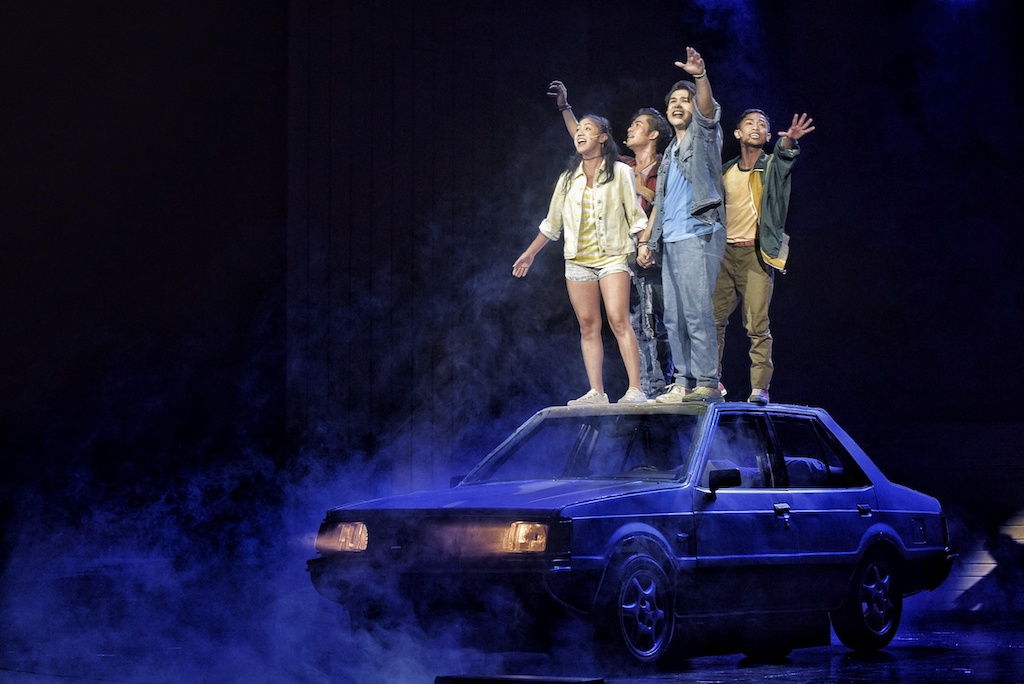 REVIEW: "Ang Huling El Bimbo" is an elaborate elegy
The song that spawned the musical 'Ang Huling El Bimbo' is a loaded lyrical narrative. Estranged lovers and a life cut short made for Eraserheads' arguably most iconic single. It may even be OPM's most well-known tragedy. More than two decades since its release, the song is elaborated into a musical, hinged on reminiscence and regret. This time, focus is shifted to 'Joy'—the girl who resembled Paraluman—and her eventual undoing.

Through a reworking of Eraserheads' wildly diverse repertoire (directed by Dexter Santos, with musical direction from Myke Salomon), 'Ang Huling El Bimbo' unraveled in two timelines: present-day cynical Manila; and Manila two decades prior, filled with youthful idealism.
Three men are shaken from their established albeit problem-riddled lives when a phone call brings them to a local precinct. The reason? A woman on the drug watch list has been found dead, and on her phone were missed calls to the three men. For months, Joy (Menchu Lauchengco-Yulo) had been reaching out to her closest friends—Hector (Gian Magdangal), Emman (OJ Mariano), and Anthony (Jon Santos)—in futile attempts at reconciliation. After what happened one unfortunate night twenty or so years ago, the three men had grown up and grown more elusive to her.
After the trio's untimely reunion, writer Dingdong Novenario brought audiences back to where, and when, it started: the premiere State University smack dab in the middle of the '90s–and a fully realized mise-en-scène it was, with on-point costume design by Marlon Rivera and scenic design by Gino Gonzales.
Set to Eraserheads' 'Minsan', the UP experience was distilled into one larger-than-life montage; unmissable were the protests, the annual Lantern Parade, the UP Fair, and even the infamous Oblation Run. It established the three young men–Hector (Bibo Reyes), Emman (Boo Gabunada), and Anthony (Phi Palmos)–and their initial taste of freedom in the university.   
Then came along Joy, played by the auspiciously endearing Gab Pangilinan. Joy is the hardworking niece of Tiya Dely (Sheila Francisco), the owner of the three young men's favorite diner, Toyang's. They met her at one of their military trainings, when their commandant Arturo Banlaoi (Jamie Wilson) introduced her to the platoon and asked them to buy the snacks she had been selling.
The four easily became textbook best friends with Joy eventually growing to be more than just friends with Hector. She eagerly supported Emman with his own romantic pursuits, and wholly accepted Anthony's sexual orientation with no reservations whatsoever. It was a palpably tight-knit friendship, and the undeniable chemistry between the four actors helped flesh this out.
Four years pass and they find themselves overlooking Antipolo days before the three men's graduation. They were on one final joyride before they had to eventually part ways. But what conspired soon thereafter, they vowed to keep under the covers—necessarily putting an end to their four-year long friendship.
Not long after the three had left university, Toyang's had to convert into a KTV bar, all thanks to Banlaoi. This left Joy with much spite, evolving into a literal contradiction of her name—a perfect demonstration of Pangilinan's versatility. From this point forward, the narrative only grew overly melodramatic, all while she gradually lost sight of herself. With gravitas, Lauchengco-Yulo portrayed a Joy who had already grown desensitized of her personal calamity.
The three men, on the other hand, are caught in the present with their own dysfunctional relationships. They manifested this through mash-ups of different Eraserheads songs, which while feeling disheveled, had its message loud and clear—they had grown into lives as chaotic as Joy's.
Salomon's brilliant musical direction proved vital to the production; he rendered Eraserheads' many hits apt for their respective scenes: from a 'Pare Ko' resembling a military march, to a more emotionally balladic 'Ang Huling El Bimbo'.
The musical effected a similarly, if not more, loaded narrative as the song that birthed it. Director Dexter Santos funneled all the nostalgia he could into the first act, essentially paralleling the song's penchant for reminiscence. His take on her downward spiral in the second act may have seemed overdrawn, but it worked as vivid emphasis on what she had gone through; it is filled with the same regret, of things that could have gone otherwise, as was in the musical's eponymous song.
In Ang Huling El Bimbo, Santos managed to conjure an elaborate elegy for Joy—and perhaps every troubled woman she stood for.

Tickets: 

Php 1,000.00 - Php 3,500.00


Show Dates: 

Mar 1, '19, Mar 2, '19, Mar 3, '19, Mar 7, '19, Mar 8, '19, Mar 9, '19, Mar 10, '19, Mar 14, '19, Mar 15, '19, Mar 16, '19, Mar 17, '19, Mar 21, '19, Mar 22, '19, Mar 23, '19, Mar 24, '19, Mar 28, '19, Mar 29, '19, Mar 30, '19, Mar 3, '19, April 6, '19, April 7, '19


Venue: 

Newport Performing Arts Theater, Resorts World Manila, Newport Blvd, Newport City, Pasay


Running Time: 

 approx 2 hours and 30 mins (w/ 15-minute intermission)


Credits: 

Dexter Santos (direction and choreography), Menchu Lauchengco-Yulo (assistant direction), Myke Salomon (musical direction), Dingdong Novenario (book), Floy Quintos (dramaturgy), Monino Duque (lighting design), Marlon Rivera (costume design), and Gino Gonzales (scenic design)


Cast: 

Gab Pangilinan, Menchu Lauchengco-Yulo, Bibo Reyes, Gian Magdangal, Boo Gabunada, OJ Mariano, Phi Palmos, Jon Santos, Carla Guevara Laforteza, David Ezra, Myke Salomon, Rafa Siguion-Reyna, Lance Reblando, Nicco Manalo, Reb Atadero, Tanya Manalang, Sheila Francisco, Jamie Wilson, Joshua Cabiladas, Paw Castillo, Raymund Concepcion, MC Dela Cruz, Jules Dela Paz, Red Nuestro, Ariel Reonal, Vic Robinson, Ali Santos, Chino Veguillas, Stephen Viñas, Ernest Fritz Esase, Natasha Cabrera, Helene Enriquez, Jasmine Fitzgerald, Kiara Dario, Jillian Ita-as, Yanah Laurel, Jom Logdat, Hazel Maranan, Chaye Mogg, Alys Andrea Serdenia, Elisha Campos, and Alexa Salcedo


Company: 

Full House Theater Company






Comments