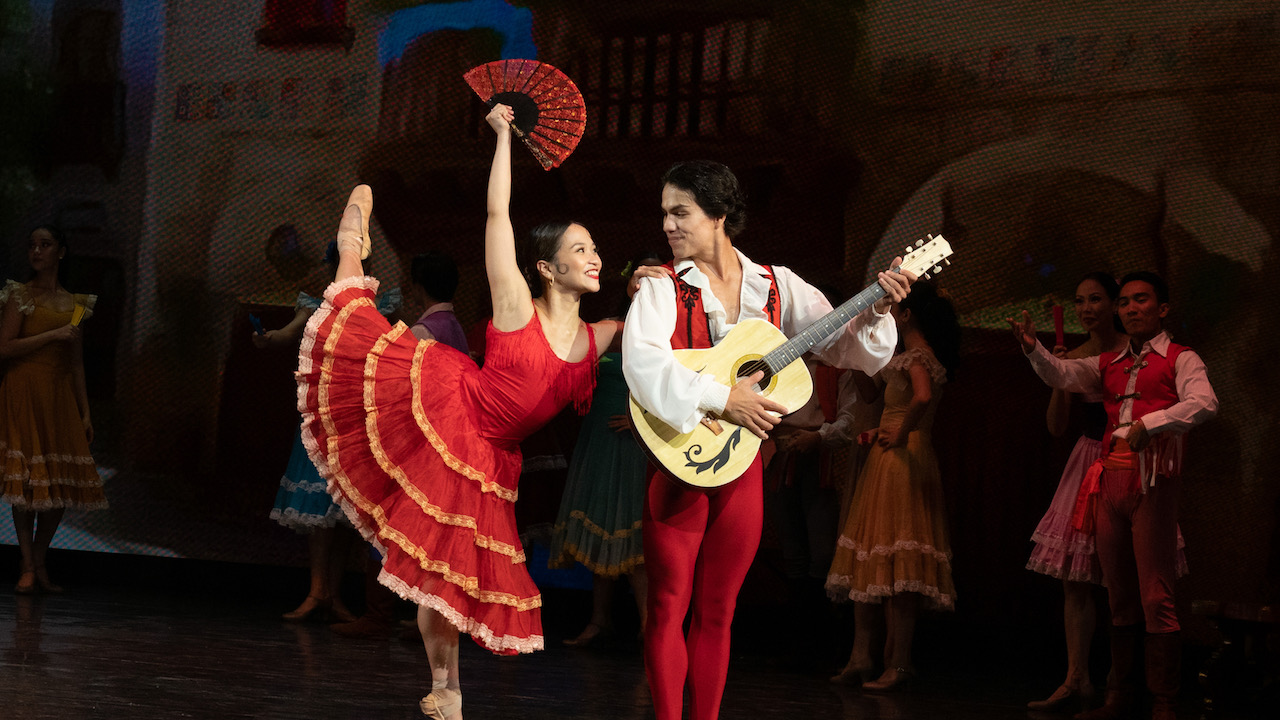 Review: Ballet Manila's 'Don Quixote' is an electrifying win
Amidst the threat of horrible rain, Ballet Manila (BM) gathered the city's balletomanes to show them their feel-good Don Quixote last May 27, 2023. Ballet Manila's Don Quixote delivered an electrifying win to a thrilled audience. 
To dream the impossible dream
Don Quixote's story has always revolved around the beautiful transformational quality of dreams. Much like this central theme, it has allowed Ballet Manila to once again dream the impossible dream and wake up to a beautiful reality. The company has always staged full-length ballets with a massive fleet of dancers. With half the number of performers, BM dared to dream and staged Don Quixote with resourcefulness and creativity. Just like any dreamer, they won big applause and admiration. 
Dancing to the sprightly music of Ludwig Minkus, the love story of Kitri and Basilio was told. The curtains opened, revealing a statuesque man infatuated with his books of love and chivalry. With his reality blurred by dreams, he voyages as a knight-errant looking for his love, Dulcinea. In his pursuit, he meets the characters whose lives he would change. The innkeeper's daughter Kitri and the town barber Basilio are in love and Kitri's father would not have it. The ballet then unfolds its comical side when Gamache, a rich gentleman, sets his eyes on Kitri to the delight of Kitri's father. Their fight to stay together fills in three acts with thrilling technical proficiency and high dramatics. In the end, Don Quixote is instrumental in carving out a happy ending. 
Performing from a place of comfort
It seemed like Jasmine Pia Dames who played Kitri and guest artist Esteban Hernandez who played Basilio both performed from a place of comfort. Both filled the stage with boundless energy, matching the temperament of Minkus' vibrant music. More importantly, they displayed a marathon of dramatics with a clear commitment to storytelling. Together, they were charming. 
Hernandez being a Latino, showed an organic Spanish flair. He appeared comfortably playful and mischievous. Hernandez is a principal dancer of the San Francisco ballet.  As a seasoned professional, he displayed quality technique with clean pirouettes, ala seconde turns, and tours. However, it was a bit disappointing not to see one or two unconventional tricks in the first acts. He made up for it in the third act with five pirouettes (turns), strong elongated coupe' jete en tournant (traveling split jumps), and spagat (turning split jump). He also partnered Dames flawlessly, nailing all the difficult lifts, like the mandatory held ala seconde overhead lift. This is his first time performing this full-length ballet and the audience validated his performance with generous applause and bravos. 
For Dames, performing in her home court was not her only advantage. This is her second time essaying the role of Kitri. When she debuted in the role, everybody was charmed by her youthfulness. This time around, she was all woman. There was a sophistication and a calculated restraint to her portrayal. Physical comedy was  replaced by more meaningful nuances and interactions with her partner. This mature approach to the role made her more endearing. As for her technical abilities, there was a visible confidence in the execution which made the audience feel at ease while she was performing the most difficult of steps. Dancing side by side with an international star, Dames remained at the forefront dancing as a real star. Not a moment was she an afterthought, which says a lot about what she has accomplished for herself.  
Real-life couple Mark Sumaylo and Abigail Oliveiro were unmissable as Espada and Mercedes. Armed with their fearless backbends and unmistakable stage presence, they defined the word suave. They took a backseat as the support soloists but did not waste their time on stage as they savored each step with all eyes on them. They too were basking in the comfort of each other. 
Supporting roles by Arnulfo Andrade as Don Quixote, Jessa Balote, and Pearl Dames as friends, Gerardo Francisco as Gamache, Elmo Dictado as Sancho Panza, and Rissa Camaclang and Romeo Peralta as gypsies were performed with clarity of character all throughout. 
Missing the old 
While the leads were ahead of their game, there were some distracting elements here and there. Act two opened up with a breathtaking sight of blue. Brilliantly lit by lighting designer Monino Duque, the dancers looked ethereal in their blue tutus with cascading sparkling gems. It was a sight that would elicit a gasp in awe of the aesthetic. However, as the dancers danced, the magic dissipated. The physique of some of the dancers was distracting and their ensemble work was not at par with Ballet Manila's trademark of exquisite corps work. Ultimately, they looked like a bored backdrop forced to pose. Some had big smiles, some had small smiles, some had pensive looks and some were blank-faced. It is important to remember that the ensemble needs to have a collective soul that breathes life into a ballet. Every role is important.
The beautiful Eva Chatal was a polished technician. However, against a backdrop of blue, she did not possess the lightness of a dream. Admirable though are her beautifully extended lines. 
Jessa Balote as Cupid was crisp and cute. Her jetes were picture perfect with commendable precision and energy. 
A dream come true 
Ballet Manila has brought life back to this well-loved story ballet. And just like that, they showed our local audiences that you can fight for your dream and succeed. No lavish sets and no battalion of dancers on stage, but they have a whole lot of dreamers on stage making up for whatever is absent. Bravo Ballet Manila for making the impossible possible. 

Tickets: Php 1,200.00 - Php 2,000.00




Show Dates: May 27 - May 28




Venue: Aliw Theater 




Running Time: approx. 2 hour and 30 minutes (two intermissions)




Credits: Ludwig Minkus (Music), Marius Petipa (Choreography), Lisa Macuja Elizalde (Artistic Director), Monino Duque (Lighting Designer), 




Cast: (Principals and Soloists) Esteban Hernandez, Pia Dames, Pearl Dames, Jessa Balote, Eva Chatal, Mark Sumaylo, Abigail Oliveiro, Gerardo Francisco, Alvin Dictado, Arnulfo Andrade, Rissa Camaclang, Romeo Peralta




Comments