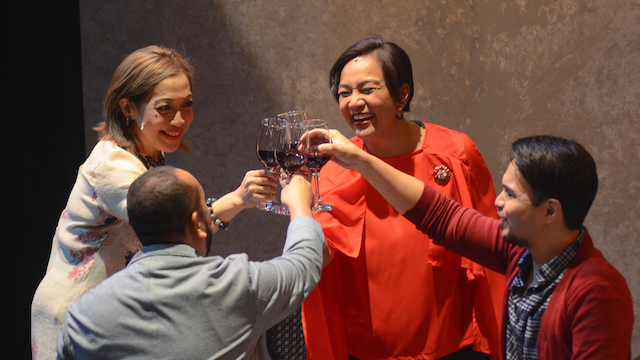 REVIEW: Politics is personal in "The Reconciliation Dinner"
It was deliberate that The Reconciliation Dinner opened last week, around the same time of the one year mark since the results of the 2022 Presidential Elections. A year is quite a significant length of time, but in many ways–with everyone's personal experiences of the highly tumultuous and divisive months leading up to that fateful May day still fresh as a rose in one's memory–it felt like no time at all.
This freshness is paralleled on stage, with the story set in May 2023, echoing the questions we might currently have towards family and friends with opposing political beliefs: is it about time we move on?
The show's answer? Personal relationships, while necessarily politically informed and politically charged, are inherently complex. 
Floy Quintos crafted a shrewd piece of social commentary in The Reconciliation Dinner, imbued with stark and realistic friendships that straddle that precarious line of politics. His characters are written (and performed) so intricately, that each character might as well have been inspired by someone on your Facebook friend list. These resonant characterizations are perhaps what make this piece as gripping as it is unnerving.
The crux of the drama orbits around the long-standing friendship between Dina Medina and Susan Valderama, portrayed by the tour de force duo Stella Cañete-Mendoza and Frances Makil-Ignacio. 
Their connection radiates authenticity, such that their lifelong friendship permeates every interaction. The way they immediately relayed a genuine intimacy is why the hour and a half one-act will elicit a visceral range of emotion from its viewers. It's easy in theory for political colors to be the straw that broke the camel's back, but in reality, when personal need and history and, well, love–comes into play, things are not as black and white.
Apart from this very personal and resonant friendship, the dichotomy of their politics also surfaces how we are as a nation exactly similarly divided. The 'victory', so called, has caused a seismic rift that may heal, but–as we'll see through the characters' attempts at reconciliation–but never to the way it had been before.
Along with Dina and Susan, their respective husbands also have a seat at this table. Dina's husband, Bert Medina, is a character drenched in toxic masculinity, played with infuriating accuracy by Randy Medel Villarama. His portrayal of a staunch Duterte-Marcos supporter is aptly discomforting, reeking of the oblivious privilege of the affluent. 
On the other end of the spectrum, Fred Valderama, Susan's spouse, exudes an 'average family man' persona through Jojo Cayabyab who would later on engage in digital skirmishes with Bert, but ultimately yielding to the desolation of the political landscape by seeking solace in migration.
Their millennial children are also part of the proceedings, with the Valderama's Norby (played by the unsurprisingly excellent Phi Palmos), and the Medina's Mica (Mica Pineda), both even more politically radicalized towards their opposing respective candidates. In the meek middle is Ely (Nelsito Gomez), Mica's husband, the odd middleman and portrayed as the level-headed 'silent voter' showing one can vote for the candidate of their choice even if one is surrounded by a staunch supporter of the other guy.
Dexter M. Santos's direction imbues the play with a potent energy. The Medina's brutalist home (production design by Mitoy Sta. Ana,) and the Medina's penchant  for red, serves as the visual metaphor of the rather villainous implications of their political choices. John Batalla's lighting and Arvy Dimaculangan's sound design–especially his rather imposing use of 'Bagong Lipunan'–further intensify this atmosphere, making the tensions on stage palpable.
That old adage of art 'holding a mirror up to society' applies in this Reconciliation Dinner and that mirror is a fractured one, carved by last year and today's political climate. It may not be as apparent outside of social media cesspools, but who one voted for on that day is still vital information.
Quintos' writing is a masterstroke, deftly exploring characters and dynamics that curiously doesn't resort to the flat plane of 'right' or 'wrong', but instead showing the gray that exists in the middle of a spectrum that on either end is scorchingly red or blindingly pink. The show, short as it is, manages never to oversimplify what for so long now has been forced into a binary. 
A year on, this show about our great political divide remains fresh, penetrating and confronting because politics is so deeply personal, most still carry wounds that haven't healed. Rich with wit, humor and, at times, absurdity, it nonetheless underpins a profoundly somber reality: yes, the lines have been drawn, but you can have love for people on the other side.

Tickets: 

Php 1,500.00 - Php 2,000.00


Show Dates: 

May 13 - May 28


Venue: 

Power Mac Center Spotlight PMCS Blackbox - Circuit Lane, H2G9+3RM Circuit Lane, Circuit Makati


Running Time: 

approx. 1 hour and 30 minutes (no intermission)


Credits: 

Floy Quintos (Playwright), Dexter M. Santos (Director), Mitoy Sta. Ana (Production Designer), John Batalla (Lighting Designer), Arvy Dimaculangan (Sound Designer), Marvin Olaes (Dramaturg), Davidson Oliveros (Dramaturg), Mikko Angeles (Assistant Director), Miguel Torralba (Technical Director)


Cast:

 Stella Cañete-Mendoza, Francis Makil-Ignacio, Randy Medel Villarama, Jojo Cayabyab, Nelsito Gomez, Mica Pineda, Phi Palmos
Comments