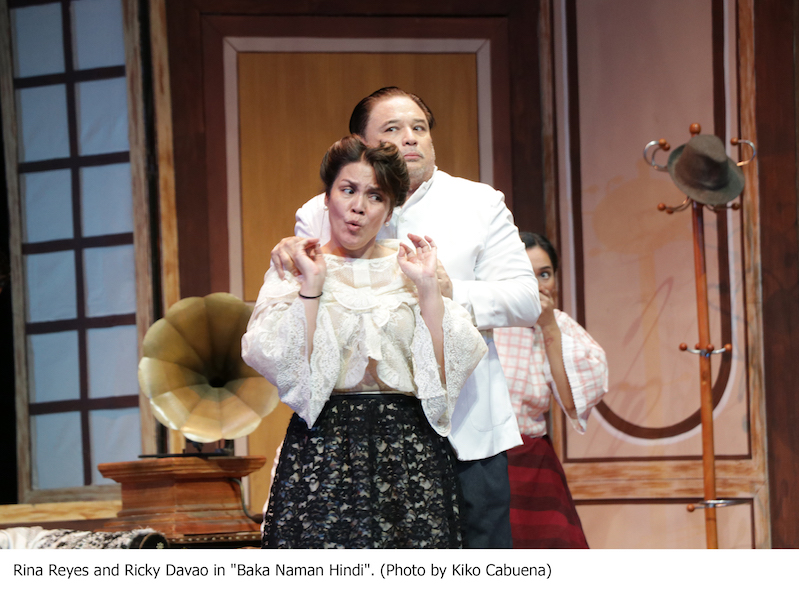 REVIEW: "Baka Naman Hindi" is dated slapstick
"Baka Naman Hindi" initially made for a hysterical night—at least before its cluttered direction (by Dennis Marasigan) somewhat derailed its irreverent comedy. As such, a faulty execution of a farce's very physical humor takes away the 'laughable' from the laughable riot.

Feydeau's "A Flea in Her Ear", written more than a century ago, was one unabashedly sexual piece of comedy. Without sparing a single innuendo, playwright Virgilio Flores adapted the classic farce into Filipino. While the translation felt uneven, with some words not necessarily period-appropriate, its raunchy humor wasn't curtailed by its text.
Rina Reyes adeptly plays jealous wife, Alicia Delgado, to Ricky Davao's ever faithful Victor. He had been sexually distant, Alicia recalls to her friend (played by Tex Ordoñez-De Leon), that she suspects that he has an ongoing affair. Little did she know that Victor had it just as hard as she did—if only 'it' could actually, and literally, get hard.
In an attempt to prove her suspicions, she arranges through an anonymous letter a rendezvous between Victor and a fictional woman grossly enamored with him. Ideally, she'd be catching him in the act; but only this is a farce and so, it must get more absurd from here.
Arguably past his prime, Victor thinks that the love letter is instead addressed to his business partner, a much younger Romano Martilyo (Rafa Siguion-Reyna). Unbeknownst to him, the overtly narcissistic Romano, whom he moves to meet the woman (who is just a scheming Alicia!), is actually his wife's furtive lover. To stir the pot further, in the hotel where the two are supposed to meet is a porter (also played by Davao) who is practically Victor's doppelgänger.
Unfolding in a very 'Comedy of Errors' fashion, the Feydeau classic is rollicking good fun with all its lewd humor, but this production has a major concern or two. One of these is that the ensemble's dynamics (and chemistry) were a bit off, most notably during the second act. As the confusion in the narrative started to mount, it only translated into even more confusion on stage. The gags were there, yes, but were slightly off-beat—which says a lot in a form of theater that relies heavily on mechanical precision.
Another glaring concern goes by the name of Carmelo (Randy Villarama). Carmelo Delgado is Victor's nephew and he has a very notable speech defect. Seeing as the play's humor hugely hinged on the mockery of a speech impediment, this soured the comical and just turned it into a full-blown cringefest. Granted this was hilarious a century ago, allowing today this kind of ridicule is not only offensive but severely irresponsible.
If you are up for intermittent bouts of laughter through three hours of theater, "Baka Naman Hindi" is more than generous enough. Save for a handful of poorly-timed gags, the farce makes for a decently enjoyable evening—well, that is, if you don't care about political correctness.
Tickets: 

Php 1,000.00 - Php 1,200.00


Show Dates: 

Apr 25, '19, Apr 26, '19, Apr 27, '19, 

Apr 28, '19


Running Time: 

approx 3 hours with a 15 minute intermission and a 10 minute intermission


Venue: 

Tanghalang Aurelio Tolentino, Cultural Center of the Philippines, Roxas Boulevard, Pasay City


Credits: 

Dennis Marasigan (direction and lighting design), Virgilio Flores (adaptation), James Reyes (costume design), Katsch S.J. Catoy (lighting design), Ohm David (set design), TJ Ramos (sound design)


Cast: 

Ricky Davao, Rina Reyes, Rafa-Siguion Reyna, Tex Ordoñez-De Leon, Nazer Salcedo, Randy Villarama, Raffy Tejada, Wenah Nagales, Lao Rodriguez, Mosang, Jonathan "Tad" Tadioan, Marco Viaña, Jef Henson Dee, Felipe "Ronnie" Martinez, Kathlyn Castillo, Aldo Glenn Vencilao


Company: 

Cultural Center of the Philippines




Comments