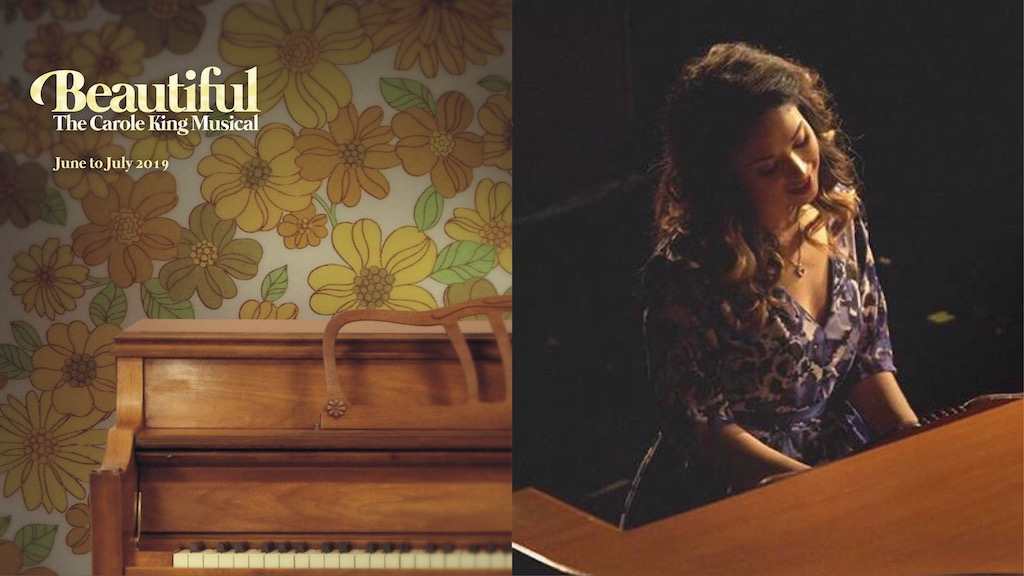 "Beautiful" Cast Talks Carole King Favorites and Music's Timelessness
"Beautiful: the Carole King Musical" by Atlantis Theatrical is set to open in a month's time. As a jukebox musical that tells the story of the celebrated musician, one of the most awaited things for audiences is undoubtedly hearing King's music on stage.
We ask stars Kayla Rivera, who plays the titular role, and Nick Varricchio, who plays King's writing partner and husband Gerry Goffin about the music behind the musical. We also asked the cast and creative team behind the show about their favorite Carole King song.
What do you think makes Carole King's music timeless?
Kayla Rivera (Carole King): Carole King songs remain timeless as deep emotions shared by every one of us, are expressed so simply and genuinely through her lyrics, melodies and instrumentation. It's because of this and the quality of her voice that is so relatable, that until today people still listen to her songs that speak straight to their heart.
Nick Varricchio (Gerry Goffin): I think Ms. King has one of those… voices. Like Nora Ephron or Martin Nievera, once you've heard her timbre– her sound– it never leaves you. And it's a happy haunting. One could assuredly detect her intonation belting "City Streets" on some victrola; blindfolded, one could plainly recognize her advocating for the protection of the Northern Rockies on some morning show. Her voice is truly singular. Her lyrics reflect her experiences of the times, for which she was there, resonating with generations alike as a kind of history lesson on the collective human spirit. Her appreciation to her fans is so sincere, inviting you into her living room. All of which is to say, all of 'that,' coupled with her musicianship and Mary Tyler Moore-spunk, makes Ms. King's songs and the 'Natural Woman' herself …timeless.
What's your favorite Carole King song?
"So Far Away – Carole King wrote this song while being on tour with James Taylor, and really struggled being away from her husband and two daughters for long periods of time. I can relate to this and find it doesn't get any easier every time I leave my family and friends in Calgary to come to Manila, and feel the same sense of longing Carole King conveys in the lyrics and melody of this song. Every time I have a chance to sing it, it taps into a very special place in my heart." – Kayla Rivera, Carole King
Watch her sing a cover of the song in the video below.
"I'd say my favorite song from Carole King is You've Got a Friend. My mom listened to that song a lot when i was a kid. Back then it was just a cute song to me. But as an adult the song speaks to me so much more. I've really experienced what it is to have made true friends. I'm fiercely loyal to my tribe and to know they have my back makes navigating this life a lot lighter for me. –Mikkie Bradshaw-Volante, Cynthia Weil
"It's a tough question. Carole King has so many amazing classics that it would be so hard to narrow just one down. Instead, I'll go with a song that has special meaning to me. In recent years (as funny as it may sound), the Gilmore Girls has found a special place in my heart. The theme song happens to be written by Carole king and it's called Where You Lead. Thinking of that song always warms my soul and puts a smile on my face." – George Schulze, Barry Mann
"You've Got A Friend, which I first heard from James Taylor; that song has gotten me through many a dark night of the soul, when in the early mornings of a brand new day, when uncertainty and insecurity were threatening to overwhelm me, that song saved my life. The tenderness and generosity of that song really got through to me, and gave me courage when I had none." – Jamie Wilson, Don Kirshner
"So Far Away. I always say that to my husband or to any of any of my loved ones when they're seated far from me. I'm clingy that way, always missing them even if they're right in front of me. I also really like the melody and the feel of the song." – Carla Guevara Laforteza, Genie Klein
"My favorite is I Feel The Earth Move. I'm partial to picker-upper, funky love songs that make me wanna dance and let loose. (Also, I really like Mandy Moore's version of this song!)" – Maronne Cruz, Betty
"My favorite Carole King song is You've Got A Friend because I grew up listening to James Taylor and that song in particular. I was so pleasantly surprised when I first saw Beautiful and saw the scene where Carole started playing You've Got A Friend. It was at that very moment that I became an even bigger Carole King fan and supporter. I had no idea that was hers! Also, I have to include (You Make Me Feel Like) A Natural Woman just because it's (You Make Me Feel Like) A Natural Woman. It's a tie. I have so much respect for her and her artistry." – Gab Pangilinan, lead singer of The Shirelles and Marilyn Wald
"I Feel the Earth Move. Aside from it being fun to sing, it's one of those songs that instantly makes me want to groove along with it. Instant good vibes!" – Teetin Villanueva, Little Eva and a member of The Shirelles
"Natural Woman is one of my favorites of all time. It's cathartic is what it is, and it's impossible for someone not to feel amazing after hearing it on the radio or even better, singing it in the shower. All these renditions by legends like Aretha Franklin, Whitney Houston, and more recently, Kelly Clarkson and Alicia Keys is testament to the crazy amount of soul this song breathes. I'd sing it all the time if it weren't so difficult. :))" – Jill Pena, Janelle Woods and a member of The Shirelles
"My favorite song has to be Up On the Roof. It hit me personally the first time I heard it. The need to escape the troubles of your life and find a safe space to dream; that was my life growing up." – Nelsito Gomez, Neil Sedaka and multiple roles; assistant director
"My favorite Carole King song would have to be It's Too Late because hearing it instantly takes me back to my childhood; me singing along to it in the car, or hearing it on the radio as I doze off in the afternoons. It's one of those songs that you hear every now and then but it always brings so much nostalgia and warmth. I don't think it'll ever get old." – Gabby Padilla, ensemble
"My favourite Carole King song is You've Got a Friend. I remember hearing the James Taylor version when I was very young. When you're a kid, a friend is just someone who you have fun with. Hearing this song was my first inkling in to what friendship would eventually mean to me as an adult – a sort of extension of family, a family chosen, a family earned. To hear a song like that as a child was nothing short of formative, and I think that's quite telling of the importance of art in general." – Dean Rosen, ensemble
"I have 3 favorites– Some Kind of Wonderful, Up on the Roof and You've Lost that Loving Feeling. I love them because of their melodies and harmonies. Always a fan of doo-wops and barbershop harmonies." – Arman Ferrer, a member of The Drifters
"I like You've Got A Friend, especially when it was tied in with the story of the musical. It talks about being wherever you are in the world but knowing you've still got a friend who's thinking of you. And no matter how much time has passed, your friendship and bond still remain the same." – Tim Pavino, a member of The Drifters
"Among all of Carole King's greatest hits, the one that resonates with me the most is Up On The Roof. King's music masterfully molds with Goffin's lyrics—teeming with honesty and is so elegantly written—painting together a story of one's longing for inner peace. It is such a stellar song and we are humbled enough to be able to sing it!" – Jep Go, a member of The Drifters
"My favorite Carole King song would have to be You've got a friend. The song talks about having a friend to lean on especially in times of trouble and loneliness. It's my favorite because the song is very simple but the lyrics really get the message and feeling across. It's a perfect combination of a beautiful melody with heartfelt lyrics." – Markus Mann, a member of The Drifters
"I have always been partial to You've Got A Friend. It was one of the first few songs that I loved listening to and singing as a young man. I especially loved James Taylor's version of that song throughout the years. Somehow, I feel that it has become my life's song. However, growing older, I have come to love Hey Girl with Michael McDonald's version on loop in my playlist when the mood calls for it. Often. I guess I'm sentimental like that." – Rhenwyn Gabalonzo, Righteous Brother
"My favorite song is Will You Still Love Me Tomorrow. The lyrics is simple truth of our pursuit of everlasting love, returned and celebrated." – Manman Angsico, vocal director
"I think my favorite is You've Got a Friend. I first remember it coming into my life at a transformative time. But, in essence it reminds us that there are always people who will stand with us no matter what. All we have to do is call. Now, isn't that a great reminder?" – Aaron Porter, lighting designer
Comments