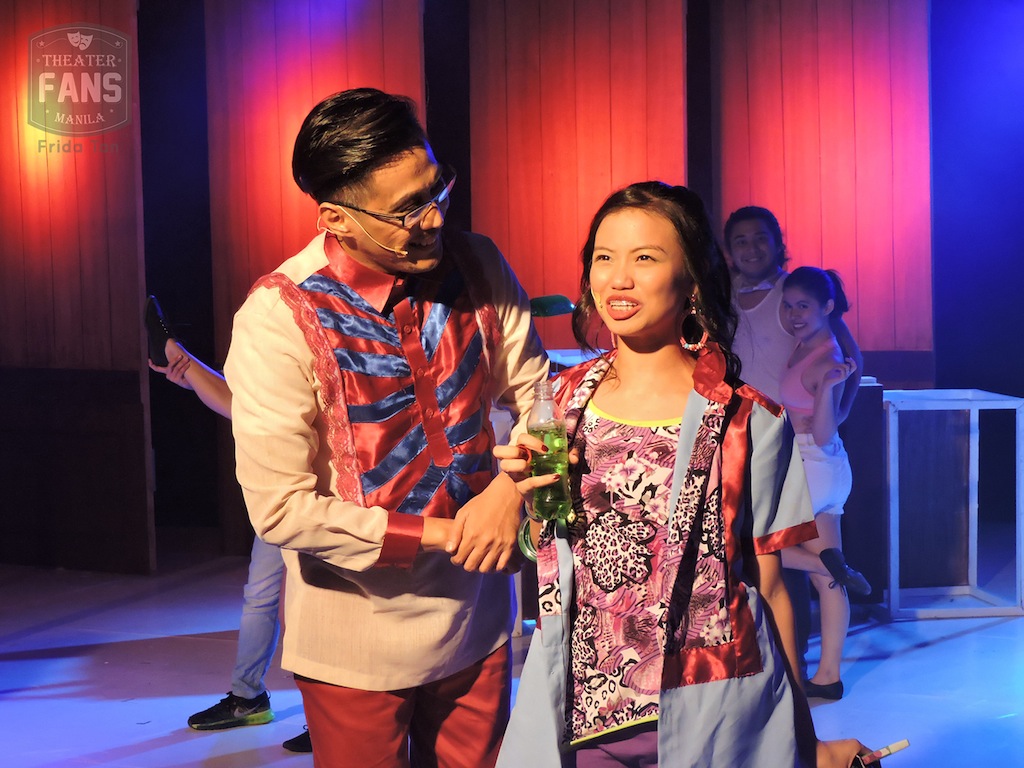 REVIEW: Ateneo blueREP's "Kung Paano Ako Naging Leading Lady"
Restaging one of the most popular original musicals in recent years is a bold move, but Ateneo blueREP proved themselves up to task in their own production of Carlo Vergara's Kung Paano Ako Naging Leading Lady.
The story revolves around two sisters: older and responsibly Mely (Natasha Cabrera) and younger and carefree Viva (Ashe Uy). Mely desperately looks for work to provide for her family, finally landing a job as a maid for superheroes called the Fuwerza Filipinas. Things take a turn when a secret Filipino government agency, Kayumanggilas, recruits Viva to help them topple the Fuwerzas and gain power for themselves.
From the talkback after the show, it was impressive to note that everyone in the cast, except for Cabrera, who was part of the professional production, and Hans Braga (Leading Man), had never seen the original production; not even director Issa Manalo Lopez. This talented group proves that looking at the production with fresh eyes certainly has its advantages.
Lopez and musical director Kevin Maske clearly studied the material. They made some well-thought-out decisions such as making a few songs slower than the original arrangements when they felt the scene called for it, trimming a few songs, and rearranged song sequences that worked well with the reworked storytelling. The only thing that felt awkward was the addition of an entirely new song entitled 'Send Help'. Maske's intention was to add more depth to the Fuwerzas, but the music feels too out of place from the rest of the songs; almost like a ballad was suddenly written in with the rest of Vincent de Jesus' repertoire.
The demanding choreography by Delphine Buencamino gives the show a fresh new feel. They use hip-hop to show the busy streets of Metro Manila, ballroom dancing to show how subtle supervillains entice the innocent, and big group numbers which make ensemble scenes even more impactful.
Set designer Benjamin Padero innovatively uses movable white and purple dividers to connote scene transitions. This was especially clever during a scene when Mely frantically looks for Viva. The production team would move the walls over and around Mely, signifying the distance she has travelled to find her. However, actors are sometimes blocked by the movable pieces during their solos. Cabrera, for example, was covered half the time during her heart-rendering solo, 'Umayos Ka'.
Lopez also added clever things into the storyline that made the story feel very current, such as mentions of our conflict with China regarding the West Philippine Sea, and citizens wanting selfies with their admired heroes. Unlike the original production, she also decided to keep the accents in-tune with the character names in Fuwerza. Nena Babushka, played by Celine Bengzon, boasts a Russian accent, and Madre de Dios, played by Arianna Norton, pulls off a consistent Latina accent.
Norton plays a charismatic Madre de Dios with a commanding presence. There is no doubt that she is the leader of the "six of the most powerful beings the world has ever seen." Costume designer Carlo Tabije gave her a costume that aptly epitomizes her omnipotence. Braga, as Leading Man, is quite genuine. When he tries to prove that his affection for Mely is more than lust, you believe him.
Natasha Cabrera, who played Viva in the professional run, proves her versatility as she plays a charming Mely. She gives the character a balance of comedy and weight, as a sister and daughter who's pressured by duty and responsibility. Her rendition of 'Kasalanan Ko' is a powerful one, making her guilt and anguish of losing a loved one very palpable for the audience. When asked what made the process of this different from the professional production, she mentions that it was 3 months of workshopping and dissecting texts with the mostly student cast. It certainly paid off.
Jerome Fugoso plays the hilarious Kayumanggilas leader Senyor Blangko. His comedic timing is effortlessly natural, especially during the moments when he tries yet fails to speak English like the Fuwerzas. Rando Torregosa, who plays scientist Henyotic, has all the gestures of a mad scientist down, complete with awkward movements and twitching of the eyes.
The biggest revelation of the evening is Ashe Uy, the talented freshman who is easily the star of the production. She plays Viva with perfection– stellar comedic timing with a powerful belt that makes her dramatic solos 'Tatapusin Ko', 'Sige Tawa pa', soar. Her rendition of 'Nais Kong Kumawala' was nothing short of intense; a soul-bearing performance of a person who just wants to break away and prove her worth to the world. Whether she was hula-hooping, dancing, or singing her heart out, she was completely in her element; a star in the making through and through.
Despite the lengths that the creative team has done to polish the work, the musical still feels bloated. Almost all characters have their own solo number, which distracts from the story's main conflict. For a musical that isn't completely sung-through, a 3-hour running time with 23 long song numbers that don't all necessarily move the story forward, can feel very tiring.
With that said, the songs undeniably stand great on their own and highlight the strength of Vince de Jesus' music and lyrics (proving why I've been listening to the original cast album for months on end). And in spite of the needed trimming, the show is still able to push its overall message across– that the real heroes are, in fact, its ordinary citizens who desire to make change.
Comments