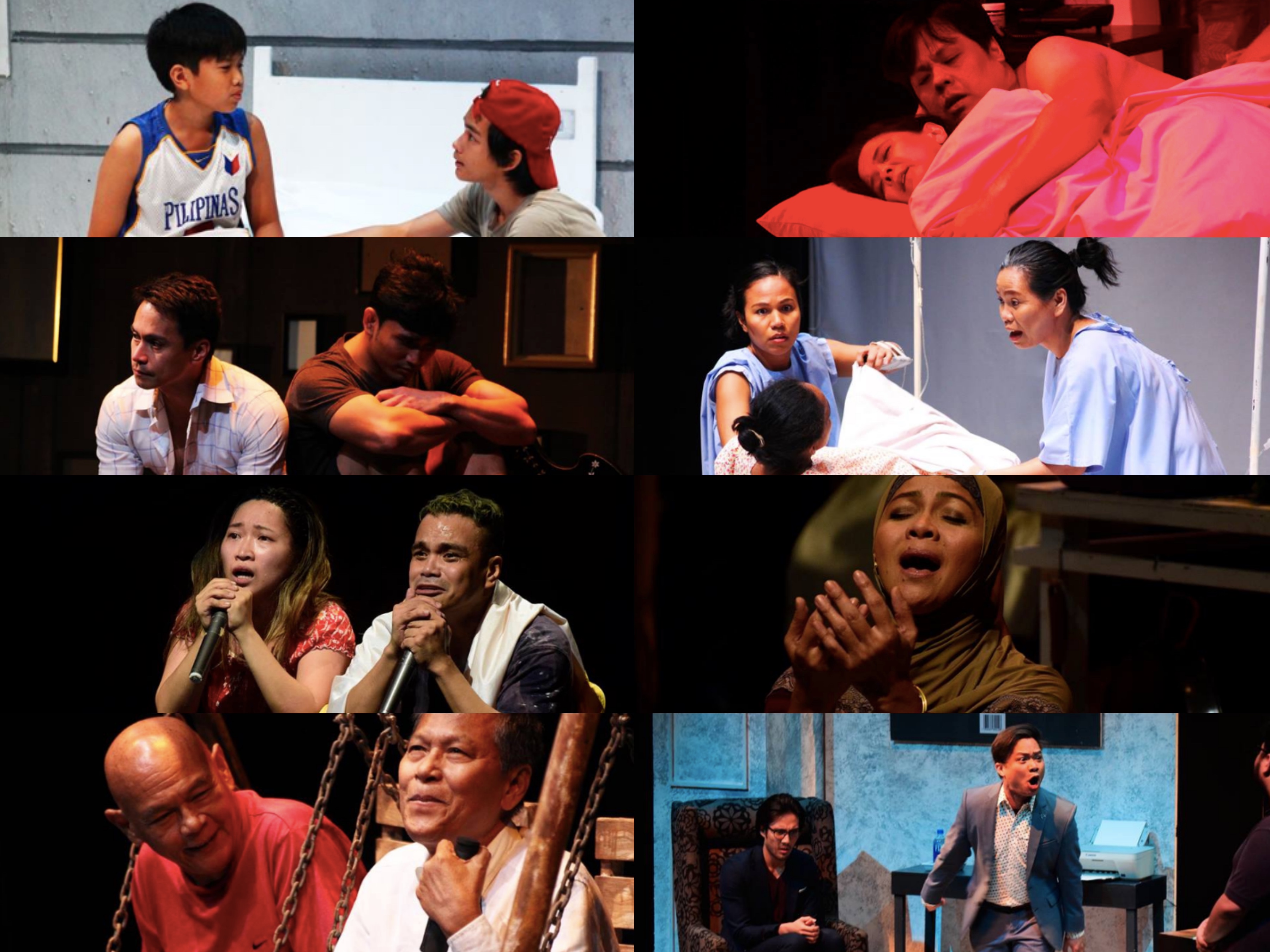 REVIEW: 12 Virgin Labfest "Silip" Plays, Ranked
This year's collection of "untried, untested, unstaged" plays–11 from males and a single one, Labor Room, from a female playwright–were true to this year's Virgin Labfest theme of "Silip". They were all, in their way, a peek into the many varied lives and realities of being a Filipino.
#12. Tulad Ng Dati
Written By JV Ibesate
Midway through JV Ibesate's first foray into playwriting, one of the characters utter a shocking piece of dialogue meant to elicit gasps, only for the audience to titter in uncomfortable laughter. What started as a conversation between a kuya coming home after 20 years of incarceration to a bunso ready to welcome him, no questions asked, descended into confused melodrama that dangerously conflated homosexuality, sexual assault, and incest. There was little finesse in Ibesate's exploration of a loaded relationship between brothers, opting instead for shock that unfortunately, failed to awe.
#11. Marawi Musicale
Written By Tyron Casumpang
It's hard to condense a complex concept like the Marawi siege into an hour-long one-act, even harder to transcribe it into a musical. Tyron Casumpang's attempt (with Maynard De Guzman's music) had promise, focusing on do-gooders just outside the city, trying to live normal lives despite bombs and guns providing background music to their days. It's surprising, however, that Casumpang chose to showcase songs that–while melodious and lyrical–felt unecessary, even to work that was less about any sort of plot and more about giving each character an 11 o'clock number.
#10. Rosas
Written By Jose Dennis Teodosio
Two men at the twilight of their lives meet again. They reminisce about their lives, some memories more painful than others. Jose Dennis Teodosio wrote a quiet sort of play that built a tad too much ambiguity that prompted guesswork of who they were to each other than digesting the impact of what they were trying to say. And, as if to undercut the peaceful smallness of their reunion, Anding (played by Crispin Pineda) just had to have a dark past.
#9. River Lethe
Written By Allan Lopez
Allan Lopez brings a unique exploration of living and dying in River Lethe, where two people in treatment for cancer connect and grapple with their reality and sick bodies while pursuing their sexual desires. It's a bit peculiar, complete with titillating custodians with a distinct way of cleaning messes (director is Chris Martinez), and a very bizarre dream sequence that was both funny and disturbing. Paolo O'Hara and Dolly De Leon, playing Abe and Mara, were perfectly cast as employee family man and bank teller, performing with extreme believability that they're almost uncomfortable to watch.
#8. Ang Inyong Mga Anak: Si Harold at Napoleon
Written By Anthony Kim Vergara
Edna Vida, playing Inang, delivers a poem at the end of Anthony Kim Vergara's Ang Inyong Mga Anak: Si Harold at Napoleon. Judging from sniffles from the audience, it was perhaps moving, if overlong. This comes at the tail end of a dialogue between mother and son talking about politics and personal beliefs. Their stances and their politics are interesting, but the dialogue feels contrived and more than a little preachy. There's an alarmist urgency in the material that even if you have the same politics, it feels a little like a guilt trip: why are we not doing as much as this spoken word artist who goes off to the mountains, living his guerilla fantasy?
#7. Ang Mga Propesyunal
Written By Sari Saysay
There's something about inconvenient truths out of the mouths of babes. Sari Saysay's ripped-from-the-headlines play, Ang Mga Propesyunal, slaps the audience with chilling social realities by giving them as dialogue to pre-teens. In a bout of make-believe after a long day's work sifting garbage for things to sell, three children take on occupations and pretend to be grown-ups. Curiously, they don't dream of comfortable futures, but imagine carrying out their jobs in today's context, where reporters are regarded as purveyors of fake news and policemen serve at the pleasure of a fascist government. The kids are written to be a bit too precocious to be believable, and consistent allusions to trending news stories made it feel like a rehash than add fresh insight to today's news.
#6. Mga Eksena sa Buhay ng Isang Kontrabida
Written By Dustin Celestino
A roundrobin of men in dialogue make up Mga Eksena sa Buhay ng Isang Kontrabida. Pockets of short scenes (directed by Roobak Valle) make Dustin Celestino's play feel quick and interesting. Jake (Jay Gonzaga), depending on who's on stage, is a villain or just misunderstood. Celestino's play gives just enough glimpses into the different characters, without detracting from the main character. The rest of the distinct characterizations were filled in by the highly entertaining cast (Richard Manabat, Earle Figuracion, JV Ibesate, Lian Silverio).
#5. Ensayo
Written By Juan Ekis
Sherry Lara and Bembol Roco lead a thoroughly entertaining romcom about two sexagenarians taking acting classes faced with the prospect of a kissing scene. Juan Ekis' feel-good play doesn't bolster an agenda, nor is it an allegory for anything, and it does so to great effect. It's almost refreshing to watch something so unburdened, whose only purpose is to delight. Lara and Roco lean into the romance and comedy so superbly, they're as adorable as any love team experiencing their first on-screen kiss.
#4. Edgar Allan Hemingway
Written By Carlo Vergara
It doesn't get more original than Carlo Vergara's Edgar Allan Hemingway. Levi (Rafa Siguion-Reyna), a failed programmer, moves to the US and strike it big as a writer. So big, he's a New York Time's bestseller. He comes home a success with his partner (Ricci Chan, ever the scene-stealer). An old friend (Guelan Luarca) comes to call, asking for help with his own manuscript. This prompts a surprising reveal to the secret of Levi's success. Vergara shows restraint in adding just enough sci-fi to make it compelling, but not so much that it's drowning in its own lore. With George De Jesus III's direction, the one-act feels big and so actualized, that the shows that came before it felt like a warm-up with Edgar Allan Hemingway the main attraction.
#3. Mga Bata sa Selda 43
Written By Rolin Migyuel Obina
Two young brothers find themselves inexplicably locked in a sterile room, with little memory of how they got there or even where they are. As they explore their small space, believing they must've been taken by aliens, their seemingly idle chatter reveal their lives and experiences as children of poverty living in today's society. There's a lot of youthful banter and innocence in Rolin Migyuel Obina's play, aided by charming performances from JM Canlas and Tomas Santos. Their innocent worldview is what turns the play's twist into a punch to the gut: they weren't abducted by aliens after all.
#2. Amoy Pulbos Ang Mga Alabok Sa Ilalim Ng Riles Ng Tren
Written By Lino Balmes
Marjorie Lorico and Bong Cabrera gave such incredible performances in Amoy Pulbos ang Mga Alabok sa Ilalim ng Riles ng Tren that they brought out the politics of poverty in Lino Balmes' play with impeccable effectivity. We meet Chona and Ramil living under a train, where they consider basic necessities a luxury. They are tenacious despite their circumstance, and funny in their crassness; and then we see them as players in a disturbing and voyeuristic noontime show. The exploitation of the poor isn't something you see depicted every day, and the way it's done (directed by Tess Jamias), with the audience serving as the game show's audience, makes one feel rightfully complicit. There is also something sinister going on with their young son that the play is so reluctant to make explicit, it's probably–tragically–true to life.
#1. Labor Room
Written By Ma. Cecilia dela Rosa
In a one-act 45 minute play, Ma. Cecilia dela Rosa covered a lot of ground: the realities of healthcare, the unique burden women are faced with, the true consequences of poor reproductive health, Filipino culture and tradition outside of the big cities, gossip, religion, privilege, diaspora, poverty–the list goes on. And she does all this through a conversation in one crammed labor room. Dela Rosa doesn't argue for or against any side of a political or religious debate, but instead shows you its real-world effects. The ensemble of women actresses also bring so much humanity and believability into the playwright's words, especially Skyzx Labastilla whose performance was nothing short of moving. Labor Room is packed with so many layers, that watching it once is not nearly enough.
Comments