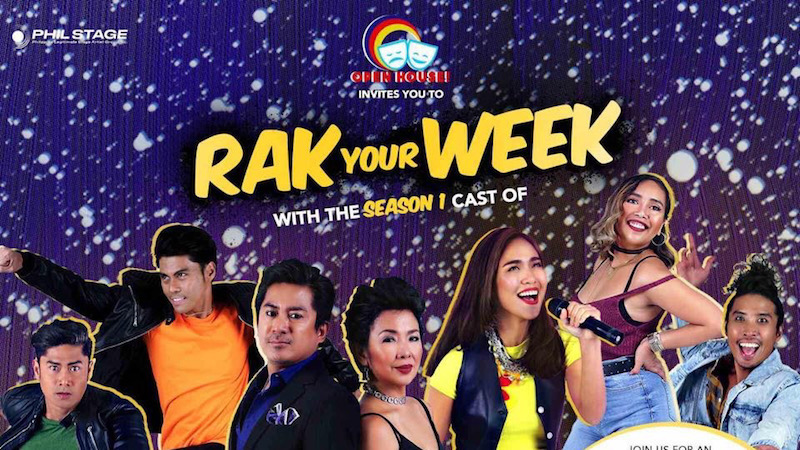 "Rak of Aegis" Original Cast Members to be Featured in next Open House Stream
The original cast members of PETA's OPM musical Rak of Aegis will be coming together for one night only to talk about what it's like to work in the production.
The online discussion will be streamed on May 1, 8pm at the Open House Facebook page. Hosted by Meann Espinosa and Dimples Romana, cast members who will be joining the online event include Aicelle Santos, Robert Seña, Isay Seña, Kakai Bautista, Neomi Gonzales, Pepe Herrera, Jerald Napoles, Poppert Bernadas, Phi Palmos, Ron Alfonso, Gold Villar-Lim, Gimbey Dela Cruz, Carlon Matobato, John Moran, Paeng Sudayan, and Myke Salomon, who also served as the show's musical director, arranger, and vocal director.
Rak of Aegis tells the story of Aileen, a young girl with a big voice who dreams of becoming a YouTube sensation. As she tries her hand at fulfilling her dream, she also finds herself in the position of helping her barangay battle health hazards and livelihood conditions amidst unceasing flood water.
The musical ran for 7 seasons, with its most recent run closing on September 29, 2019. The show is directed by the company's Artistic Director Maribel Legarda and written by Liza Magtoto (book).
This online initiative is part of the Open House fundraising campaign, which aims to help members of the performing arts community displaced by the COVID-19 pandemic. You can donate by going to bit.ly/DonateOpenHouse, or you can go to Open House's Facebook page to learn more about the schedules.
Comments