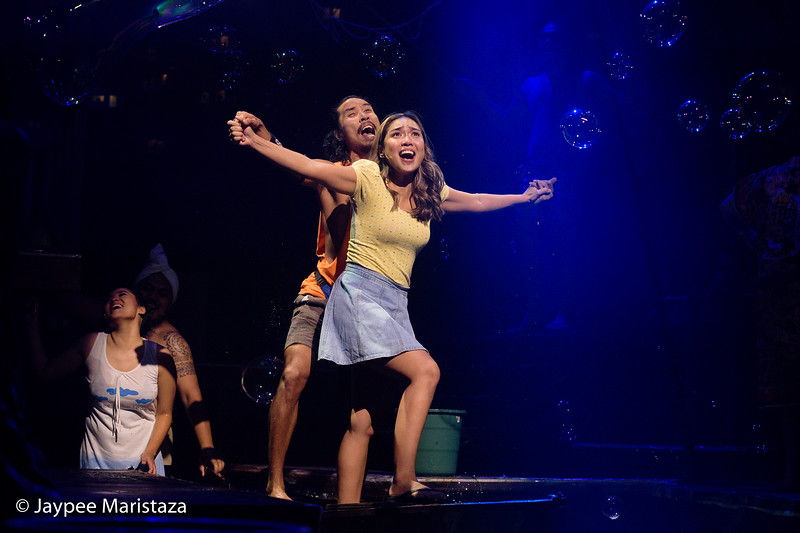 "Rak of Aegis" Gives Back on National Heroes' Day
Unbeknownst to many, PETA, the theater company widely known for producing some of the most popular Filipino stage productions, has also been using the art form to empower communities across the country.
The company has 3 core advocacy programs– Arts Zone Project, which centers on positive discipline/parenting, Lingap Sining, which focuses on mental health, psychosocial support and human rights education (beneficiaries range from victims of Typhoon Yolanda since 2014 to victims of the Marawi crisis), and Arts Ed, which focuses on helping urban poor communities and sectoral groups build and manage their own theater groups. PETA won the Ramon Magsaysay Award in 2017 for continuing to use theater as a means for social change.
On August 26, PETA celebrates National Heroes' Day by inviting its beneficiaries to watch the long-running musical "Rak of Aegis." The production celebrated its 400th show last August 15.
"'Rak of Aegis' alone is an example of how our groundwork has inspired the narratives and characters we portray on stage. The story of 'Rak' was inspired by our post-Ondoy  psychosocial debriefings and relief efforts in Biñan, Laguna, back in 2009," says PETA's Artistic Director and "Rak of Aegis" director Maribel Legarda.
For PETA, it considers its beneficiaries as partners because its community work has informed its art for 50 years.
"We succeed in our mission of entertaining and educating through our art because of our engagement with our partners. As artists, we teach and learn; and then we bring that back on stage when we perform. Our partners have always inspired our work and their stories are a wealthy resource of our narratives," adds Legarda. 
Beng Cabangon, PETA's Executive Director also shares, "We've been successful through the help of our partners and funders who believed in the role of arts in development. Our advocacy campaigns on children's rights, women, gender, health and sexuality, youth, environment and disaster risk reduction and human rights, would not have been possible without their support. That's why we want to dedicate our special show on National Heroes Day for them. They are PETA's unsung heroes." 
Arts Zone Project's positive discipline partners from Valenzuela and Pasig, Lingap Sining program partners on mental health, psychosocial support and human rights education and advocacy, and Arts Ed community partners from urban poor and sectoral organizations, as well as school based theater partners, will be coming to the show. PETA's partner LGU's and funding partners will also be present.
"'Rak of Aegis' has been a gift to PETA and to many people that it has touched. It is the play that keeps on giving. So we are inspired to do just that – to give back and recognize the many nameless faces who have inspired us to use theater to transform more lives," Cabangon adds.
"Rak of Aegis" continues to run from Wednesday-Sunday until Sept. 29, at the PETA Theater Center.

You can buy tickets HERE.
Comments