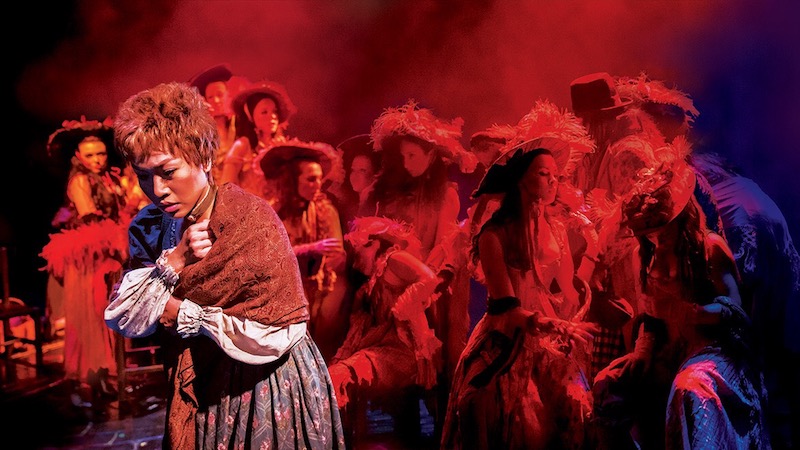 Rachelle Ann Go Returns as Fantine in West End's "Les Miserables"
According to the production's website, Rachelle Ann Go, who currently plays Eliza in the West End run of "Hamilton", is returning to play the role of Fantine when "Les Miserables" opens at the newly restored Sondheim Theatre.
Go played the role at the Queen's Theatre in 2015 during the musical's 30th anniversary staging. She succeeded to play the role with an international cast during the Manila run in 2016 and returned to London later that year to reprise the role.
The show will open on December 18, 2019. Principal cast members who will be joining Go include Jon Robyns (Jean Valjean), Bradley Jaden (Javert), Gerard Carey (Thénardier), Shan Ako (Eponine), Josefina Gabrielle (Madame Thénardier), Ashley Gilmour (Enjolras), and Lily Kerhoas (Cosette). Carrie Hope Fletcher will be playing the role of Fantine from December 18, 2019 until February 29, 2020, and then again from April 20, 2020 until July 25, 2020, while Go will be playing the role from March 2, 2020 until April 18, 2020, and then again from July 27, 2020.
Supporting cast members include Kelly Agbowu, Ciarán Bowling, Richard Carson, Rodney Earl Clarke, Matthew Dale, Matt Dempsey, Harry Dunnett, Jessie Hart, Jessica Joslin, Sarah Lark, Georgie Lovatt, Ellie Ann Lowe, Luke McCall, Leo Miles, Claire O'Leary, Shane O'Riordan, Kathy Peacock, Sam Peggs, Mark Pearce, Emma Warren, Sake Wijers, Mared Williams and Samuel Wyn-Morris.
Producer Cameron Mackintosh said, "As Les Mis enters its 35th year in London, I am thrilled that we have found a brilliant and exciting cast to open my new production at the Sondheim theatre , many of whom were not even born when the show first opened!"
"I am delighted to announce that Rachelle Ann Go, one of the incredible stars of both the Original and current London cast of Hamilton and a previously acclaimed Fantine, will return to this role for 7 weeks in the Spring before taking the role over from Carrie Hope Fletcher next Summer."
You can watch Rachelle Ann Go sing "I Dreamed a Dream" from the Manila run in the video below.
Comments