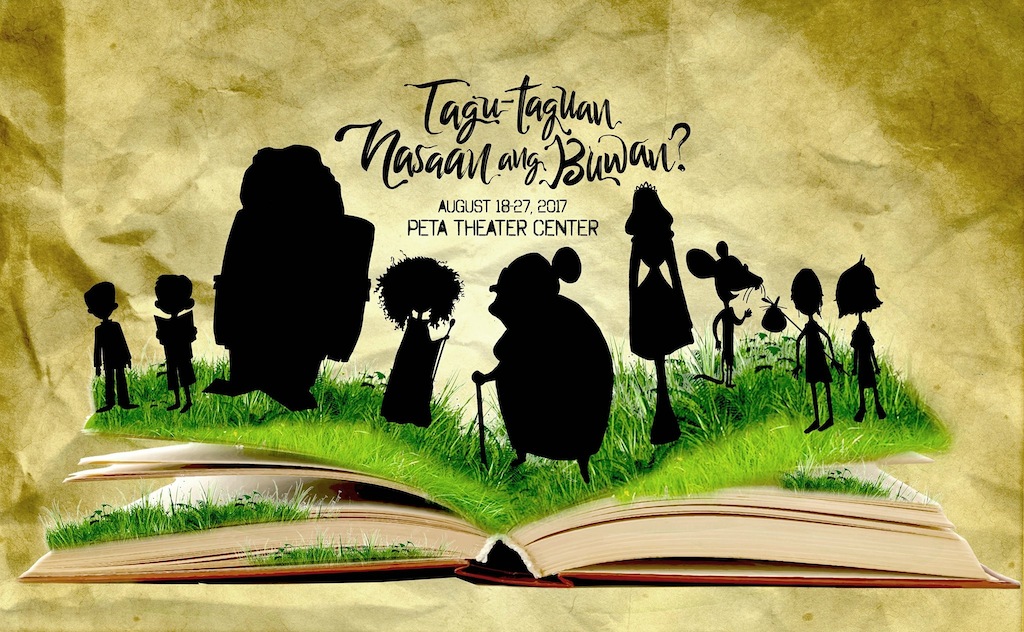 PETA's 'Tagu-taguan' Celebrates the Power of Imagination and Storytelling
Once upon a time, in a land faraway, parents read books to their children, young people huddled over campfire to share made up stories and grandmothers narrated fairytales and epics from memory to their grandkids. These stories no matter how simple they were, helped children understand their world and stimulated their creativity. But the art of telling stories harkens back to a simpler time. Somehow the crazy whirl of modern life has buried these enchanted tales and myths about kings, princesses, monsters and beasts in the sad realm of forgetfulness.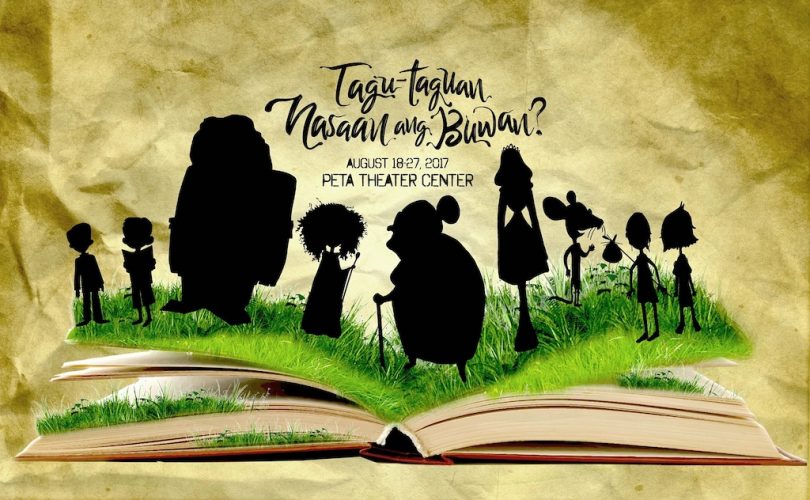 On its 50th Anniversary, Philippine Educational Theater Association (PETA) attempts to bring the spotlight back to the art of storytelling with its new children's musical "Tagu-taguan Nasaan Ang Buwan?".
Penned by young playwright J-mee Katanyag, the play focuses on the importance of storytelling and literature in enhancing children's innate creativity. 'Tagu-taguan' also shows how stories of imagined tales and far-flung places could enrich a child's understanding of the world.
'Tagu-taguan' is a children's musical about a young boy, Popoy, who tries to save his forgetful grandmother, Luna. He does this by looking for her stories that have been imprisoned in a dark realm of fear, guarded by the evil monster Papaw Halimaw.
In his journey, Popoy meets some rather interesting characters borrowed from PETA's well-loved classics like "Batang Rizal", "Ang Tiririt ng Ibong Adarna", "Hans Christian Andersen Must Be Filipino", "Ngo ang Dagang Patay" and "Ismail at Isabel".
Cast and Creative Team
Under the direction and choreography of Dudz Teraña with Associate Director Ian Segarra, the creative team includes: Jeff Hernandez as Composer and Musical Director; Charles Yee as Set Designer; Leeroy New as Costume Designer; Loren Rivera as Lighting Deigner and Sig Pecho as Shadow and Video Designer.
Portraying the boy Popoy are the talented young artists Noel Comia Jr., Albert Silos, Omar Uddin. The role of the forgetful Lola Luna will be given life by Joann Co, Marichu Belarmino and Upeng Galang-Fernandez. They are joined by a talented troupe of young theater actors: John Moran, Vien Alen King, Eric Dela Cruz, Roi Calilong, Phil Noble, Joan Bugcat, Gab Pangilinan, Angelo Lantaco, Raven Relavo, Julia Enriquez, Yeyin Dela Cruz, Teetin Villanueva, Lemuel Silvestre, Gerhard Krysstopher, Vic Robinson and Norbs Portales.
ARTISTIC STAFF
DIRECTOR: Dudz Teraña
ASSOCIATE DIRECTOR: Ian Segarra
CHOREOGRAPHERS: Dudz Teraña and Ian Segarra
PLAYWRIGHT: J-mee Katanyag
LYRICISTS: Ada Tayao, Michelle Ngu, Norbs Portales and J-mee Katanyag
MUSICAL DIRECTOR/COMPOSER/ARRANGER: Jeff Hernandez
SET DESIGNER: Charles Yee
COSTUME DESIGNER: Leeroy New
LIGHTING DESIGNER: Loren Rivera
SHADOW AND VIDEO DESIGNER: Sig Pecho
CAST
POPOY: Noel Comia Jr. / Albert Silos / Omar Uddin
LOLA LUNA: Joann Co / Marichu Belarmino / Upeng Galang-Fernandez
JEFFREY: John Moran / Vien Alen King/ Eric Dela Cruz
GENCIANO/NGO: Roi Calilong / Phil Noble
PRINSESA MINA: Joan Bugcat / Gab Pangilinan
ISMAIL: Angelo Lantaco
ISABEL: Raven Relavo / Julia Enriquez
LITTLE MATCH GIRL: Yeyin Dela Cruz / Teetin Villanueva
PEPE: Lemuel Silvestre / Gerhard Krysstopher
PEPITO: Vic Robinson / Norbs Portales
'Tagu-taguan' is also available on tour. For inquiries and ticket reservations, contact PETA Marketing and Public Relations Office at Tel. No. 725-6244. You can buy tickets HERE.
For more details about what's happening in the Manila theater scene, please view our Theater Calendar.
Comments