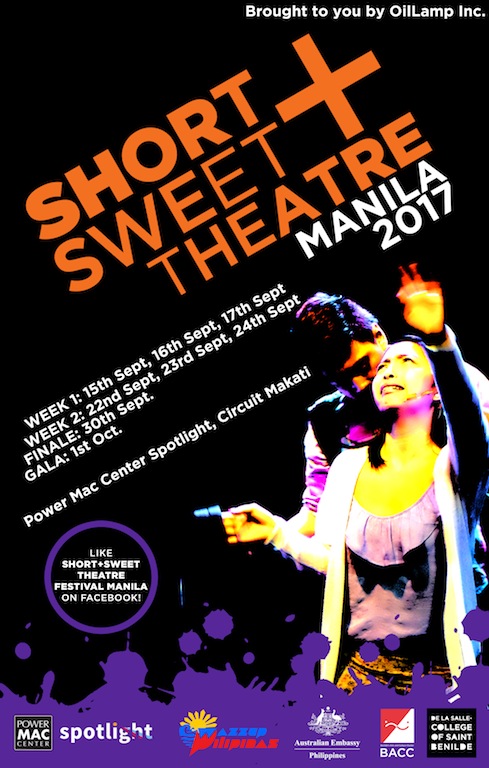 Australia's Short+Sweet Theatre is Back in Manila!
In the age of instant messaging and fast food, 10 minutes onstage is enough to let you know whether or not you've got some magic in your material and talent in your veins.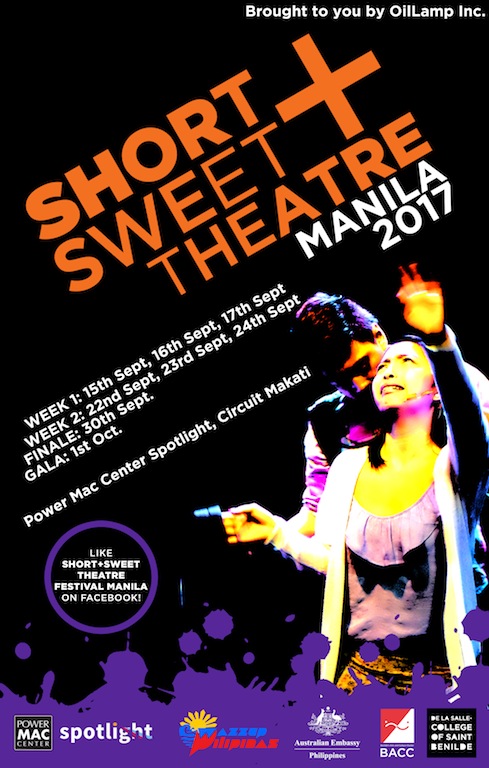 About the Festival
Short+Sweet Theatre Manila gears up for another season and everything is definitely going to be sweeter the fourth time around. Known across the globe as the festival of 10-minute plays (S+S Theatre is dubbed as the "Biggest Little Play festival in the world"), S+S is a springboard for scriptwriters, and a lab for directors, technical crew and thespians alike. Short+Sweet Theatre Manila mirrors the goal of the mother company in Australia—to showcase hundreds of bite-sized dramatic treats, handpicked from submissions all over the world.
Presented by OilLamp Inc., Short+Sweet Theatre Manila aims to be an avenue for local and international artists to present their bodies of work, while utilizing the actors and crew that Manila is already well known for. By working hand in hand, the festival becomes place for these people to come together and build a more creative world 10 minutes at a time.
"Short + Sweet Theatre Manila is a communion. It is has broken the ice between various theatre individuals by bringing them all under one umbrella. It's a celebration and the synergy is simply beautiful," says festival director Divya Rajan.
"It is all about the spice and slice of life – so the plays range from comedy to tragedy to romance to hardcore drama. It's a potpourri of stories."
Its Roots
Beginning as a small festival of 10 minute plays in Sydney, Australia, S+S have grown into a global organization. Short+Sweet has made a considerable impact on the global theatre scene through developing new, original work with emerging artists and providing a platform for established artists to showcase their talents. S+S Theatre has paved its way into Hollywood last year 2016 at the Stella Adler Academy and aims to bring the best plays from across the world to be staged there. Some of the well written plays of Manila have been qualified for S+S theatre festivals around the world!
S+S believes that short form theatre can move audiences as effectively as long form. All Short+Sweet seasons consist of high-quality 10 minute pieces and this is achieved through a vigorous, merit-based process, employing an open call for material, auditions, and artist interviews.
Giving Back
This year, OilLamp Inc. gives back to society by partnering with organizations to help victims of violence and abuse. OilLamp will also tie up with humanitarian organizations focused on ending poverty by helping children and youth.
Short+Sweet Theatre Manila is presented by OilLamp Inc. Official venue partner is Power Mac Center. Media partners include Wazzup Pilipinas. Special thanks to De La Salle's College of St. Benilde.
Show Details
Short+Sweet Theatre Manila will take place at the Power Mac Spotlight Auditorium, Circuit Makati. The festival will be spread across three weekends in September/October 2017.
For inquiries, please check their Facebook page.
Week 1 Schedule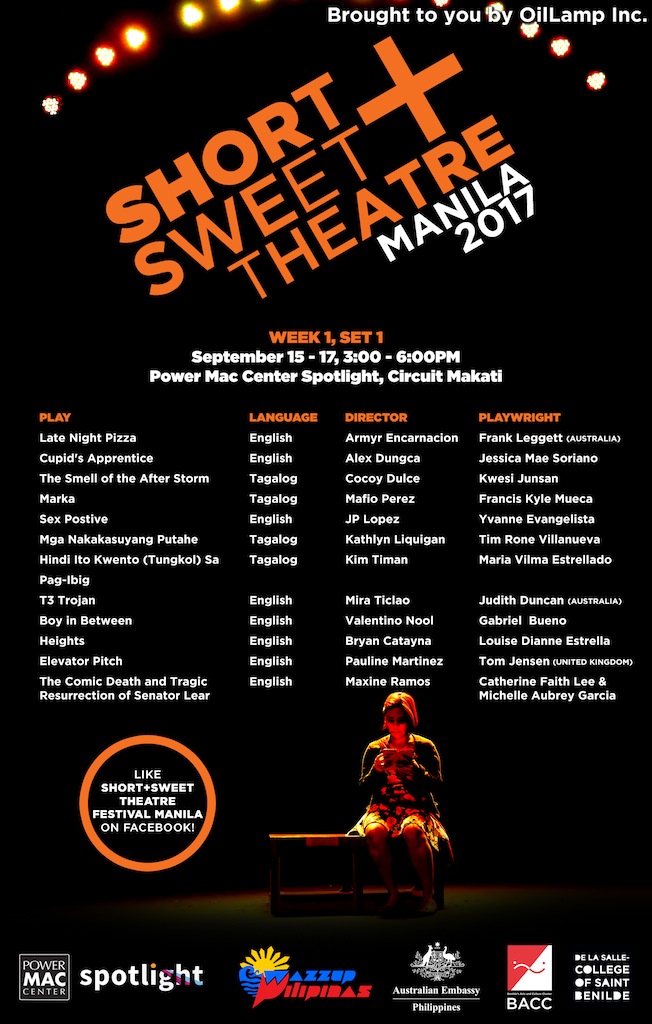 Week 1 Schedule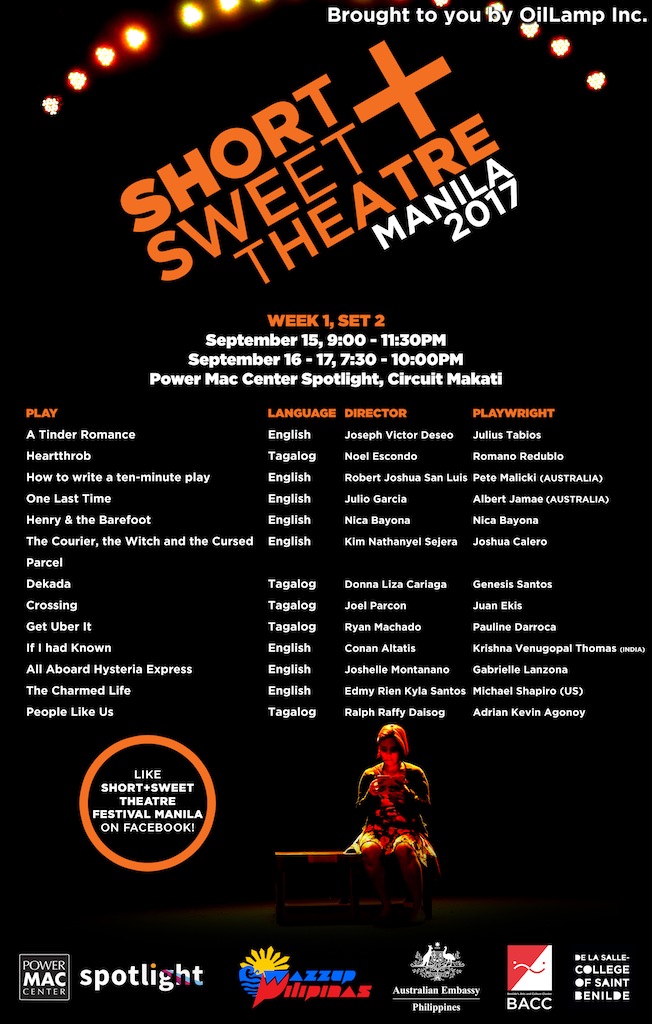 Week 1 Schedule
Week 2 Schedule
Comments