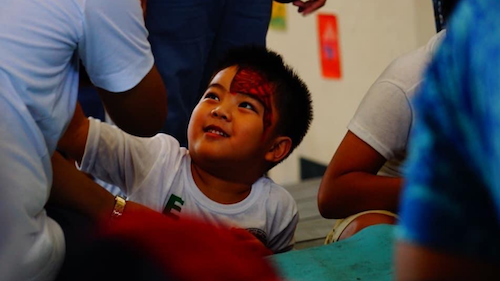 PETA's Online Festival Spotlights the Youth
SulYAP Kabataan PLAYlist and START: A Quest to Claim Our Safe Space, are two of PETA's online festivals that are geared towards the youth. 
When asked why the company has chosen to put the spotlight on them, PETA President CB Garrucho says, "Noong umpisang-umpisa pa lang, heavily invested na sa kabataan ang PETA. We have always had youth programs because we think the youth are important, and it's important to catch them in their formative years."

"Ngayong pandemya, alam namin na the youth are suffering because it's such a global phenomenon, and we want to ensure that we're reaching out to the young people."
Gail Billones, the head of PETA's Lingap Sining arm, which focuses on developing safe schools and resilient communities through art and culture-based approaches, adds, "Kami, very invested talaga sa mga young people, lalo na sa probinsya kasi malaki iyung nababahagi nila. I think ngayong pandemic, iyung isang coping mechanism ng mga kabataan is to be able to express themselves online, tell their stories, and develop creative outputs to have mental well-being." 
SulYAP Kabataan PLAYlist, which runs from September 19-26, is a platform for both teachers and young artists to meet, learn, collaborate, and share creative work. Now on it's third year, 2020's online form is divided into 3 components: TAM-AWAN (September 19) features online round table conferences that discuss theater education and the role of young artists in the "new normal"; DUNGAW (September 21-25) holds online mini-workshops and lecture discussions on the different fields of theater making, such as stage design, acting, movement, voice, sound, creative writing, and directing; and MULAT, a culminating program featuring the creative outputs of PETA's participants and partners from various cities and provinces like Bataan, Cavite, Batangas, Pampanga, Infanta, Antique and Bicol.
The performances from MULAT will be streaming on PETA's
Facebook page
on September 26, starting at 1pm onwards. You can find the seven performances below:
Paaralang Buhay, Paaralan ng Buhay
A collaborative poetry dance short film jointly undertaken by the students and teacher of the Special Program for the Arts (SPA) of Tabaco National High School in Tabaco, Albay with a special support by the Infanta National High School under the creative guidance of PETA Artist- Teacher-Members, with strict observance of the health and safety protocols of the government.
Guro sa Bagong Normal
Ang mga Guro sa Bagong Normal ay tungkol sa masalimuot na buhay ng mga guro sa panahon ng pandemya. Ang piyesang ito ay mula sa kolaborasyon ng mga gurong sina Ada Tayao (lyricist/composer/arranger), Gold Lim (concept and direction), at YAP Teachers: Winnaflor Gaspar (Batasan National Hills HS), Mary Joyce Portales (Infanta National HS) at MA Santos-Bugay (Bataan National HS).
Sino ang Pinuno Mo?
A music video of a song from the 2018 Yap Production Workshop output Pagsibol ng Halimaw,a devised work based on William Golding's Lord of the Flies. The song is from the scene where the stranded children are deciding who will be their leader in their island. "Sino Ang Pinuno Mo?" investigates our notions of an ideal leader. Performed by the original cast of Pagsibol ng Halimaw, young artists from Antique, Metro Manila, Infanta, Albay, Bataan, Pampanga, and Batangas.
Bukang Liwayway
A song about hope during trying times originally composed by young people from Antique, Infanta and Metro Manila with artistic guidance from PETA Artist – Teachers. The song talks about how young people can bring light through their voices and art.
Pipit
This short song is a familiar tale of oppression that's been told again and again in history. Here are birds humming or singing in a setting similar to our country's status quo. We sing when in joy, we sing when we have problems, we sing to gather courage right before we fight. This video project is a collaboration of young PETA members as a tribute for our freedom of speech as part of the apprentices' Kalayaan series (a collection of poems and songs created during this community quarantine).
Thermal Scammera
Comic sketches about the experiences of young people during the quarantine seen in the point of view of a thermal scanner. Developed through improvisations by young Artist-Teachers from PETA. Written and directed by Mico Esquivel.
#ShareKoLang
Characters from Jose Rizal's Noli Me Tangere and El Filbusterismo reimagined as Youtube Vloggers, online sellers, Tiktokerists during the COVID-19 pandemic lockdown. Developed by young PETA Artist-Teachers under the guidance of Senior Artists from PETA.
START: A Quest to Claim Our Safe Space
,
running from November 17-22, will be holding online webinars, workshops, and performances, for and by the youth, highlighting positive discipline and child safety and protection.
START
is part of PETA's positive discipline campaign program called the Advocate Right to Safety Zone for Children (ARTS Zone).
The following events will stream on PETA ARTS Zone Project's Facebook page:
WEBINARS: Starting conversations on the situation of Children and Youth, their rights, and our roles in creating a better, safer and loving community.
November 17
Duty Bearers Webinar
● Child protection in the ASEAN Region
● Violence Against Children National Situation and Discussion on Child Safety and Protection in the Philippines
November 18-21
Conversations on Creating Safe Spaces
● Pasaway Culture: Pasaway ba talaga ang mga Pinoy?
● Looking Forward: Parenting in the New Normal
● Tahanan-Silid-Aralan: Creating a Safe Space for Learning
● Ang Lakas ng Sining!: Arts in the Spirit of Humanity
● At Home with Tatay
WORKSHOPS: Igniting moments of participation and creativity among children, youth and adults.
November 18-20
● PD Art-vocates Boot Camp: Children and Youth Creative Leadership Workshop
● PD Artvocacy Public Workshops
– Music expression
– Visual arts exploration
– Movement
– Shadow puppetry
PERFORMANCES: Viewing different perspectives on Children's Rights, Child Safety and Protection and Positive Discipline and giving the spotlight to the voices of the children and the youth.
November 21-22
● Youth Advocates through Theater Arts (YATTA) from Dumaguete City
– Ang Bata sa Sako
– Zoom Class
– Veto Titas
● 2nd Set: 2 Meters Apart (A Docu-musical on Positive Discipline)
– PETA Performance
● PD Champions' Storytelling Jam with PG Komiks and A-Zone
● Selected Performances by partner university theater groups
● The Hero's Journey: Children and Youth Creative Workshop Performances
– Caloocan City
– Las Piñas City
– Makati City
– City of Manila
– Pasig City
– Quezon City
– Valenzuela City
SulYAP Kabataan PLAYlist and START: A Quest to Claim Our Safe Space are both part of PETA's Festival of Windows, a three-month long online arts festival that features multiple windows of stories and ideas presented through performances, workshops, lectures and other creative expressions. It aims to open windows for introspection, dialogue, meaning-making and imagination.

There are more things in store for PETA's Festival of Windows. Stay tuned as we make more announcements soon.
Update, 9/24/20, 8:40pm: The line-up of START: A Quest to Claim Our Safe Space has been updated.
Comments