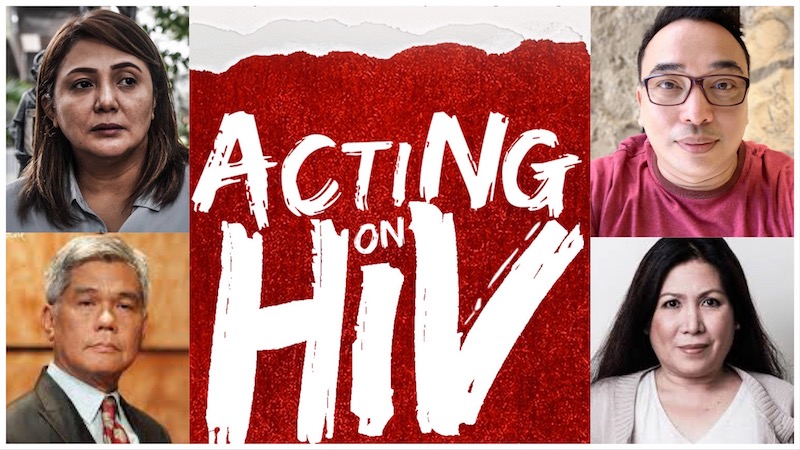 PETA Takes on HIV This Season
PETA closes its 52nd season with a cultural campaign entitled "Acting on HIV", a campaign that aims to educate the public about HIV, debunk myths and misconceptions about it, and eradicate the stigma that surrounds it. 
The company has partnered with HIV advocacy organizations LoveYourself, Inc. and The Red Whistle. The former is a volunteer driven, community-based, non-profit group that aims to nurture and empower one's self-worth, while the latter is a collaborative platform for people to come together and show their support to those living with HIV and AIDS. 
PETA President CB Garrucho says that it is really common practice for PETA to be working with partners on the ground. "We cannot work singly in a bubble, in a void."
"For this cultural campaign on 'Acting on HIV', we sought the partnership of LoveYourself and Red Whistle kasi mayaman na mayaman iyung karanasan nila, iyung technical expertise nila on the subject of HIV. PETA provides the artistic element, the acting, the aesthetics, the performance, the workshops, but we definitely need the expertise of Love Yourself and Red Whistle."
"Years ago, we already had a reproductive sexuality HIV-AIDS program, which was not only based in the Philippines, but we took to the Mekong region," shares Artistic Director Maribel Legarda. "At that time, when we did the project in Mekong from 2000-2007, the Philippines was the lowest [rate]. [The higher rates] were in Thailand, Cambodia, etc. And we would think it would be a happy note if in 2019, it was gone or if we're still the lowest. But unfortunately, we're the growing rate, and that was very problematic." 
"That's one of the reasons that we decided to also really pursue this, not just as a performance, but a campaign."
The Philippines is considered to have one of the fastest growing HIV epidemics in Asia and the Pacific region, with 63,278 confirmed HIV cases and a total of 3,076 deaths from 1984 to January 2019. An average of 35 people are diagnosed everyday (as of June 2019), as opposed to 2009, with only 2 people per day. More than half are aged 25-34, while 28% are 15-24 years old.
Legarda adds that the disease continues to spread not because of a lack of medicine, but because of the stigma, the ignorance, and the lack of compassion.
"That's why we felt that the arts would be the best place to be able to say these messages. And for PETA of course, it's not only a performance. We will try to do it with workshops and with other interactions with other groups."
"This is a creative campaign, and again I want to underline the campaign, kasi in today's problematic world, you can't just sort of approach it in a small way."
The campaign is headlined by Rody Vera's play entitled "Under My Skin", directed by Melvin Lee. It is a culmination of multiple stories about Filipinos living with HIV gathered from their friends and relatives, HIV advocates, existing studies on HIV, doctors, and health practitioners. The play follows Dino, an HIV-positive teen whose status is discovered through a contraction of tuberculosis; Mary Rose, a mother who unknowingly passed down the virus to her son after contracting it from her husband; a gay beauty parlor employee experiencing work-related discrimination, and more through Dr. Gemma Almonte, an epidemiologist at the Department of Health who is studying the spread of HIV in the Philippines.
Cast members include Cherry Pie Picache, Roselyn Perez, Miguel Almendras, Mike Liwag, Anthony Falcon, and more. The show will run from February 7-March 15, 2020 (Fridays 8pm, Saturdays and Sundays 3pm and 8pm) at the PETA Theater Center.
As part of the campaign, the play will have after-show talkbacks where members of the cast and artistic team, together with HIV experts from LoveYourself Inc. and Red Whistle, will be present to answer questions from the audience.
OTHER INITIATIVES
LoveYourself Inc., together with HASH-HIV & AIDS Support House, will be spearheading a free HIV screening that will be made available at the theater during the performances. "Under My Skin" will also be the theme of an HIV-AIDS photo exhibit this November, in collaboration with photographer Niccolo Cosme of the Project Headshot Clinic.
The "Acting on HIV" campaign will also include an 8-hour workshop for young people who wish to enhance their knowledge on the HIV/AIDS advocacy. Participants shall explore various arts activities (i.e. dance, music, visual arts, creative writing, and drama) to tell, investigate, and craft stories of individuals and communities to better understand the disease and the stigma that accompanies it.
PETA will also be carrying out an online education series (EduSeries), using social media as the main platform. Topics will range from HIV-AIDS 101, to discussing myths and misconceptions about the virus.
Garrucho says, "Above all, one of the major things we want to heal from this campaign is the stigma of having HIV and AIDS, which should no longer be the case."
Comments