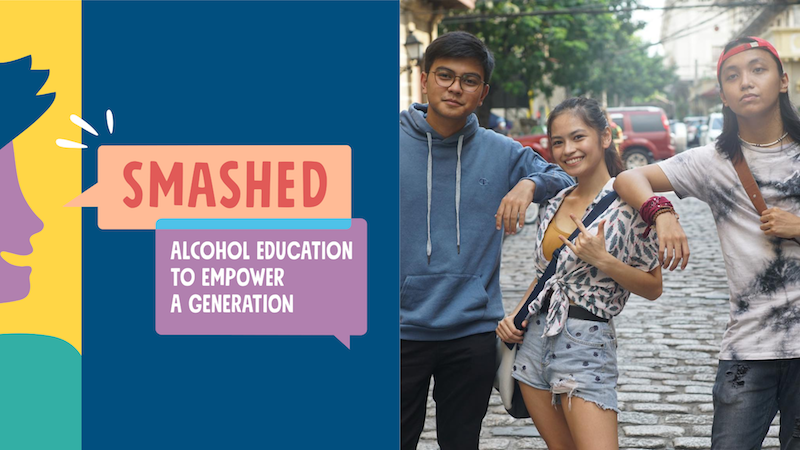 PETA Prevents Underage Drinking Through Theater
In the Philippines, 70% of the population have consumed alcohol before the age of 14. Drinking alcohol at a very young age can lead to detrimental effects such as dropping out of school, getting into accidents, poor decision-making, adverse health conditions, and more, both in the short and long-term. To help combat this growing issue, PETA-Plus–previously called the PETA Theater Center–introduced Smashed in 2021. 
Smashed, which is slang for intoxicated, is a global campaign led by Collingwood Learning and supported by global leader in beverage alcohol Diageo, designed to reduce the harm of underage alcohol drinking and peer pressure using an empowering arts-based approach.

"What I realized was the power that theater can have in terms of actually enabling young people to learn about really challenging and complex issues." says Chris Simes, Managing Director of Collingwood Learning.
There are currently 2 components of Smashed– Smashed Live and Smashed Online. The program started as a live, theater-based performance in the UK in 2009 and is currently up and running in 17 countries. PETA-Plus planned to administer the live program, but had to quickly shift to the online medium due to the COVID-19 pandemic. 
'Smashed' Philippines
The Philippine version of Smashed Online uses an online, interactive, film drama developed by PETA-Plus and Collingwood Learning. It follows 3 friends, Jella, Miko, and PJ, played by Gillian Vicencio, Carlos Dala, and Luis Ruiz respectively, as they grapple with misusing alcohol at a very young age. Also in the cast are the actors playing their adult family members and advisers, Nikki Manlulo, Chino Veguillas, Meann Espinosa, and Melvin Lee, and other supporting characters played by Pia Viola, Julio Garcia, and Matt Axibal. The main storyline, which follows the same arc globally, has been adapted to the Philippine context. 
In a span of 10 months, Smashed Online reached 17 regions, 17,700 young people in 120 schools, and 675 educators in the country. The film itself is hosted on an interactive online platform that employs a choose your own adventure format, enabling users to make choices for the characters, answer questions, and learn at the same time. With the Department of Education and other academic institutions serving as partners, Smashed Online was able to equip educators and young leaders with workshops and training.
Smash-ing Success
In 2021, 607,374 students were educated globally through Smashed Live and Smashed Online and in that number, 491,128 students confirmed attitudinal change. 261,000 of those students (43%) were educated through Smashed Online.

Gold Villar-Lim, the Philippines' Smashed Online project manager, shares that 93% of the total participants who were surveyed in the Philippines confirmed attitudinal change. "Overall, the project is not only a big step in advocating for alcohol education and youth empowerment, but also in promoting applied theater and drama-in-education as effective teaching tools in the Philippines," says Villar-Lim.
From 17,700, their goal this year is to reach 40,000 young people aged 10-17. According to Villar-Lim, the average Filipino youth starts drinking alcohol at the age of 16 or 17. As early as grade 5, the topic of alcohol consumption is already embedded in the Department of Education's curriculum.
'Smashed' Face to Face
Fortunately, since schools will already be deploying face-to-face classes this year, the biggest change that the program will be taking on is the incorporation of live theater performance. Since the Smashed Online film focuses on the consequences of underage drinking, the live performance, which is called the Smashed Workshop-Performance, will be focusing on prevention, using participatory skits that will be framed as a workshop for 40-50 students. This Philippine-led activity, which will still be on its pilot phase, will first be implemented in PETA-Plus' 4 partner schools. 
This activity will be under the Smashed Philippines Online Caravan, where the Smashed Philippines Team, composed of PETA Junior and Senior Artist Teachers, will be hopping from school to school, city to city, to conduct the website workshops face-to-face.
According to Melvin Lee, the Program Director for PETA-Plus, the workshop-performance will serve as a follow-up activity for those who have gone through the first phase of Smashed Online last year. It will also serve to deepen the overall discussion on alcohol prevention. Essay writing and video making contests will also be incorporated as supplements.
"I think if you know PETA, we really advocate for the use of theater in almost any aspect, especially in education because mas malaki iyung retention 'nung experience sa kanila, says Villar-Lim. "Having Smashed in the Philippines is a really big step because it's really an effective tool."

Comments