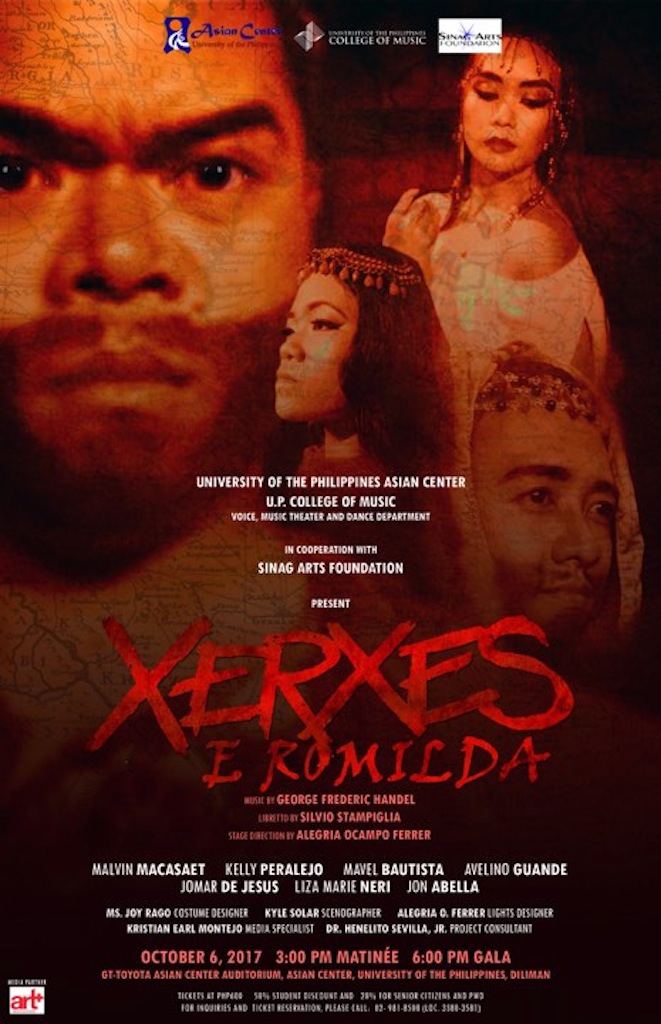 Opera "Xerxes E Romilda" to Premiere in October
Erratum: The show has been moved to October 27 at 3pm and 6:30pm.
Prof. Alegria O. Ferrer in cooperation with U.P. Asian Center, U.P. College of Music, and Sinag Arts Center, proudly presents "Xerxes E Romilda", the Philippine premiere of George Frideric Handel's opera "Serse".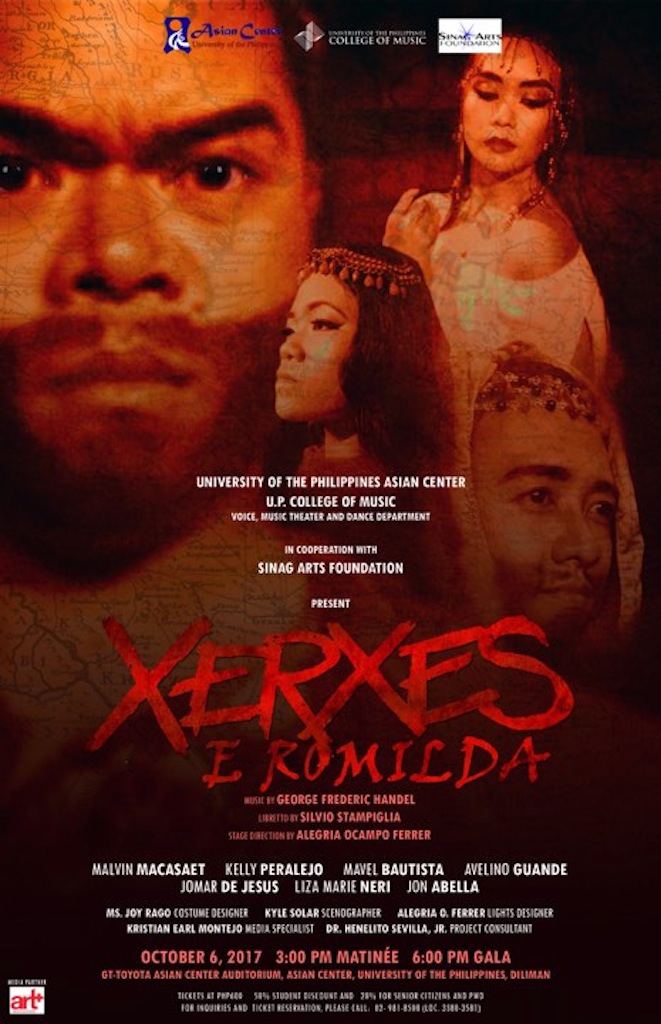 About the Opera
Xerxes e Romilda is set in Persia (modern-day Iran) in 480 BC and is very loosely based upon Xerxes I of Persia, though there is little in either the libretto that is relevant to that setting. This production will incorporate traditional Persian music, in order for the audience to feel the setting. The opera is also known for its opening aria "Ombra Mai Fu", sung by Xerxes to a plane tree. The entire opera will be entirely sung in Italian, however, Italian lyrics and its English translation shall be flashed above the stage to be easily understood by the general audience.
The story revolves around King Xerxes' desire to have Romilda for his own, the lover of his Brother, Arsamene, and the daughter of his vassal. This is even complicated by the fact the Xerxes already has Amastre as his betrothed, who shall be disguised as a man while observing the unfolding of events. The opera will have a lighter touch with the comedic scenes of Elviro acting as a liaison between most of the characters, who ends up screwing everything by handing out communications to the wrong person.
Performers
This production shall feature the following artists from University of the Philippines, College of Music: Malvin Beethoven Macasaet (Xerxes), Kelly Peralejo (Romilda), Jomar de Jesus (Arsamene), Ma. Rovelyn Bautista (Atalanta), Avelino Guande (Ariodate), Liza Marie Neri (Amastre), and Jon Abella (Elviro).
About Director Alegria Ocampo Ferrer
Alegria Ocampo Ferrer is a U.P. College of Music Faculty and Oberlin in Italy assistant faculty for summer 2016 and 2017. Ms. Ferrer has a vast experience as a stage actress, as well as a stage director. Most recently, Ms. Ferrer was as an international stage director in Arezzo, Italy with George Frideric Handel's Opera SERSE at Piazza della Badia.
Alegria Ferrer is an ALIW AWARDS hall of fame awardee in the Female Classical Category, a UP Artist I recipient for the years 2013-2016, a Professional Chair awardee in 2014, recognized as "One of UP's most Productive Artists" in 2016, and is included in the Cultural Center of the Philippines (CCP) Encyclopedia of the Arts.
Show Details
The opera will be shown twice on 6 October 2016 (3:00 PM for Matinee, and 6:00PM for Gala) at GT Toyota Theater, Asian Center, University of the Philippines, Diliman campus. Tickets at P600.00 (50% student discount, 20% senior citizen and PWD discount). For ticket reservations, please call 02-981-8500 loc. 3580-3581)
For more details about what's happening in the Manila theater scene, please view our Theater Calendar.
Comments