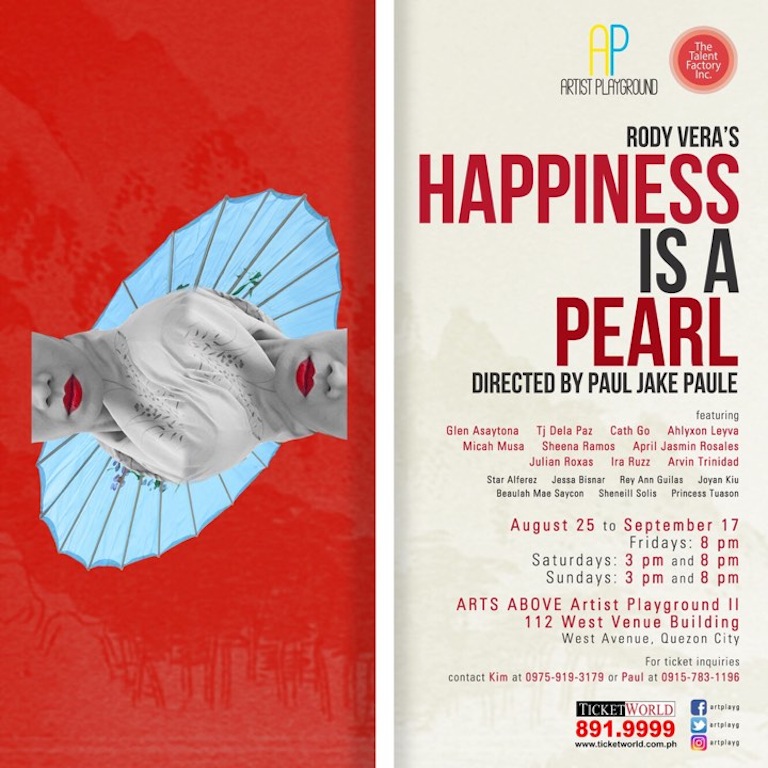 Award-Winning "Happiness is a Pearl" Back For A Second Run
What can you do for love?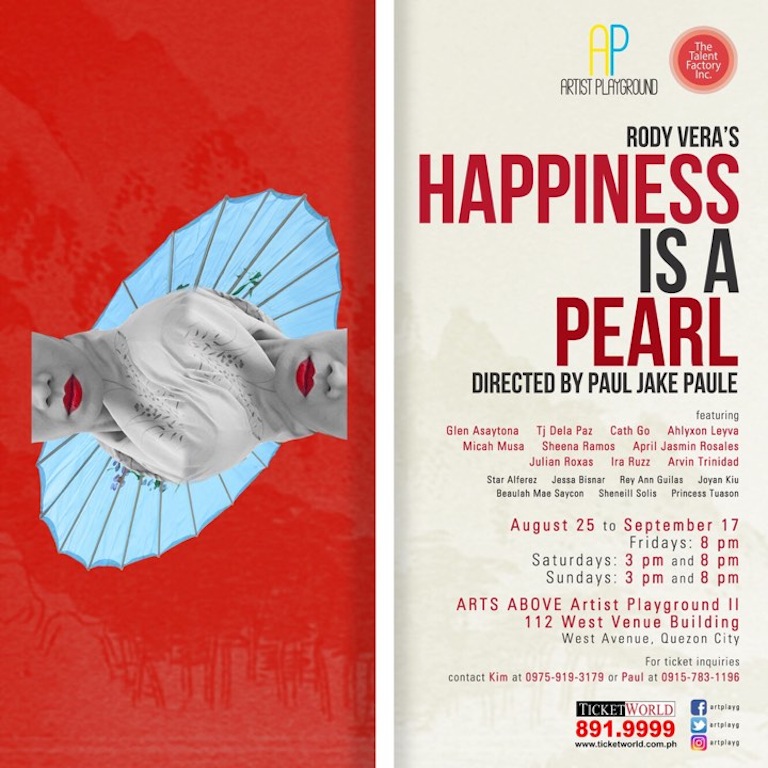 Witness the critically-acclaimed "Happiness is a Pearl" as Artist Playground brings it back to life, by popular demand, in a second run! The show is set to return starting August 25, 2017, running until September 17, 2017. The new production will be staged at a larger venue at the Arts Above, Artist Playground II, 112 West Venue Bldg., West Avenue, Quezon City.
The premiere production of this original play written by Carlos Palanca Memorial Awards for Literature Hall of Famer Rody Vera gathered accolades last year, including Best Non-Musical Production (Aliw Awards, 2016) and Best Filipino Play – New/Revival (BroadwayWorld Awards, 2016). "Happiness is a Pearl" is directed by Paul Jake Paule, an esteemed actor, director and Aliw Awards nominee.
The play revolves around three characters—Kenji, a male Japanese gigolo; Maria, a poor Filipina Japayuki; and Mari, a desperate housewife who falls in love with Kenji.
Synopsis
Before becoming a prostitute in a club in Kabukicho, Tokyo, Mari was married to a wealthy businessman. But Mari's billionaire husband soon leaves her when she becomes attached to a male gigolo named Kenji, who has a pearl stitched under the skin of his penis. However, Kenji sets his eyes on a poverty-stricken Filipina entertainer named Maria. Intertwined by fate and struggles, how will Kenji, Maria, and Mari find the true meaning of love and happiness?
Cast
Kenji will be alternately portrayed by Glen Asaytona, TJ Dela Paz, Julian Roxas, and Arvin Trinidad; Cathrine Go, Micah Musa, and April Jasmin Rosales will star as Mari; Ahlyxon Leyva, Sheena Ramos, and Ira Ruzz will take on the role of Maria. Cathrine Go and Ira Ruzz previously starred as alternates for Mari and Maria in the original run last year.
The ensemble consists of Star Alferez, Jessa Bisnar, Rey Ann Guilas, Joyan Kiu, Beaulah Mae Saycon, Sheneill Solis, and Princess Tuason.
Artistic and Production Team
The Artistic Team is led by Paul Jake Paule (Director), Roeder Camañag (Artistic Director), Jesse Lucas (Music By), Lezlie Dailisan (Choreographer), Mailes Kanapi (Artistic Consultant), Jeffrey Camañag (Production Design Consultant), Ma Fatima Cadiz (Assistant Director), John Mark Yap (Lay-out Designer), Aly Mondonedo (Photographer), Sem Pabion (Dramaturg), Rowena Jarito (Sound Designer), Glenn Caspe (Lights Designer), and Reynoso Mercado (Production Designer).
The Production Team is led by Kimberly Claire Somoza (Production Manager), Joselito "Toots" Tolentino (Publicist), Pat Gajes (Stage Manager), Jeremy Cabansag (Deputy Stage Manager), Arjie Rebuldela (ASM for Lights/Boardman), Beaulah Mae Saycon (ASM for Costume), Star Alferez (Costume Mistress), Jessa Bisnar (Make-up Supervisor), Rey Ann Guilas (Props Head), Rowena Jarito (Spinner). The set team includes Glenn Caspe, Jayson Garcia, Paul Candor and Joyan Kiu.
___________________________________________________________________
"Happiness is a Pearl" had its premier performances last July to August 2016 at 1701 The Little Room Upstairs, along Timog Avenue, Quezon City. As part of the opening of the Maybank Performing Arts Center in Bonifacio Global City, the original production was also restaged last November 2016.
You can buy tickets here. For inquiries, please call 09759193179 c/o Kimberly Somoza.
Comments