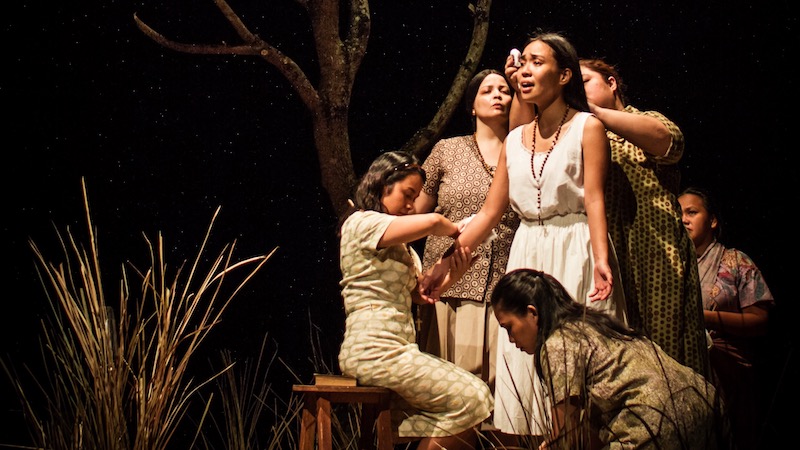 Open Auditions Announced for Himala's Elsa
As previously reported, The Sandbox Collective's staging of Ricky Lee and Vincent de Jesus' "Himala: Isang Musikal" is returning to the Power Mac Center Spotlight this September!
Principal cast members from the 2018 run, including Aicelle Santos as Elsa, Kakki Teodoro as Nimia, Neomi Gonzales as Chayong, Sandino Martin as Pilo, and Bituin Escalante as Aling Saling, are all set to return.
The company has recently announced that open auditions are underway for Santos' alternate. To audition for the role of Elsa:
1. Vocal Range: MEZZO SOPRANO with a good Alto (or low chest tone) that can hit a high E flat.
2. Playing Age: Can look like you're in your 20's
3. Availability: From August 19 to October 2019 (includes rehearsals and the show's actual run)
4. Audition Video: Submit an audition video not longer than 2 minutes. Sing a heartfelt song in Filipino (1 verse, 1 chorus in a capella). Send it to charylchan.deguzman@gmail.com. Deadline is on June 22.
5. Callbacks: If you pass the initial screening, you need to come to the audition callbacks on June 24, 11am onwards at the Power Mac Center Spotlight of Circuit Makati.
6. For further inquiries, contact 0915-2808-359.
Adapted from the original 1982 film written by Ricky Lee and directed by the late Ishmael Bernal starring Nora Aunor, "Himala" tells the story of the townsfolk of Cupang, a rural barrio in a barren landscape cursed with drought. A glimmer of hope appears in Elsa, a young girl who claims to have the power to heal after seeing a vision of the Blessed Virgin Mary. News of her miracles spread far and wide, drawing the ill and the curious to what was once a sleepy town. As events unravel, the community's fractured moral foundations and collective spiritual deprivation surface, all until the chaos escalates past a point of no return. "Himala" was first brought to the stage in 2003, with music and libretto (co-written by Lee) by Vincent de Jesus.
Comments