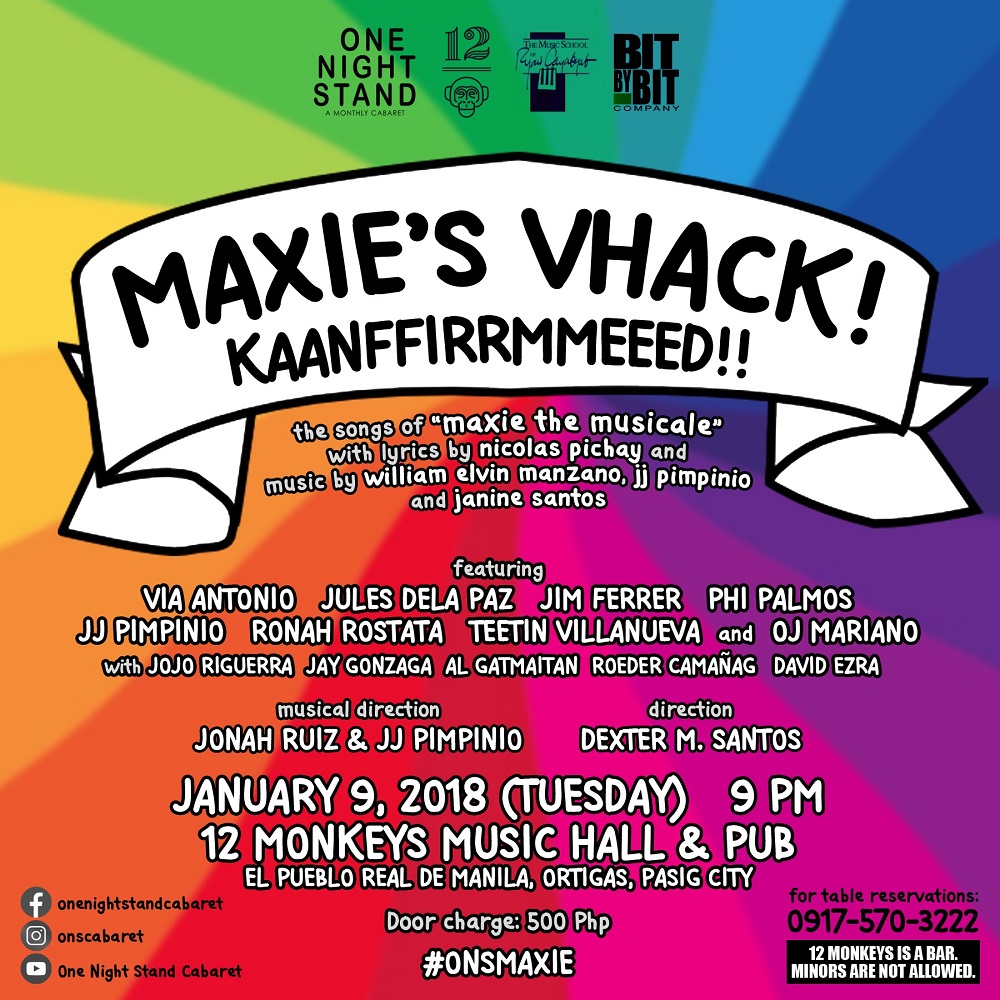 One Night Stand Presents 'MAXIE'S VHACK! KAANFFIRRMMEEED!!'
May nagbabalik!! PAK NA PAK!!
One Night Stand is back as a monthly cabaret this 2018 and its first offering of the year is "MAXIE'S VHACK! KAANFFIRRMMEEED!!" featuring the songs of "Maxie the Musicale" with lyrics by Nicolas Pichay and music by William Elvin Manzano, Jj Pimpinio and Janine Santos.
Performers are Teetin Villanueva (who played Monique), OJ Mariano (who played Boy Oliveros), Jules dela Paz, Jim Ferrer, Ronah Rostata, and Jj Pimpinio, all part of the 2013 production. They are also joined by Via Antonio and Phi Palmos.
There will also be special performances from Jojo Riguerra (who played Victor Perez), Jay Gonzaga (who played Bogs Oliveros), Al Gatmaitan (who played Boy Oliveros), Roeder Camañag (who played Paco Oliveros), and David Ezra.
Musical direction by Jonah Ruiz and Jj Pimpinio.
Direction by Dexter M. Santos.
It will be on January 9 (Tuesday), 9 pm, at 12 Monkeys Music Hall & Pub in El Pueblo Real de Manila, Ortigas Center, Pasig City.

 Door charge is 500 Php and for table reservations, contact 12 Monkeys at 0917-570-3222.
Siguradong mas masaya pa sa beaucon ang gabing ito kaya sugod na mga bekimon!!
"Maxie the Musicale" was staged at the PETA Theater Center from November 9 to December 8, 2013 by Bit by Bit Company. It was the stage adaptation of Michiko Yamamoto's screenplay "Ang Pagdadalaga ni Maximo Oliveros." The screenplay was made into a film directed by Auraeus Solito and produced by ufo Pictures in 2005, and it was the Philippines' official entry to the 2007 Academy Awards.
Comments