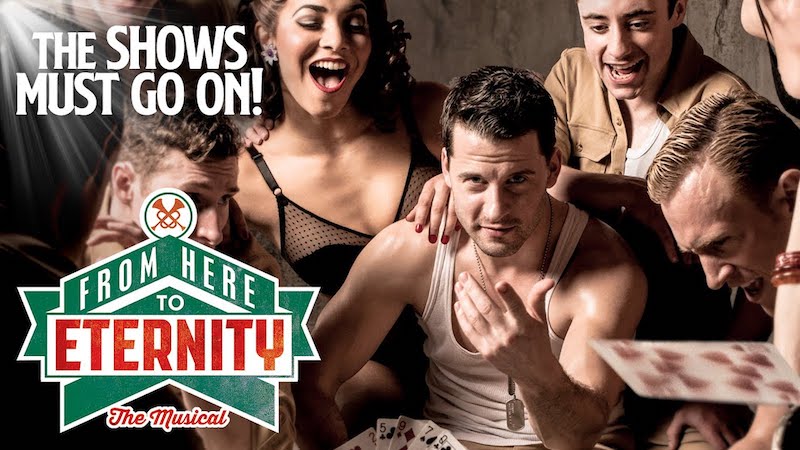 Now Streaming: West End Musical 'From Here to Eternity' is Online
With music by Stuart Brayson, lyrics by Tim Rice, and a book by Bill Oakes, From Here to Eternity is currently streaming online for only 48 hours.
Based on James Jones' 1951 novel of the same name, the musical opened in the West End on October 23, 2013 and closed on March 29, 2014. It also had a film adaptation starring Frank Sinatra, Burt Lancaster, Montgomery Clift, Deborah Kerr, and Donna Reed in 1953.
The musical stars Robert Lonsdale, Darius Campbell, Siubhan Harrison, Rebecca Thornhill, and Ryan Sampson. It is directed by Tamara Harvey, with production design by Soutra Gilmour, choreography by Javier De Frutos, lighting design by Bruno Poet, sound design by Mick Potter, and orchestrations/musical supervision by David White.
The story is set in Pearl Harbor, 1941. When Private Prewitt falls for the kind-hearted escort club girl Lorene, and his platoon sergeant, Warden, embarks on a dangerous affair with his commanding officer's wife, Karen, the lives of both men are set on a course they cannot control. As war approaches, the worlds of the four lovers and the soldiers of G Company are dramatically ripped apart.
The stream is part of The Shows Must Go On line-up. The group has been streaming musicals, plays, dance productions, and concerts on its YouTube channel for free since the early days of the pandemic lockdown in April. While theaters have remained closed during the pandemic, audiences are encouraged to donate to different arts causes.
You can watch the full production below.
Comments