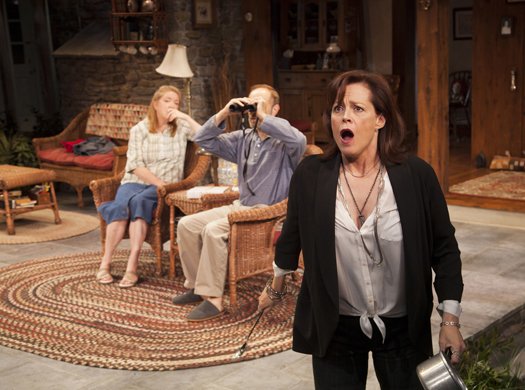 Now Streaming: 'Vanya and Sonia and Masha and Spike'
The 2012 Lincoln Center Theater's production of Vanya and Sonia and Masha and Spike, in association with the McCarter Theatre Center, is currently streaming online.
Written by Christopher Durang and directed by Nicholas Martin, the play is a comedy that follows Vanya and his stepsister Sonia, who have lived their entire lives in their family's farmhouse. While they stayed home to take care of their ailing parents, their sister Masha has been gallivanting around the world as a successful actress and movie star, leaving Vanya and Sonia to feel trapped and regretful. Their soothsayer/cleaning woman Cassandra keeps warning them about terrible things in the future, which include a sudden visit from Masha and her twenty-something boy toy Spike.
The show stars David Hyde Pierce as Vanya, Kristine Nielsen as Sonia, Sigourney Weaver as Masha, Billy Magnussen as Spike, Shalita Grant as Cassandra, and Genevieve Angelson as Nina. The production moved Off-Broadway in the same year and later transferred to Broadway in 2013, where it won the 2013 Tony Award for Best Play, featuring the same cast. Pierce, Nielsen, Magnussen, and Grant garnered nominations for Best Actor and Best Actress in a Play, and Best Featured Actor and Best Featured Actress in a Play respectively, while Martin garnered a nomination for Best Direction.
The play will be streaming for free until April 11. You can click HERE to register.
Repertory Philippines also produced a local staging of the play in 2017 at the Onstage Theater of Greenbelt 1, featuring Michael Williams as Vanya, Roselyn Perez as Sonia, Cherie Gil as Masha, Joaquin Pedro Valdes as Spike, Naths Everett as Cassandra, and Mica Pineda as Nina. It was directed by Bart Guingona.
Comments