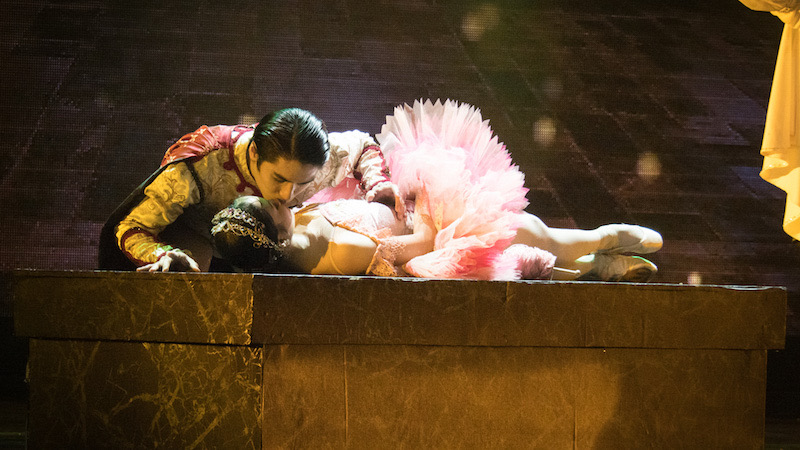 Now Streaming: 'Sleeping Beauty' Ballet by Lisa Macuja Elizalde
The 2020 production of Ballet Manila's Sleeping Beauty, choreographed by the company's CEO and Artistic Director Lisa Macuja Elizalde, is now streaming online.
The production is only one of three full-length productions (the other two being Cinderella and Snow White) choreographed by Macuja Elizade that have been made available online in celebration of yesterday's World Ballet Day. They are available to watch only until October 31, 2021.
This production was recorded from the January 18, 2020, 6pm performance of Sleeping Beauty at the Newport Performing Arts Theater of Resorts World Manila. The company had to perform in this venue instead of their usual home venue at the Aliw Theater due to the devastating fire that hit the Star City Complex last October 2, 2019.
The streaming cast features Jasmine Pia Dames as Aurora, Romeo Peralta as Prince Philip, Juan Angelo De Leon as Young Prince Philip, John Balagot and Eva Chatal as Prince Philip's parents, Akari Ida as Snow White, Joshua Enciso as Prince Ferdinand, Germaine Dawal as Young Prince Ferdinand, Raymond Salcedo and Jillian Villanueva as Prince Ferdinand's parents, Sayaka Ishibashi as Cinderella, Elpidio Magat as Prince Charming, Stanley Alamer as Young Prince Charming, Ian Delos Reyes and Monique Valera as Prince Charming's parents, Rissa May Camaclang as Queen Leah, King Stephan as Mark Sumaylo, Emma Harris as Maleficent, Gerardo Francisco as Keeper of the Golden Plates, Rafael Perez as Catalabutte, Joan Sia as Lilac Fairy, Shaira Comeros as Diamond Fairy, and Nicole Barroso, Jessa Balote, Jessica Pearl Dames, Nanami Hasegawa, and Kotomi Narai as the 5 Fairies.
Joining Macuja Elizalde and co-Artistic Director Osias Barroso in the artistic team and production staff are Jonathan Janolo (ballet and rehearsal master), Eileen Lopez (assistant ballet and rehearsal mistress), Gerardo Francisco and Rudy De Dios (2nd company and trainees rehearsal masters and coordinators), Chevy Salvador (production manager), Jaime Villanueva (light designer/ technical director), Marcus Tolentino (assistant stage manager), Marvin Medina (music master), Reparado Marino (production assistant), Raymart Ramos (costume costudian), Emma Palada (costume assistant), and Eleseo Comeros (resident costume maker).
You can watch the full production here.
Comments