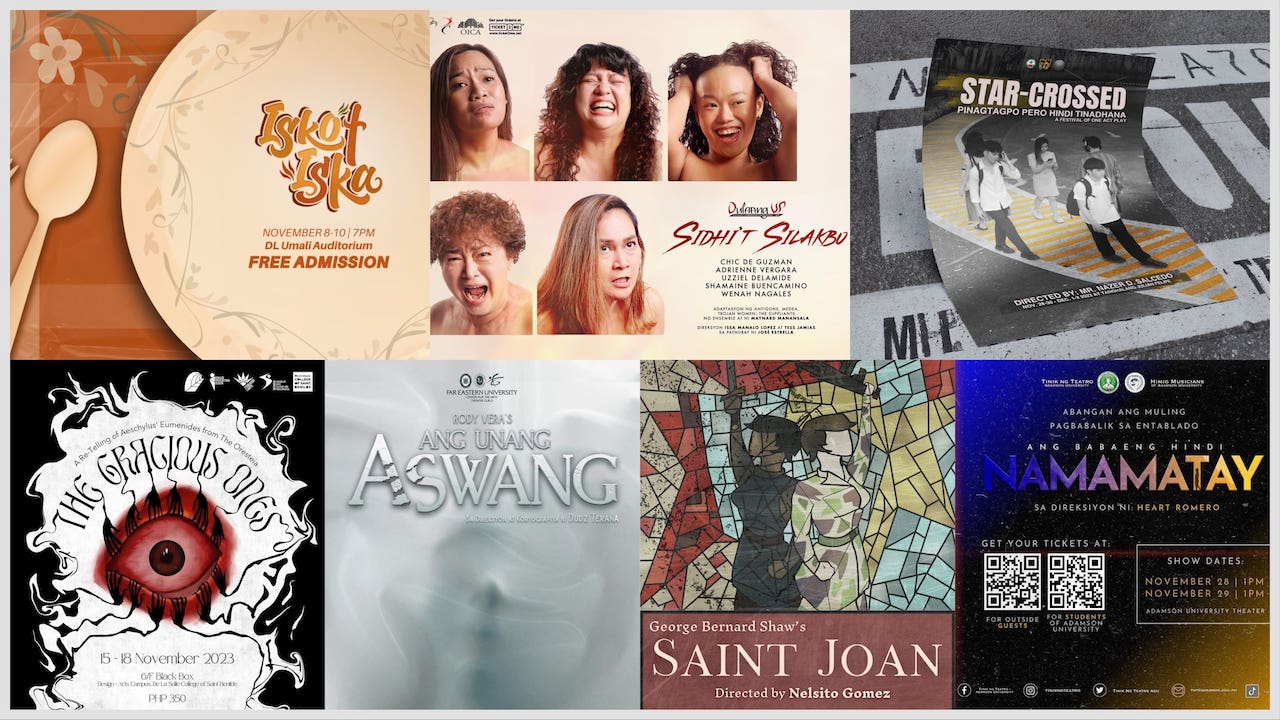 8 University-based Productions this November 2023
There are 8 university-based productions that will be staged across 8 universities for the month of November. Know more about them below.
1. Sidhi't Silakbo by Dulaang UP
DUP Artistic Director Issa Manalo Lopez and Virgin Labfest Festival Co-Director Tess Jamias will direct DUP's Sidhi't Silakbo, a collection of all-female monologues reimagined by the ensemble and writer Maynard Manansala from classical works in the theater. It is a weaving of women's stories through spaces where women confront their realities, and assert their choices of what is true, what is right, and what makes them happy.
Featuring performances by Shamaine Buencamino, Uzziel Delamide, Chic San Agustin, Wenah Nagales, and Adrienne Vergara, Sidhi't Silakbo launches DUP's 46th Season by using performance as a response to issues of women representation. To Artistic Director Lopez, Sidhi't Silakbo (title of both the season and its all-female season opener) is a celebration of the authenticity and validity of varying female realities: "It is an awakening, a breaking of the cycle, breaking stereotypes, of women liberating themselves through a series of performances of freedom, fury, wit, rage, love and ruin. All fueled by their own ferocity and frenzy." The season honors the 'female phase' of theater, with a greater commitment to repositioning Dulaang UP as a safe and open creative space through greater decentralization.
The shows will run at the newly-furnished IBG-KAL Theater of UP Diliman on the following dates:
Nov. 23, 24, 25 (7:30 pm)
Nov. 26 (2:30 pm & 7:30 pm)
Nov. 29, 30, Dec. 01 (7:30 pm)
Dec. 02, 03 (2:30 pm & 7:30 pm)
Ticket prices are P1,300 for public audiences and P650 for UP students.
2. Saint Joan by MINTeatro
This November, MINTeatro, will be staging George Bernard Shaw's Saint Joan, to be directed by Nelsito Gomez featuring an all-student cast.
The story follows Joan of Arc and the purported voices of the Saints influencing her to break out of societal convention and to fight for her French brethren. She encounters support from those who seek to take advantage of her determination, and aggravation from those who deem her as a threat and a heretic. Whether or not her saintly advisors are real, her belief and faith remain resolute against relentless incredulity.
The cast features Giselle Giorgia as Joan, Ian Magdale as Charles, Ysh Bautista as Robert De Baudricourt & Cauchon, G Roi Reyno as Poulengey & the Inquisitor, Vince Go as Archbishop, Renz Buela as Steward & Chaplain, Zed Pagkalinawan as Dunois, Nicolo Meily as La Trémouille & Ladvenu, Miguel Salaya as La Hire & Warwick, and Huil Lee as Bluebeard & Executioner.
The show will run on November 17, 18, 24, & 25 at 7 PM, with 18 and 25 having matinee shows at 2 PM, at the Playhouse, 2F, CIP Building, McKinley Hill. Tickets are priced at 400 pesos for General Audience.
To reserve tickets, visit bit.ly/MINTEATROXSAINTJOAN.
3. Ang Unang Aswang by FEU Theater Guild
FEU Theater Guild's Ang Unang Aswang, which opened last October 4, continues to run at FEU until December 9.
Written by Rody Vera and directed by FTG's Artistic Director Dudz Teraña, the play takes place in a dangerous forest ruled by the wilderness. With sharp teeth, venomous stares, and the rabidness of a wild animal, the Aswang searches for her identity in a village she has not been to before. Will her curiosity towards her origin urge her to search for her identity? Will a gut-wrenching deed done by a boy bring out her true nature to consume her own offspring?
Ang 'Aswang' will alternately be played by Dianne Andallo (ITHM '26), Jazzie Alejo (ITHM '24), Brigitta Marilla (IAS '25), and Margarita Barrameda (IAS '26). Raffaele Pascua (IAS '24) and Arvin Jade Javier (IAS '26) as alternates shall essay the role of the 'Aso.' Davewyn Macawile (IAS '25) will play the role of the 'Pusa', and Jonas Cunanan (IAS '24) as The 'Baboy Ramo.' Aaron Bayani (FIT '25) is The Binata. The Asawa is played by Kesiah Aritao (IAS '25).
The show runs every Wednesday, Thursday, Friday, and Saturday until December 9, 6pm at the FEU Center for the Arts Studio, Ground Floor of the Engineering Building, FEU Manila, Nicanor Reyes Street, Sampaloc, Manila, 1008 Metro Manila.
Tickets are P200 for the FEU Community and P400 for guests.
4. The Gracious Ones by Novel:Theater (CSB)
The Gracious Ones is a re-telling of Eumenides, the third final act of the tragic trilogy Oresteia, written by ancient Greek playwright, Aeschylus.
It follows the story of Orestes—a prominent figure in Greek mythology—as he flees to Athens after killing his own mother to avenge his father's death. It explores the themes of justice, the conflict between personal revenge and societal order, and the transition from a cycle of violence and revenge to a system of law and governance.
Novel:Theater (Novel:Te) produces Western classics that explore ways to evoke thought and resonance in present-day Filipino audiences. It is part of the Benilde Theater Arts program.
The show will run on November 15-17 at 11am and 4pm and on November 18 at 11am at the Black Box Theater, 6/F, DAC Campus, De La Salle-College of Saint Benilde.
5. Isko't Iska by UPLB
Isko't Iska is an annual theater production created by the Isko't Iska Task Force and performed by freshmen students of the University of the Philippines Los Baños. The Isko't Iska Task Force is a group that is committed to amplifying the voices of marginalized sectors within our society and to crafting a show that resonates with the masses.
Isko't Iska is the most extensive community theater production traditionally staged every year at the University of the Philippines Los Baños (UPLB) since 1979. For years, it has highlighted the current multi-sectoral struggles of the masses through the power of character representation and visual storytelling.
Student volunteers from UPLB gather and collectively work to make this production come to fruition so its neighboring communities can appreciate the value of art in depicting social realities and fighting for a just system. This year's concept centers on "Aling Chrissy's Carinderia" where the eatery acts as a stomping ground for its community, involving farmers, laborers, and students who are all burdened by rising inflation and stagnant wages, hence the word "crisis". Through this shared experience comes a realization of collective power that will bring about lasting social change.
Isko't Iska will run on November 8-10, 7pm at the DL Umali, UPLB, College, Laguna. It is free admission.
6. Ang Babaeng Hindi Namamatay by Tinik ng Teatro (Adamson)
Written by current Adamson University students Jehu Adolfo and Jasmine Cheng, Ang Babaeng Hindi Namamatay follows a girl who is granted immortality by Bathala. She witnesses all that has become of her home and her people. She faces all the difficulties of the Filipinos from Pre-Colonial, Colonial, and up until the present. With all the time she has spent in the Philippines, what can she say to all that she has witnessed? How did we get here? How did this happen? Where did we go wrong? Why are we here? Will she try to make a change or will she just flow with time? Is her immortality a gift or a curse?
The play is directed by Heart Romero. It will be staged on November 28, 2023 to November 29, 2023 at the Adamson University Theater.
Tinik ng Teatro is the oldest fully accredited theater organization in Adamson University.
7. Star-crossed: Pinagtagpo Pero Hindi Tinadhana: A Festival of One-Act Plays (DLSU Dasma)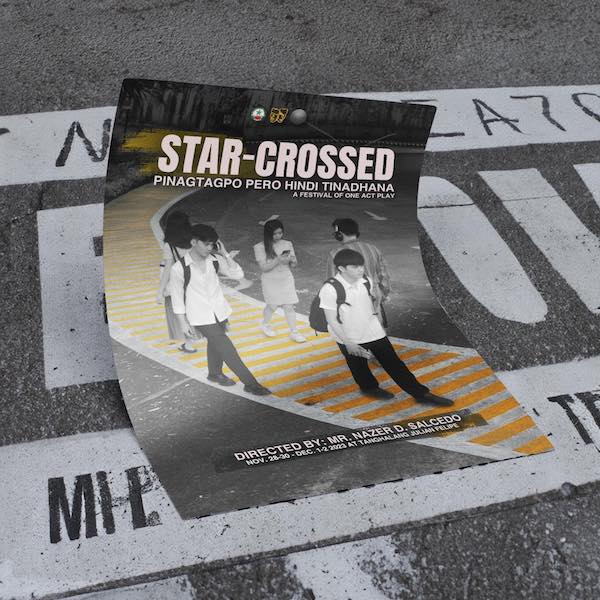 Teatro Lasalliana, an institutionally recognized theater organization under the supervision of the Cultural Arts Office of De La Salle University – Dasmarinas (DLSUD), will be staging a fundraising event through a festival of one-act plays this November 28 to December 2.
Entitled Star-crossed: Pinagtagpo Pero Hindi Tinadhana: A Festival of One Act Plays, the production is a compilation of plays that portray the good, the bad, and the ugly narrative of love that will portray various challenges and differences in relations, leading to the journey of seeking hope, forgiveness, and acceptance.
The plays included in the festival are Dobol by Rene O. Villanueva, Kublihan by Jerome D. Ignacio, Sa Lilim by Reya May E. Laplana, Dalawang Gabi by Maynard Manansala, The Bride and the Bachelor by Dingdong Novenario, Birtwal by Reuel Aguila, and Fangirl by Herlyn Alegre.
Go to their Facebook page for more information.
8. Maoyu Transit by Artistang Artlets (UST)
Written by Erin Moira Balbin, the story follows a mother and child who will ride a bus, but this is not a normal bus. Its driver, Mang Domeng, will help the mother and child escape from their current situation. What he doesn't know is that the mother and child will also help him find freedom from the burden he carries in his heart.
Directed by Ma. Cecilia Foja and Jemina Rose Macasaet, the show will run on November 23, 1pm, 2pm, 3pm, and 4pm at the Tan Yan Kee Student Center AVR of UST.
Artistang Artlets is the recognized Theater Guild of the Faculty of Arts and Letters of the University of Santo Tomas.
Go to their Facebook page for more information.
Comments