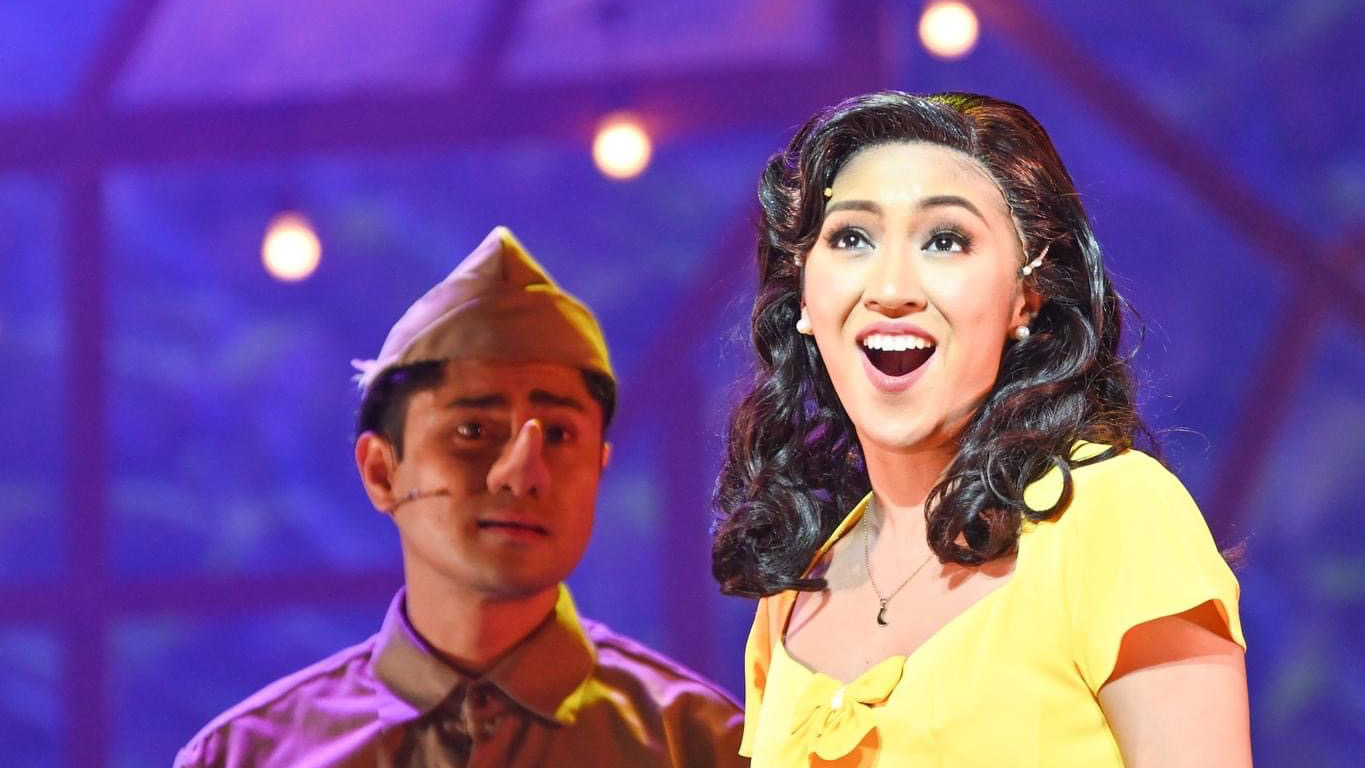 'Mula sa Buwan' to Stream Again for One More Weekend
Mula sa Buwan, which already streamed last March 24-26, is returning online for one more weekend this April 7-9, 2023.
The proshot of the musical was shot from the August to September 2022 run, featuring Myke Salomon as Cyrano, Gab Pangilinan as Roxane, and Markki Stroem as Christian, with Phi Palmos as Rosanna, MC Dela Cruz as Maximo, Jon Abella as Tato, and Jillian Ita-as as Gabriel.
Also in the cast are Abe Autea, Jep Go, Rapah Manalo, Stephen Viñas, and Ericka Peralejo (cadets), and Miah Canton, Francis Gatmaytan, Mitzie Lao, Deborah Lemuel, Mark Anthony Grantos, Eizel Marcelo, Kinnara Mayari, Ace Polias, Liway Perez, Lance Reblando, Mikaela Regis, Chesko Rodriguez, Keith Sumbi, Shaira Opsimar, and Khalil Tambio as members of the ensemble.
The proshot will be streaming with a ticketed 24- hour streaming window per date, April 7 10am to April 8 10AM, April 8 10am to April 9 10AM, and April 9 10am to April 10 10AM, starting at 10:00 AM (GMT+8) each day and ending at 10:00 AM (GMT+8) the next day. Tickets are priced at P599 and can be purchased via msbtickets.net/onlinestreaming. It will have English subtitles and will be available to view internationally.
*Each ticket provides 1 access code, which will only work for one device at a time
*Exclusive of platform fees
*Access will only be available during the selected streaming window
Mula sa Buwan is an original Filipino musical based on Cyrano de Bergerac and Soc Rodrigo's Filipino Translation, but set in 1940s Manila. It is written by Pat Valera (book and adaptation, original lyrics) and William Elvin Manzano (original lyrics, original music), with musical direction by Myke Salomon, set design by Ohm David, lighting design by Meliton Roxas, choreography by JM Cabling, costume design by Bonsai Cielo. It is directed by Valera, with assistant direction by Mikko Angeles.
Created by Valera and Manzano in 2010, Mula sa Buwan ran at the Henry Lee Irwin Theater last December 2016 and February 2017, at the Hyundai Hall, Areté in Ateneo de Manila University last November to December 2018, and at the Samsung Performing Arts Theater last August 26 to September 18, 2022, and December 2 to 11, 2022.
Comments