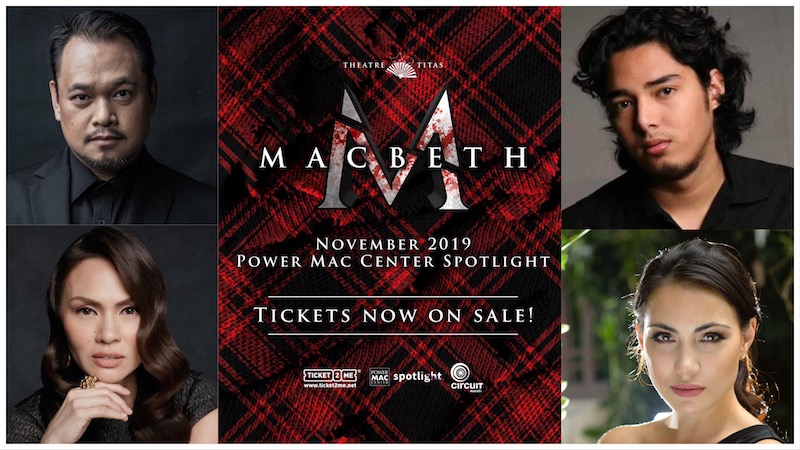 "Macbeth" this November at Power Mac Center Spotlight
Theatre Titas is staging Shakespeare's "Macbeth" this November at the Power Mac Center Spotlight.
Helmed by educator and theater director Carlos S. Cariño, the company's adaptation of the Scottish play stays true to the Bard's rhyme and meter, but accompanies it with music composed by Andy Gruet and movement pieces choreographed by former Philippine Ballet Theatre artist Joanna Foz Castro.
Leading this production are Jeremy Domingo and Tarek El Tayech, who will be alternating the titular role of Thane of Cawdor, Glamis, and King hereafter. The role of Lady Macbeth, the wife of the eponymous hero, will be alternated by Issa Litton and Anne Gauthier Das Neves.
The play follows the rise and fall of Macbeth, a general of the Scottish King Duncan, who is told a prophecy by a coven of witches that he would be the King of Scotland. Fueled by ambition and spurred on by his wife, Macbeth moves to fulfill the witches' prophecies to claim the throne of Scotland for himself.
The show will run from November 9-10, 15-17, 22-23. You can buy tickets from http://Ticket2Me.net or by downloading the Ticket2Me app from the Apple Store or Google Play.
Theatre Titas' first production was a twin-bill entitled "What's in the Dark?" (2017), followed by the 50th anniversary production of Paul Dumol's "Ang Paglilitis kay Mang Serapio", which they did in collaboration with Duende Theatre.
Comments