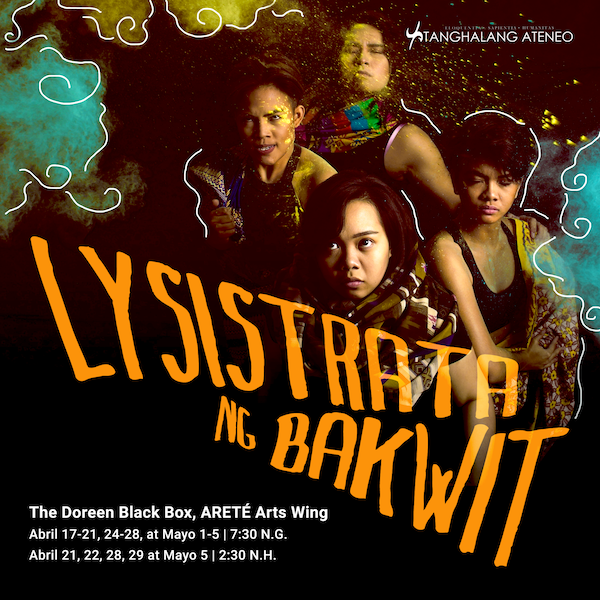 'Lysistrata ng Bakwit' is Tanghalang Ateneo's Modern Adaptation of the Greek Classic
Tanghalang Ateneo closes its 39th Season with a modern adaptation of Aristophanes' Greek classic, Lysistrata, directed by Ricardo Abad.
"Lysistrata ng Bakwit" draws inspiration from the current issues in the city of Marawi, revealing the distressing situations of the evacuees as families are being forced away from their homes due to the recurring territorial clan wars.
Set in an imaginary war-torn Philippine province, "Lysistrata ng Bakwit" follows the revolt of women bakwit (evacuees) as they take a stand in the 'men's world'– ensuing wars concerning ancestral land, familial ties, and tribal disputes. Days away from being sent back to their relocation areas, Lysistrata urges the women of the bakwit from two rival tribes to get together in a resolution to withhold sex from their partners in protest to the war time-peace time cycle that they face almost every year.
The women, in response to the coming peacetime, build a peaceful community inside the evacuation center to prove that it is possible to attain unity and peace without the interference of external forces. The men, distraught over their separation from their wives, eventually succumb to Lysistrata's conditions for peace which requires them to negotiate with the opposing clan and end the painful sentence of chastity by settling a peace treaty once and for all.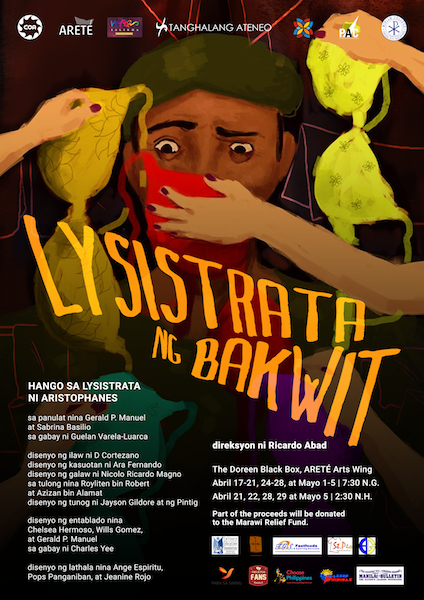 Chase Salazar alternates with Sabrina Basilio as Lysistrata, the defiant Kapitana who mobilizes the women of the bakwit, seeking to bring peace to their province through her own methods. Blanche Buhia alternates with CJ Lubangco as Mayet, one of the many wives left behind at the evacuation center due to the recurring clan wars. Gabo Tolentino plays Kumander Lagutin, the clan leader of the government allied forces seeking to defend their land from the Taguilids. They are joined by current members and alumni of Tanghalang Ateneo.
The artistic team of Lysistrata ng Bakwit includes Glenn Sevilla Mas as Tanghalang Ateneo's Artistic Director, Nicolo Ricardo Magno together with Royliten bin Robert and Alizan bin Alamat for choreography,  Charles Yee for set design, Ara Fernando for costume design, D Cortezano for lighting design, Jayson Gildore at ng Pintig for sound and music design, and Ange Espiritu, Pops Panganiban, and Jeanine Rojo for graphics design.
The show will run from April 17-21, 23-28, and May 1-5 with performances start at 7:30PM, and 2:30pm for the Saturday and Sunday matinee shows. It will be staged at The Doreen Black Box Theater located at the Ateneo de Manila's Areté Arts Wing.
For questions and additional details about the show, please contact Nina Calupitan at 09214717960.
Comments