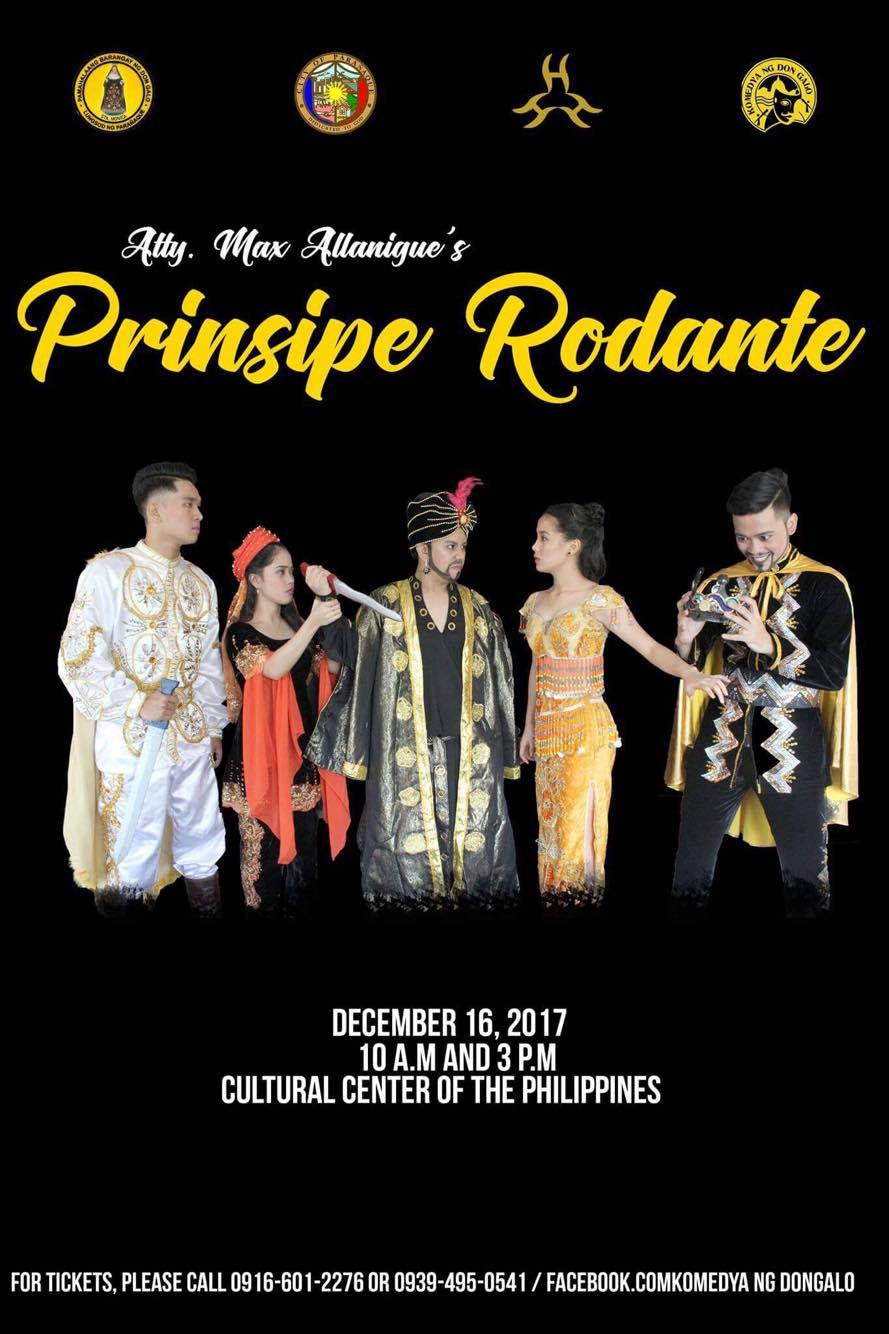 Komedya ng Don Galo Stages Max Allanigue's "Prinsipe Rodante"
In celebration of Komedya ng Don Galo's (KDG) 15th anniversary, the company stages Atty. Max Allanigue's "Prinsipe Rodante" this December.
In the land of Krotonang Bayan there lies a kingdom ruled by Orestes and his queen, Yokasta. The couple was blessed, for their sons Princes Alvaro and Rodante were known for valor as well as for being handsome. Prince Alvaro was very brave and showed enthusiasm for all his tasks while Rodante was known for his kindness and virility. Their only daughter, Princess Floresca, was among the most beautiful in the land.
At a large tournament, Prince Alvaro loses temper over the loss of his men to Prince Aladin. In his angry he beheads a person of the Muslim faith. Alvaro leaves the kingdom for a while but when he returns he grabbed the kingship from his father, and imprisoned the king, the queen, and the princess.
In the kingdom of Muskobya, there is a great rejoicing over the coming marriage of Prince Kalip and Princess Pilita, daughter of Sultan Miramulin and Sultana Minerva. Celebrations were cut shot when they heard the news of the events in Krotonang Bayan. Sultan Miramulin prepared to come to the aid of the King Orestes.
Princes Rodante and Aladin together, travel to the besieged kingdom, where they meet people fleeing in fear of Alvaro. The two sides do battle with Rodante and Aladin's forces emerging victorious. Alvaro is sentenced to be beheaded but his mother, Yokasta, appeals the sentence and saves him. She reminds everyone that the Lord orders forgiveness be offered to everyone- be they friend or foe.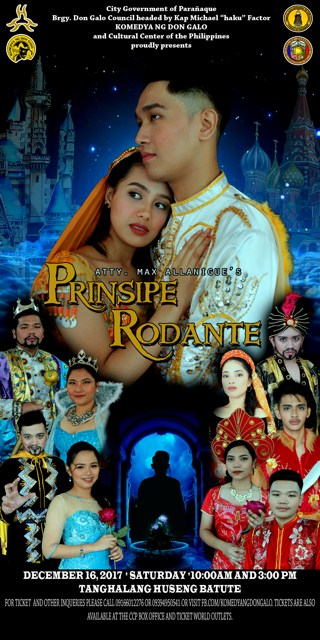 The cast includes Charles James Ortiz as King Orestes, Louie Macatuggal and Monique Macatuggal alternating as Queen Yokasta, Mikaela Foronda and Czarina Delos Santos alternating as Princess Floresca, Christcharles Romero as Prince Alvaro, Michael Julian Calderon as Prince Rodante, Edgar Jayson Maranon as Sultan Miramulin, Kate Danica Delena as Sultana Minerva, Paul Marverick Alfonso as Prince Aladin, Jennica Navarro and Shaira Ortiz alternating as Princess Pilita, and Daniel Dave Balanlay as Prince Kalip.
Komedya ng Don Galo is the official theater organization of Brgy. Don Galo, Paranaque City. The group is a non-profit organization composed of students an young professionals. It was established in the year 2004 by the members of the Parents, Teachers, and Community Association of the community school headed by Malou Macatuggal. The main purpose of this is to educate the young people the importance of looking back to the culture and traditions of Don Galo and continue to promote the colorful features of Paranaque which is known for Moro-Moro or Komedya, Salubong ng Pagkabuhay ni Hesus, Sayaw ng Pagbati, and the Senakulo.
The show will run on December 16 at 10am and 3pm at the Tanghalang Huseng Batute Theater of the CCP.
You can buy tickets HERE.
For more details about what's happening in the Manila theater scene, please view our Theater Calendar.
Comments