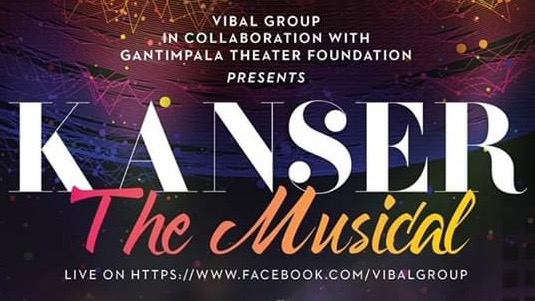 "Kanser: The Musical" Songs to be Performed in Online Concert
Theater artists will be performing songs from Kanser: The Musical in an online concert format on June 19, at 7pm!
Kanser: The Musical was first staged at the AFP Theater in 2015. It marked the 35th year since the producing company Gantimpala Theater Foundation began staging Kanser, the longest-running straight play in Philippine theater history.
Based on Dr. Jose Rizal's classic novel Noli Me Tangere, the story follows Crisostomo Ibarra, who goes back home after his European studies. He rekindles his romance with childhood sweetheart Maria Clara, but triggers an old rift with the town friar, Padre Damaso. As the story progresses, Ibarra realizes that the malady of oppression and colonial brutality has been killing not only his town, but his motherland as well.
The musical is written by Jomar Fleras (libretto) and Joed Balsamo (music), under the direction of Frannie Zamora.
The online streaming event will feature songs from the musical performed by Myramae Meneses and Rare Jireh Columna as Maria Clara, Kiel Alo as Crisostomo Ibarra, Gerald Santos as Crisostomo Ibarra/Simoun, Carlo Mañalac as Elias/Padre Salvi, Carlo Angelo "Kits" Falcis as Padre Damaso/Padre Salvi/Alferez/Tasyo, Renee Michaela Fajardo as Sisa, Victoria Mina as Donya Victorina, and Dea Formacil-Chua as Donya Consolacion.
Zamora returns to direct the livestream event, with Adriana Agcaoili as event writer. You can watch the concert version of Kanser: The Musical when it premieres on the Vibal Group's Facebook page at 7pm tomorrow. It is presented by the Vibal Group in collaboration with the Gantimpala Theater Foundation.
Comments