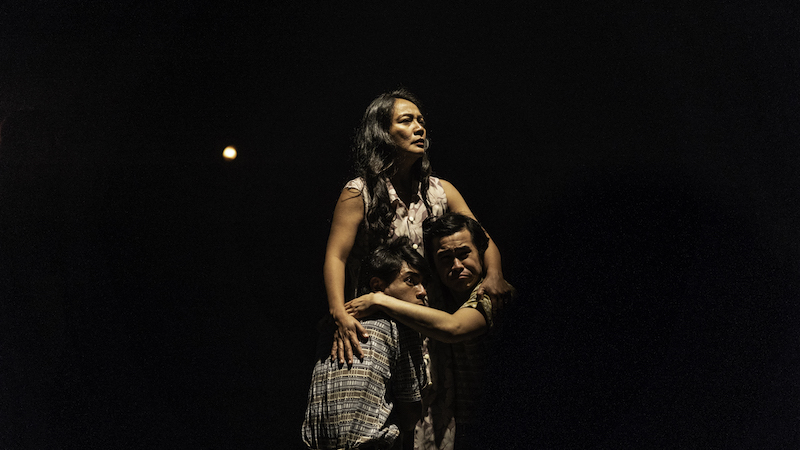 REVIEW: "Dekada '70 the Musical" is a rousing reminder to never forget
Now on its third run, the musical adaptation of Lualhati Bautista's 1983 novel is still powerful and cathartic.
The story that Dekada '70 has been telling for the past two years is by no means small. Yet because of the space it inhabits—the two-year old Doreen Black Box at the Areté—its biggest moments come in the form of something a bit more unnoticeable. It's something different for each audience member. It can be a sigh, perhaps, or the sound of a cast member sobbing. It can be footsteps. It can be a scream: guttural, as most of the screams in the show are, or muffled, as the transcendent Stella Cañete-Mendoza reprising her role as Amanda Bartolome buries her face in an afghan. It can be a chant. It can be a tear rolling down someone's cheek—how beautifully it glistens under Meliton Roxas Jr.'s lights. Dekada '70 is a show filled with small, perfect moments like these; moments that condense big emotions and feelings into something easier to hold, easier to grasp; moments experienced by anyone who'd lived through the darkness and uncertainty that had cloaked Metro Manila in the 1970s.
Within the show's first few minutes, there's deliberate incoherence and discordance, a sign of things to come. After a difficult childbirth, Amanda and Julian (Juliene Mendoza) introduce their five beautiful sons, strobing lights and all: Jules (Jon Abella), Gani (Vincent Pajara), Em (Esteban Fulay Jr., alternating with Boo Gabunada), Jason (Iggi Siasoco), and Bingo (Abe Autea). In Dekada, the scenes are structured much like life itself: lighter moments always in contention with heavier, more upsetting ones. Oftentimes the tone and the mood change so suddenly that it's hard not get  whiplash from it all—a grim reminder of how life can turn around so quickly and so instantly, especially during the time of Martial Law. At one point, a scene so horrifying plays out across the stage literal seconds after one of the show's most heartfelt, delightful moments just transpired. 
And the stage, kept minimal and stripped down by Ohm David, with objects able to be moved and transported freely and seamlessly by the actors, lends itself to the balancing act that the show takes on: quiet and intimate moments of the Bartolome family juxtaposed against larger, more overarching ones involving the ensemble, the nation. The actors are never more than a few feet away, making you feel like you're a necessary part of the show and the show's goings-on, because in one way or another, you are. The audience is as much a core part of the show's success as the actors on stage, and in the show's louder moments, as the floor shakes along with each cast member's stomp, you feel that force, that intensity, that energy. You are here with them, and your presence matters.
The entire cast turn in wonderful performances, led by the heart and soul of the show, Stella Cañete-Mendoza, in what might just be the role of a lifetime. It's almost impossible to take your eyes off of her, as each sigh she sighs and each brow she furrows hold so much meaning and emotion. It is indeed a woman's world out there, too; it's very much Stella's. But there's something to be said in watching each member of the ensemble sob and cry while they sing and chant. It feels like catharsis, almost. The look of release and relief on their faces is contagious and overwhelming—if we're to assume they auditioned and joined the cast for a reason, because they believe in the story the musical wants to tell, then the arduous task of bringing something as heavy and and as exhausting as this to life is easily worth it. Plus, it's always been the youth at the frontlines, and this show is no exception, whether thematically or behind the scenes. Dekada is made up of a talented and capable team of young creatives, from its director and dramaturg Pat Valera to its costumes head Hershee Tantiado, and everyone else in between. 
At the opening Sunday matinee of Dekada '70, two days shy of the 34th anniversary of the 1986 People Power Revolution, director and dramaturg Pat Valera welcomed the audience with a thought-provoking anecdote. When they opened this run, he said, a 13-year old boy approached him after the show. "Sir Pat," the boy began. "Totoo po ba 'yung mga nangyari sa play na ito?" It's genuine questions like these that make a case for the everlasting need for art about the Marcos regime, even three decades after the dictator's fall from power. We must never forget, Dekada reminds us, and thankfully, this reminder playing until March 14 is a reminder so compelling and strong that its frustratingly limited run only leaves us wishing for more.
Tickets:

 Php 850.00 – Php 1,500.00


Show Dates:

 Feb 28 '20, Feb 29 '20, Mar 1 '20, Mar 6 '20, Mar 7 '20, Mar 8 '20, Mar 12 '20, Mar 13 '20, Mar 14 '20


Venue:

 Doreen Black Box, Areté, Ateneo De Manila University, Carlos P. Garcia Ave., Quezon City


Running Time:

 approx. 2 hours and 40 minutes (w/ a 10-minute intermission)


Credits:

 Pat Valera (Music and Lyrics, Adaptation, Direction, & Dramaturgy), Matthew Chang (Musical Director, Music and Lyrics), Ohm David (Set Design), Meliton Roxas, Jr. (Lighting Design), Hershee Tantiado (Costume Design), D Cortezano (Technical Direction), Nicco Manalo (Assistant Director: Performance), Jomelle Era (Assistant Director: Movement), Eman & Pete Lacaba (Additional Text) 


Cast:

 Stella Cañete-Mendoza, Juliene Mendoza, Jon Abella, Vincent Pajara, Esteban Fulay Jr., Boo Gabunada, Iggi Siasoco, Abe Autea, Juan Miguel Severo, Paw Castillo, Matel Patayon, Gel Basa, Justine Peña, Victoria Mina, Phi Palmos, Tope Kliatchko, Rona Raissa Angeles, Sabrina Basilio, Tristan Bite, Jerome Dawis, Ian Hermogenes, Vino Mabalot, Eizel Marcelo, Shaun Ocrisma, Jermaine Choa Peck, Joshua Tayco, Khalil Tambio, Ashe Uy


Company: 

Black Box Productions
Comments