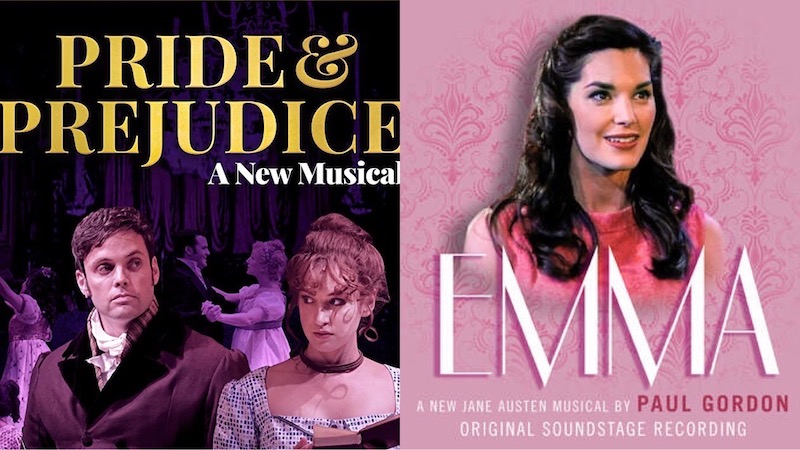 Jane Austen Classics are Now Musicals
Paul Gordon's musical stage adaptations of Jane Austen classics Pride & Prejudice and Emma are now streaming online.
With a book, music, and lyrics by Gordon, Emma reimagines the Austen classic in mid-century modern yet keeps the language intact. The cast features Kelli Barrett as Emma Woodhouse, Timothy Gulan as Mr. Knightley, Dani Marcus as Harriet Smith, Lauren Cohn as Miss Bates, Brian Herndon as Mr. Elton, Richert Easley as Mr. Woodhouse, Sharon Reitkerk as Jane Fairfax, Will Reynolds as Frank Churchill, Adam Daveline as Robert Martin, Don Richard as Mr. Weston, Pamela Winslow Kashani as Mrs. Weston, and Caitlin Brooke as Mrs. Elton / Mrs. Bates / Katherine Martin.
The production is co-directed by Tim Kashani and Kent Nicholson. They are joined by Wendy Seyb (Choreographer & Associate Director), Dara Wishingrad (Production Designer), Kara Branch (Costumes), Benjamin Weill (Lighting), Seth Huling (Sound Designer), Brad Haak (Music Supervisor), Katie White (Additional Photography), Somie Pak (Associate Costume Designer), Laura Bergquist (Associate Music Supervisor), Scott DelaCruz (Line Producer), Ashley Moradipour (First Assistant Director), Katie White (Props), Alice Brooks, and Ally Rice (Editor).
Emma was first developed by TheatreWorks, Silicon Valley in 2006. Subtitles are available in English.
Pride & Prejudice is a new musical adaptation whose book, music, and lyrics are also by Gordon. The show was filmed at TheatreWorks Silicon Valley in Palo Alto, CA., where it played its world premiere from December 4, 2019 to January 4, 2020. It is directed by TheatreWorks' Founding Artistic Director Robert Kelley and choreographed by Dottie Lester-White.
The cast features Mary Mattison as

Elizabeth Bennet, Justin Mortellitit as Mr. Darcy, Heather Orth as Mrs. Bennet, Sharon Rietkirk as Jane Bennet, Chanel Tilghman as Kitty Bennet, Melissa WolfKlain as Mary Bennet, Tara Kostmayer as Lydia Bennet, Monique Hafen Adams as Miss Caroline Bingley / Ann De Bourgh, Lucinda Hitchcock Cone as Lady Catherine De Bourgh / Mrs. Gardiner, Sean Fenton as Captain Denny/Colonel Fitzwilliam, Brian Herndon as Mr. Collins/Mr. Gardiner, Dani Marcus as Charlotte Lucas/Georgiana Darcy, Christopher Vettel as Mr. Bennet/Pemberley Steward, Taylor Crousore as Mr. Wickham, Travis Leland as Mr. Bingley, Seton Chiang as Footman and Townsperson, and 
Samantha James Ayoob,
Michelle Skinner, and
Heather Mae Steffen as

Lady's Maid and Townsperson.
Also in the creative team are Brandon Jackson (Associate Director), William Liberatore (Musical Director), Joe Ragey (Scenic Designer), Tom Langguth (Scenic Artist), Pamila Z. Gray (Lighting Designer), Brendan Aanes (Sound Designer), David Milligan (Production Manager), Christopher Fitzer (Props Master), Fumiko Bielefeldt (Costume Designer), Roxie Johnson (Wig Designer), Elizar Ivanov (Assistant Production Manager), Conor Keelan (Music Supervisor/Orchestrations/Arrangements), and Tyler Milliron (Director of Photography).
Subtitles are available in English and Japanese.
Both musicals are now available for rent (available for 3 days) and online purchase for $4.99 and $19.99 respectively through streamingmusicals.com.
Comments