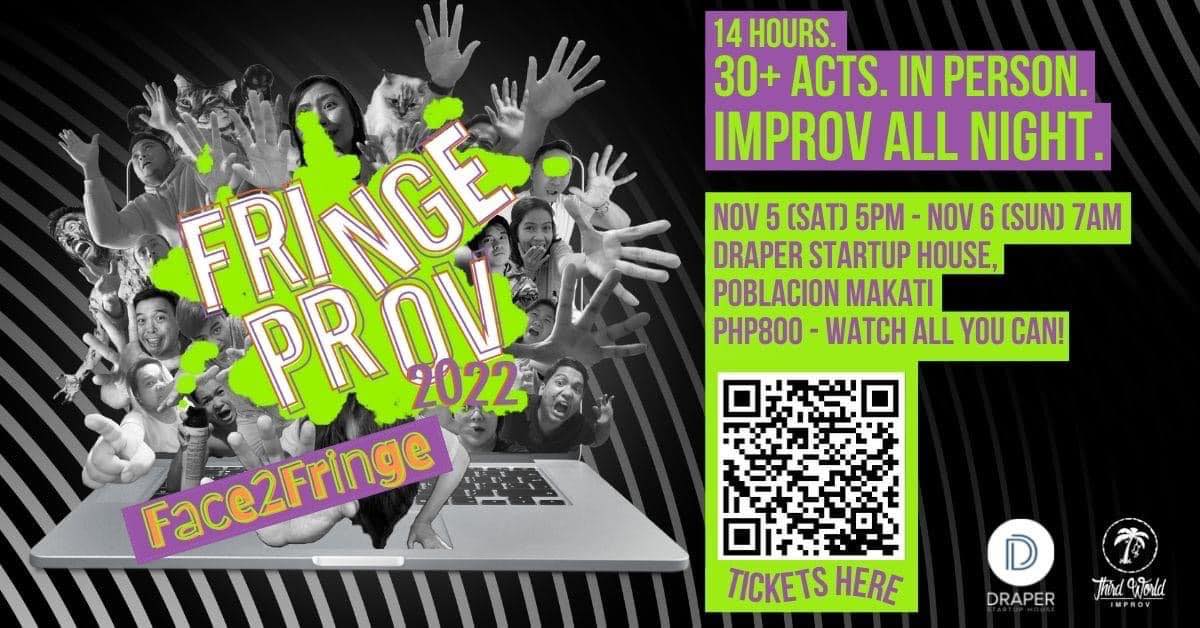 Improv Festival to Be Staged this Weekend
Third World Improv (TWI) will be staging Fringeprov 2022: Face2Fringe, its annual overnight improvathon from the evening of November 5 to the early hours of November 6.
For the last two years, this event has been held online so this will be its return to face-to-face performances. The festival will run for 14 hours from 5pm to 7am the next day at Draper House 5048 P. Burgos Street, Poblacion, Makati.
The event will feature performances from more than 30 improv groups with both students and alumni of TWI and promises to be a night of experiments, exploration, and expression.
Here is the full schedule:
Block 1 (5PM-7PM)
Mabuhay! Improv
Fuñeta Kami
TWI (Third Wheel Improv)
Improv Lab (Fringeprov 2022 edition)
Block 2 (7PM-9PM)
MemeIIWav (5 mins)
Malingap Beksters
Improverts
Titxprov
SPIT Manila
Block 3 (9PM-11PM)
Is It Wednesday Yet
The Cra(sy)ons
Mahinhin Corner Tortang Talong
Ansis + Francel
Block 4 (11PM-1AM)
MemeIIWav (5 mins)
LooneyBabes
Sabadurbia
Fringe with Benefits
Housekeeping Improv
Block 5 (1AM-3AM)
Blooey's REPapipz
ImprOvertime
Sessionistas
Highway Romance: Fringeprov edition
Buwan ng Wika
Madam Bea
Block 6 (3AM-5AM)
MemeIIWav (5 mins)
G2G
Room Service
Carambola with Caramballs
Pochinki Palz
Block 7 (5AM-7AM)
Memeprov
MiyerKuLETs
Profane Variations of the Flying Ipis
The Disappointed Guardian Angels
Kalawang Improv
MemeIIWav (5 minutes)
Important reminder: Audiences must be fully vaccinated against COVID-19 and agree to wear a mask at all times.
Pre-selling tickets are PHP 800 and the walk-in price is PHP 1000. Get tickets HERE.
Comments