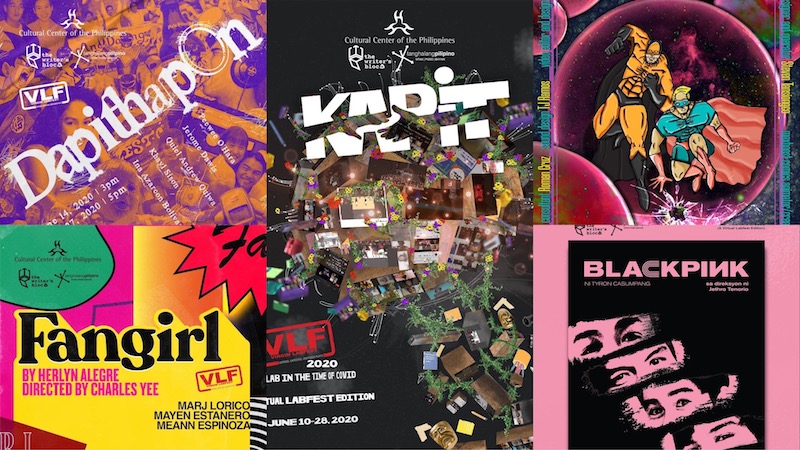 GUIDE: Virgin Labfest 2020 KAPIT – Lab in the Time of COVID
From June 10 to 28, VLF will bring audiences back "together" for an annual dose of untried, untested, and unstaged plays—online! 
The Virgin Labfest pushes its 'untried, untested' slogan as it premieres new works via online streaming, from June 10 to 28, amid the current coronavirus pandemic. 
JK Anicoche, debuting festival director, spearheads this online edition, an ambitious workaround to fit the annual festival into the ongoing crisis while keeping all of its cast and crew safe. "We are challenging the notions of liveness and together-ness," said Anicoche. 
Through a Facebook video announcement, Anicoche revealed a unique set of nine (currently ten) featured one-act plays that will be virtually staged, along three revisited plays and six other staged readings.
"Nag-cancel na ang ibang mga festival, at may social distancing," said Anicoche during his live announcement. "Pero, alam niyo, may mga kuwento pa rin na kailangang ikuwento, mayroong mga laban na kailangang ilaban." 
Alongside these virtual staging is the VLF Playwright's Fair, which will offer online discussion and a digital marketing platform for the expertise, services, publications and other products of writers of theatrical productions; the fair is free and open to public, held online every 7:00 p.m. throughout the festival.
The schedule for the online festival is summarized below, from week 1 through 3: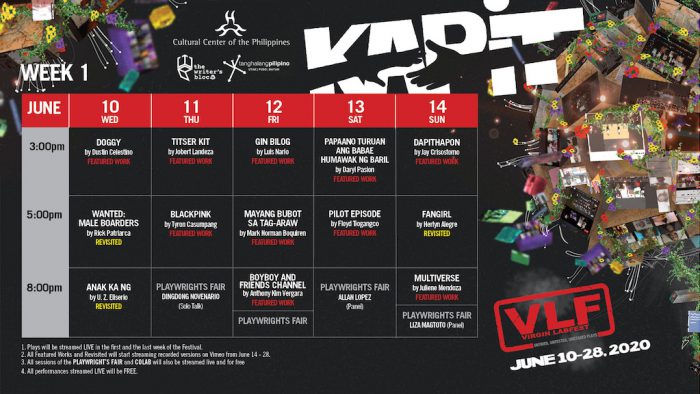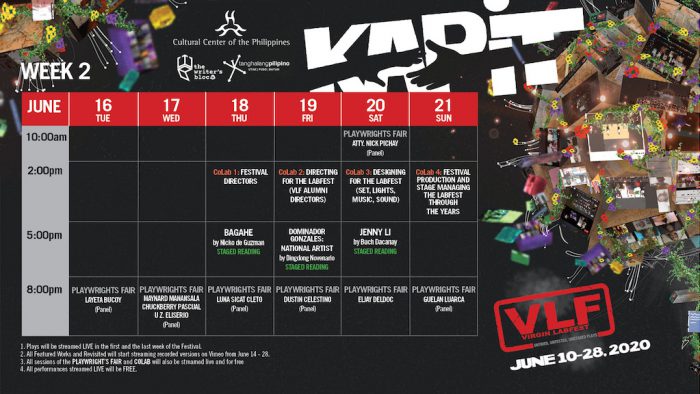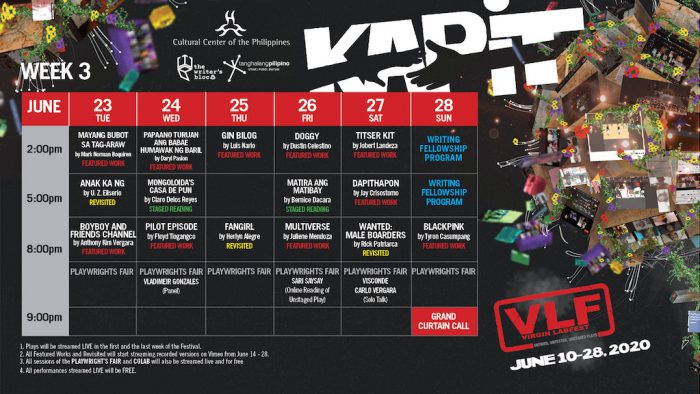 The different featured one-act plays slated for this edition of VLF are as follows:
SET A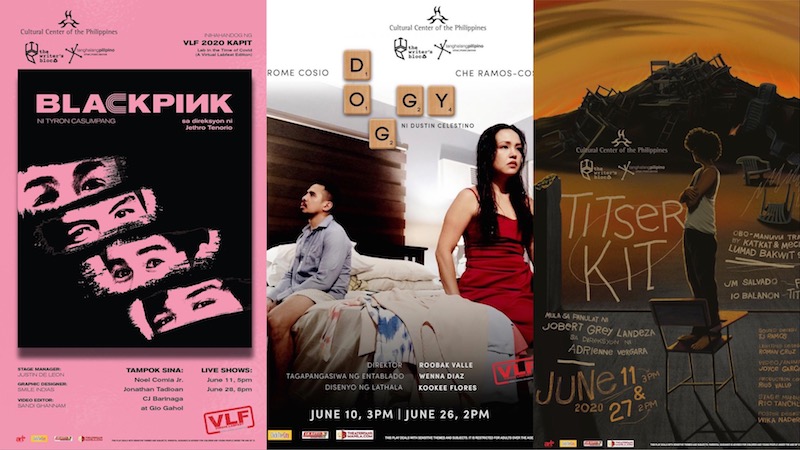 1. BlackPink by Tyron Casumpang
Directed by Jethro Tenorio
'BlackPink' tells of an LGBT ally Tatay who discovers that his Bunso, an avid Blackpink fanboy, was prohibited by his school principal to dance "Kill This Love" in their Family Day talent contest. When the only way for him to join the competition is if he finds other male students to dance with him, will he still be able to join the Family Day to dance the hit Blackpink song?
CAST: Noel Comia, Jr., Gio Gahol, CJ Barinaga, Jonathan Tadioan
Catch it live on June 11, 5pm and June 28, 8pm.
2. Doggy by Dustin Celestino
Directed by Roobak Valle
'Doggy' chronicles one man's fiancee's sexual peculiarity that becomes his source of repressed anger. Frustrations become prominent after a game of "Never Ever Have I Ever," when Mark finds out that his fiancee, Jane, was more sexually adventurous with her previous lovers. 
CAST: Chrome Cosio as Mark, Che Cosio as Jane
Catch it live on June 10, 3pm and June 26, 2pm. 

3. Titser Kit by Jobert Grey Landeza
Directed by Adrienne Vergara
'Titser Kit' tells of a young Lumad student, Patrick, who gets into trouble after transferring to his new school and hides inside a dilapidated storage room, afraid of whatever punishment the Principal might give him.  In that storage room, he feels safe—until the eponymous character finds him there.
CAST: JM Salvado as Patrick, Io Balanon as Titser Kit
Catch it live on June 11, 3pm and June 27, 2pm.

Set B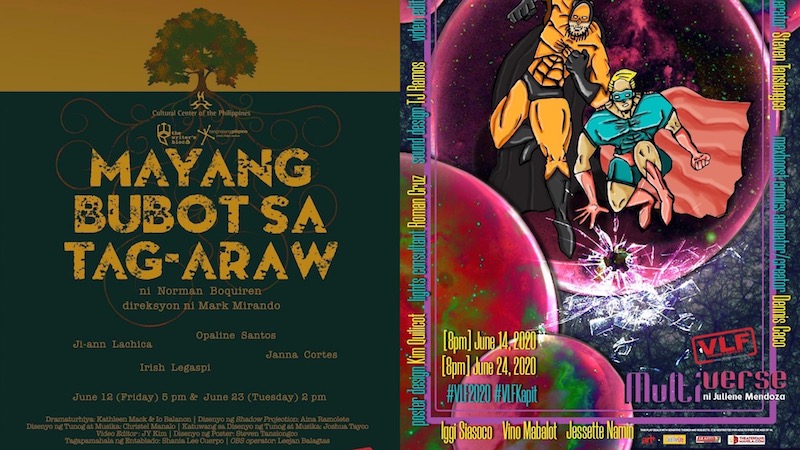 1. Mayang Bubot sa Tag-araw by Mark Norman Boquiren
Directed by Mark Mirando
'Mayang Bubot' is a painful tale about two Ayta children whose friendship was tested when they were forced to choose different paths six years ago: Bubot mindlessly following her mother as she seeks the American dream, and Maya remaining with their people, always working against oppression. 
CAST: Opaline Santos, Ji-ann Lachica, Janna Cortes, Irish Shane Legaspi
Catch it live on June 12, 5pm and June 23, 2pm.
2. Multiverse by Juliene Mendoza
Directed by Fitz Edward Bitana
'Multiverse' centers on two estranged brothers —Peter, a writer, and Bobby, a recovering alcoholic—who are making up for lost time.  Through their mutual love of comic books, they reconnect, discussing the concept of alternate realities and dimensions prevalent in most comic book stories and imagining how much better their relationship would have been in another reality. But what if a different reality slowly reveals itself to the two siblings?
CAST: Iggi Siasoco, Vino Mabalot, Jessette Namin
Catch it live on June 14, 8pm and June 26, 8pm.
SET C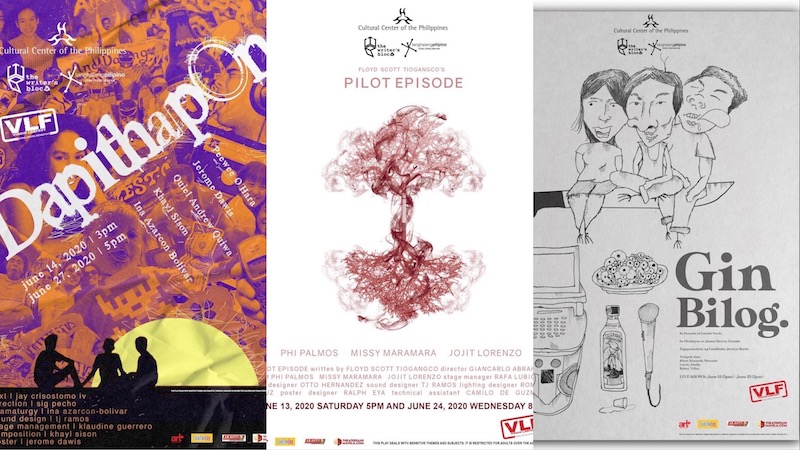 1. Gin Bilog by Luisito Nario
Directed by James Harvey Estrada 
'Gin Bilog' brings old issues back to the surface, as Entong, a Batangueño drunkard, spends a night of drinking gin with his wife Lorna and brother-in-law Dune. 
CAST: Buboy Villar as Dune, Rhon Kenneth Mercado as Entong, Lovely Abella as Lurna
Catch it live on June 12, 3pm and June 25, 2pm.
2. Dapithapon by Jay Crisostomo IV
Directed by Sigmund Roy Pecho
'Dapithapon' follows three boys, through their senior high school years, who have to confront their greatest fears in a single day: failing out of school, growing parental pressures, and an unhealthy crush for a teacher. All of these happen while they try to cling to one another and helplessly attempt to preserve their friendship before they are forever parted by circumstance.
CAST: Peewee O'Hara, Quiel Quiwa, Khayl Sison, Ina Azarcon-Bolivar, Jerome Dawis
Catch it live on June 14, 3pm and June 27, 5pm.
3. Pilot Episode by Floyd Scott Tiogangco
Directed by Giancarlo Abrahan
'Pilot Episode' tells a story about a young gay man who just quit his job through a text message, and how his parents attempt to de-escalate his extreme manic-depressive episode.
CAST: Phi Palmos, Missy Maramara, Jojit Lorenzo
Catch it live on June 13, 5pm and June 24, 8pm.
SET D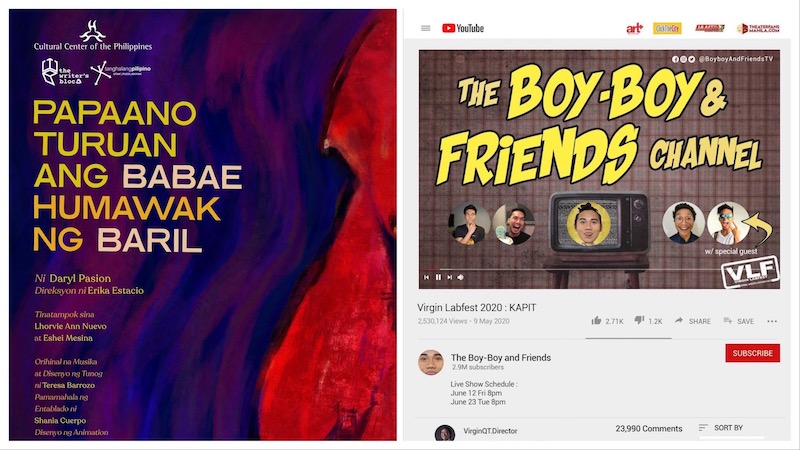 1. Papaano Turuan ang Babae Humawak ng Baril by Daryl Pasion
Directed by Erika Estacio
'Papaano Turuan ang Babae Humawak ng Baril' tells of a man, Oka, reuniting with his pregnant wife, Liling, after an encounter against the NPA. The sweet homecoming turns sour when the wife is confronted with her husband's impossible request.
CAST: Lhorvie Nuevo as Liling, Eshei Mesina as Oka
Catch it live on June 13, 3pm and June 24, 2pm. 
2. The Boyboy and Friends Channel by Anthony Kim Vergara
Directed by Joshua Tayco
'Boyboy and Friends Channel' tells of friends, production crew members, who became unemployed after their TV network had an  untimely shutdown. They find success when they become Youtubers, but soon enough they're faced with a decision that forever changes their friendship.
CAST: Norbs Portales as Boy-boy, Anthony Falcon as Dennis, Jerald Napoles as Greg, Nicco Manalo as Randy, Gabo Tolentino as Juma
Catch it live on June 12, 8 pm and June 23, 8 pm. 
There are also three works from the previous edition that will get "revisited" this year: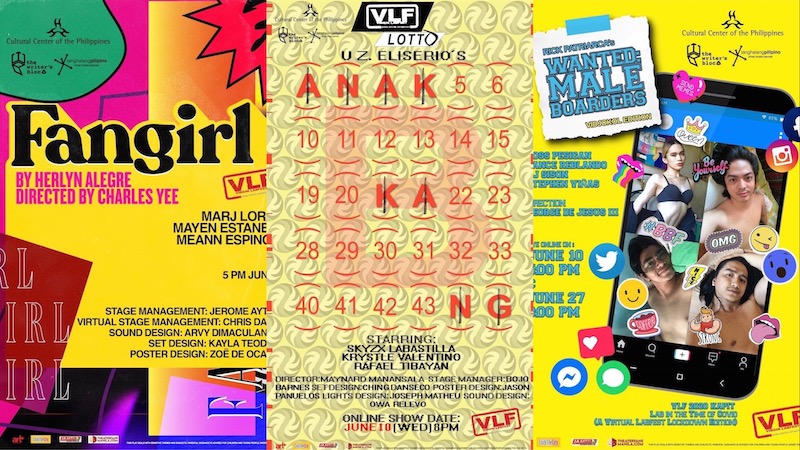 1. Fangirl by Herlyn Alegre
Directed by Charles Yee
'Fangirl' tells of high school friends Barbara, Jessica and Angeline who reunite to book concert tickets, as one of the biggest boybands of the 1990s get together for a long-awaited reunion concert after 20 years. As the three friends reminisce their teenage years spent fantasizing about their favorite boyband, they catch up with each other's lives. Years of frustration, anxiety and angst towards the roles they have been made to fulfill as women are unraveled, and insecurities and previously unconfronted animosity against each other are brought to the surface.
CAST: Mayen Estanero as Barbara, Marj Lorico as Jessica, Meann Espinosa as Angeline
Catch it on June 14, 5pm 
2. Anak Ka Ng by U Z Eliserio
Directed by Maynard Manansala
'Anak Ka Ng' tells the story of Pina who is reunited with her estranged OFW mother, Connie, now that her father is dead. Connie came home from abroad to seemingly just attend her husband's funeral and burial, but not to grieve, after which she'll just leave for abroad yet again. Pina is faced with a decision: will she forgive her mother and try to save whatever's left of their relationship, or will she finally leave Connie completely estranged?  
CAST: Krystle Valentino as Pina, Skyzx Labastilla as Connie, Rafa Tibayan as Niko
Catch it on June 10, 8pm.
3. Wanted: Male Boarders by Rick Patriarca
Directed by George De Jesus III
'Wanted: Male Boarders' tells of a trio of college students in Indang, Cavite, who relearn the definition of desire as they try to live with their new enigmatic board mate. 
CAST: Lance Reblando as Melody, Ross Pesigan as Marco, AJ Sison as Ian, Stephen Vinas as Andrew
Catch it on June 10, 5pm and June 27, 8pm.
There will also be six new staged readings premiering this year: 
Set 1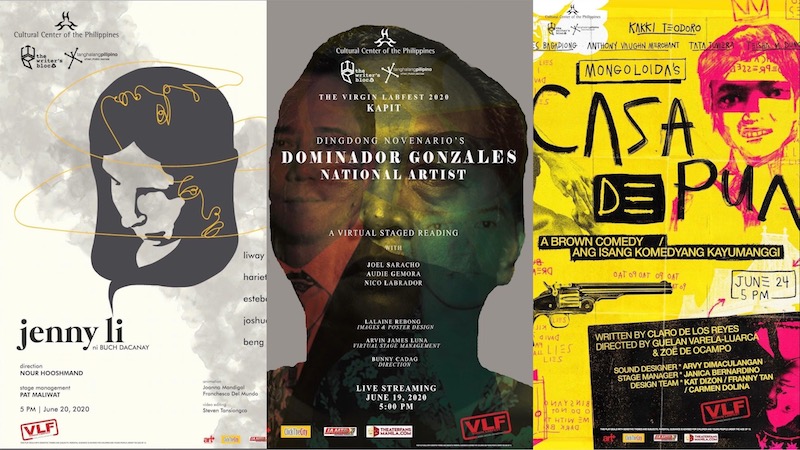 1. Jenny Li by Buch Dacanay
Directed by Nour Hooshmand
'Jenny Li' is a college student who suffers mentally after witnessing her best friend get raped at a classmate's party. She struggles to convince her best friend of it as nobody believes it had ever happened—wondering how many others out there have been victims like her best friend, and how many more out there are in denial. 
CAST:  Esteban Fulay, Jr., Ruah Liway Gabo, Joshua Tayco, Hariette Mozelle, Beng Maramba
Catch it live on June 20, 5pm.
2. Dominador Gonzales – National Artist by Dingdong Novenario
Directed by Bunny Cadag 
Soon to be proclaimed National Artist Dominador Gonzales is asked by a previous mentee to collaborate on a project to get the mentee back into the playwriting scene. But when he refuses, he is put at risk of being among the ranks of Kevin Spacey and Woody Allen, potentially voiding his career and everything he's worked for.
CAST: Joel Saracho, Audie Gemora, John Nico Labrador
Catch it live on June 19, 5pm. 
3. Mongoloida's Casa de Pun by Claro delos Reyes
Directed by Guelan Luarca 
'Mongoloida's Casa de Pun' (a brown comedy / ang isang komedyang kayumanggi) is an experimental take on socially constructed borders of Philippine racial identity. It follows the internal struggle of Enrica, an Afro-Filipina, who has migrated to New York City under contentious circumstances related to her upbringing. In a liminal space, she confronts a transnational cast of historical characters who navigate life with differing world views; together they deal with their varying beliefs and reflections through shards of glass and mirrors. 
CAST: Kakki Teodoro, Tata Tuviera, Ybes Bagadiong, Anthony Vaughn Merchant, Teisha Duncan, Arvy Dimaculangan, Carmen Dolina, Kat Dizon, Franny Tan
Catch it live on June 24, 5pm. 
Set 2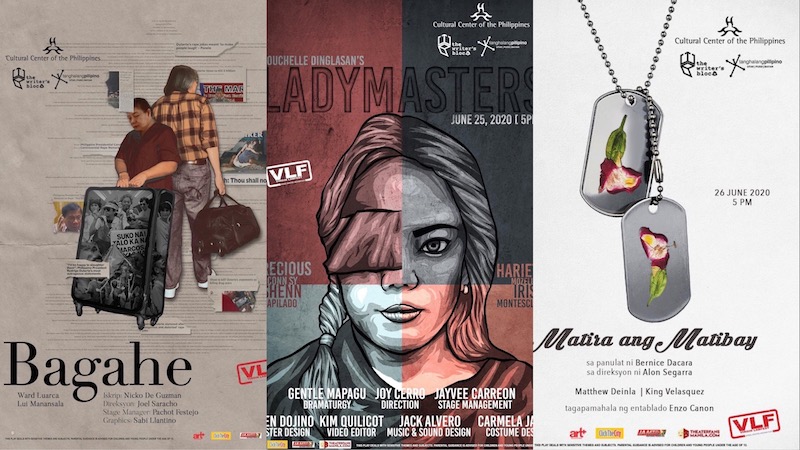 1. Bagahe by Nicko de Guzman
Directed by Joel Saracho 
'Bagahe' tells the story of Kaloy who decides that he and his wife, Che, go back to the Philippines for good after being OFWs in the US for almost three decades. But, Che can't seem to finish packing/unpacking. As the couple argues—about found objects, "change is coming", and Marie Kondo—Che finds out that there is persistence in leaving and there is permanence in movement.
CAST: Lui Manansala as Che, Ward Luarca as Kaloy
Catch it live on June 18, 5pm.
2. Matira ang Matibay by Bernice Dacara
Directed by Alon Segara 
'Matira ang Matibay' starts in the morning of the plebes' recognition day. Awakened by Vito's continued knocking, Erik tries to distract his bunkmate by recounting the good memories they had during their 6 month training in the academy. The reminiscing stops as the two are faced with the looming experience of their batchmate's death, leading them to question each other's beliefs and what they're willing to give up because of it.
CAST: Ethan King Velasquez, Matthew Deinla
Catch it live on June 26, 5pm.
NOTE: "Ladymasters" will no longer be performed for this year.


The Virgin Labfest 2020 Writing Fellowship Program will also take place starting June 16.  It is a two week mentorship program for young aspiring playwrights mainly about dramatic writing for the stage. Participants will learn from lectures, script critiquing, writing sessions and interactions with known playwrights, directors and actors. Like in previous VLF editions, the Fellowship Program will also culminate in a staged reading – but now online – of the fellows' works on June 28 at 2 and 5pm.
Catch all these works by Filipino playwrights as they stream through the CCP's Facebook page, starting June 10! Each streamed performance will be available at the page for 24 hours. For a more in-depth experience, join the VLF Tambayan Facebook group to exchange ideas and interact with directors, actors, and members of production teams alike. 
Miss the live premieres? Worry not—the plays will be up for viewing anytime from June 14 to 28 at the Vimeo page of the Cultural Center of the Philippines. For a hundred pesos, get the chance to watch all 19 productions for two weeks; for an additional hundred pesos, get the chance to take a peek inside the world of Labfest, with exclusive interviews and behind-the-scenes footage!
Comments