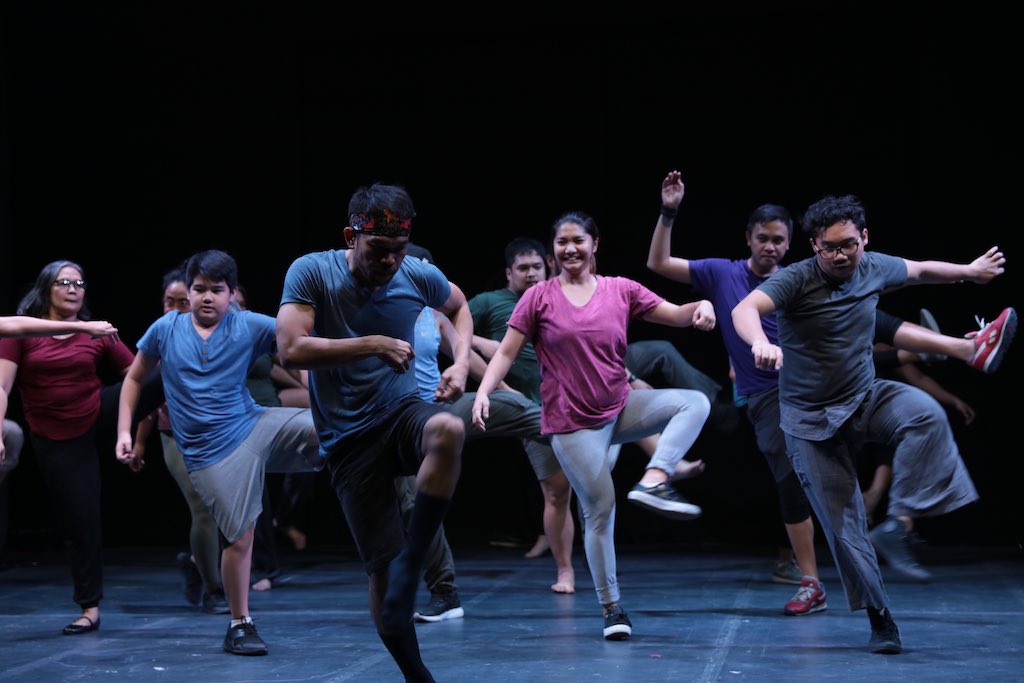 12 Virtual Theater Workshops You Can Join This Month
Learn theater all in the comfort of your home.
For a few months every year, theater companies mount workshops for interested participants of all ages—young children, teens, and even adults—but with the pandemic waging outside our homes, face-to-face interaction with groups of people still isn't exactly something we'd want for ourselves.
In response to this, theater companies have migrated their workshops online! Here are 12 virtual theater workshops you can sign up for if you want to get into theater, enhance your craft, or just meet likeminded individuals who have a love for the performing arts. 
1. Repertory Philippines
This year, the annual REP Workshop for the Performing Arts goes online, with classes starting on July 6. The workshops are composed of 12 sessions three times a week, with each class running an hour and a half long. If you enroll until June 8, you can get 10% off the Php 6,000 tuition fee. For more information, visit this link.
2. Make Believe Productions
Make Believe, a creative arts company for children and families, is opening workshops starting tomorrow, June 2. Parents can choose from various classes—from fashion shows called "Little Runway" to "Make-Up For Mommy," a makeup and self-care class for moms. Some of their workshops are held in partnership with Shoor, so register via their website (shoor.com). 
For more information, visit Make Believe Productions on Facebook. 
3. Tanghalang Pilipino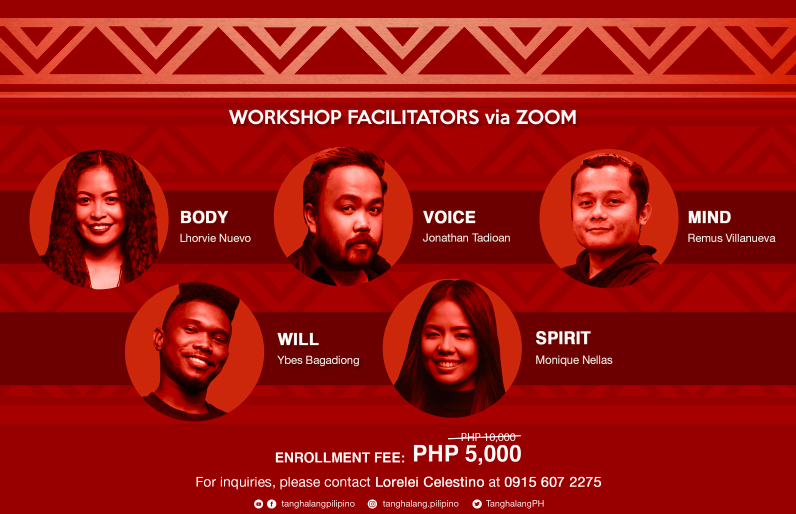 Tanghalang Pilipino, in partnership with KAPWA, is holding a workshop called "Theater Acting Towards Self-Actualization," which aims to achieve growth in the Filipino artist, adhering to five guiding instruments: the Body, Voice, Mind, Will, and Spirit. 
Its facilitators are members of the TP Actors Company, including Lhorvie Nuevo for Body and Jonathan Tadioan for Voice, among others. The enrollment fee is Php 5,000 for each 12-session workshop. TP also has two other workshops—Script Writing with Eljay Castro Deldoc and The Art of Improvisation with Alexis Jingco—for Php 10,000 and Php 5,000, respectively. 
For more information, message Tanghalang Pilipino on Facebook or contact 0915-6072275.
4. Caisa Borromeo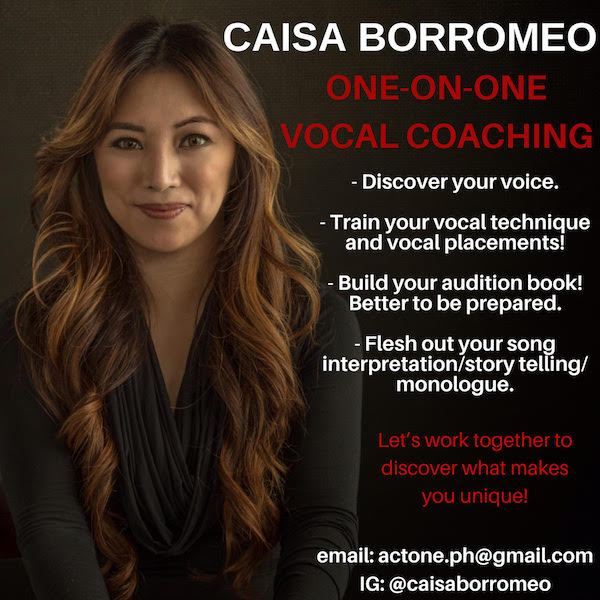 Caisa is a professional theater actress with a Bachelor's Degree in Music, Major in Voice Performance. She was last seen in Upstart's Company, where she played Martha. Aside from performing, she has also been a vocal coach for several years. She has now created an online platform to continue vocal coaching via Zoom. 
In her one-on-one sessions she focuses on vocal placement and technique, refining and fleshing out song interpretation and story-telling, and building their audition book. Her goal, she says, is to help her students discover their own voice and what makes them unique!
For inquiries you can email actone.ph@gmail and fill out the sign-up sheet here. 
5. Ballet Manila
Starting May 18, all of Ballet Manila's classical ballet courses have been made available online. They welcome students with little or no experience in ballet training, so if you've always been interested in attending a workshop but have been hesitant, here's your chance. The rates of the classes range from Php 1,000 to Php 2,700, depending on the number of sessions, while Floor Barre courses are Php 300 per session. 
To enroll, fill out this form. 

6. Atlantis Theatrical
Atlantis' annual workshops have also migrated online, so that kids can access all the fun and creativity that is usually present in Atlantis' workshops. Their virtual workshop aims to keep the spirit of theater and collaboration alive among young, budding performers not only in the metro, but also across the globe. The virtual setting will give them an intimate and focused learning experience aided by the critically acclaimed faculty members, who have also graced local and international stages as Atlantis Theatrical's home-grown talents. The classes will be held from June 2 to June 20, with a total of nine sessions that are 1–2 hours long. 
To sign up, contact Atlantis Theatrical at info@atlantistheatrical.com or at 0917 838 1534.
7. Twin Bill Theater
Twin Bill Theater has launched "Find Your Light: Locked and Loaded," a free online-interactive-tutorial initiative to introduce theater performance and technicals to interested groups and individuals. Batch 2 begins on June 7, and slots are limited. For inquiries, email twinbilltheater.info@gmail.com or visit their Facebook page. 
8. Onstage Online by Jillian Ita-as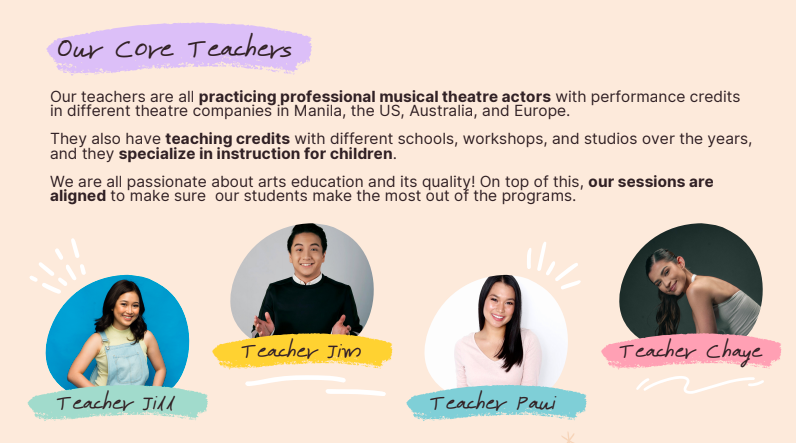 Onstage Online offers holistic group classes for young students in acting, singing, and dancing. They aim for their students to gain specific fundamental skills and knowledge that will benefit future performances, auditions, or even just allow them to appreciate the performing arts even further. 
They offer a summer workshop for kids 5–8 years old (Tiny Thespians) and 9–12 years old (Junior Thespians). They also have home school group classes as well as special sessions, which cover commercial acting, voiceover acting, and even dancing for TikTok. The classes begin on June 15. 
For inquiries, visit their Facebook or Instagram, email them, or contact them via Viber at 0977 821 4792. 
9. Angeli Bayani
You can hone your acting skills through Angeli Bayani's Online Master Class. The award-winning indie and theater actress is offering 10 online sessions beginning June 1, where participants can build their creative process. Veteran actors and actresses will be guest mentors, including Cherie Gil, Art Acuña, Irma Adlawan, Gab Pangilinan, and Nonie Buencamino. 
For inquiries, send a message on Facebook.
10. PETA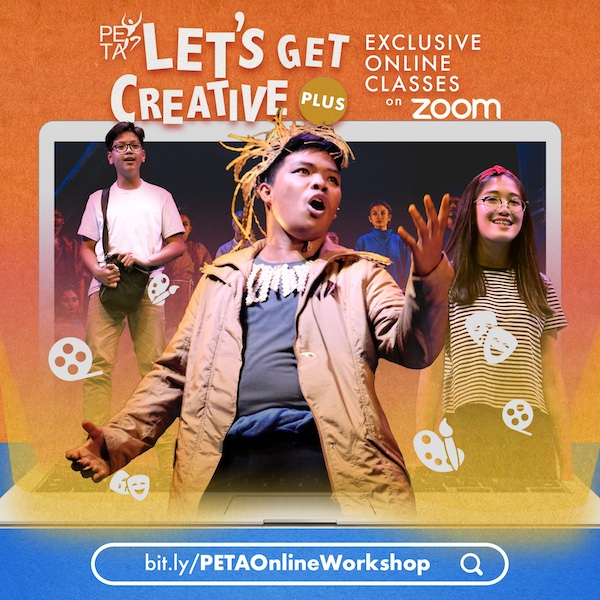 The Philippine Educational Theater Association (PETA) has launched a lineup of new workshops for teens and adults, starting this June. The courses include Children's Theater Batch 4, Musical Theater for Teens, Acting for Screen,  Acting for Stage, and Creative Pedagogy for Blended Learning. All will be conducted via Zoom, with 10 to 12 students per class. 
For inquiries, visit bit.ly/PETAOnlineWorkshop or contact Betita at 0926-406-6858 or betitasarmiento@petatheater.com.
11. Upstart Productions
Upstart is holding a workshop on songwriting for musical theater, called Music & Lyrics and & You, taught by Joel Trinidad and Rony Fortich. It's a 10-day course starting June 8 to July 8, Mondays and Wednesday via Zoom. The fee per participant is Php 8,000. For more information, message them on Facebook.
12. Sixteen Bars
"Crossing the Divide" is an hour-long Q&A with Broadway actress Krystina Alabado, where she will talk about the intersection of musical theatre and popular music, being an actor who's done pop musicals. After all, in the golden age of musical theatre, the works of George & Ira Gershwin, Irving Berlin, Cole Porter, Richard Rodgers, Lorenz Hart, Jerome Kern dominated radios and were considered "pop." On June 13, join Krystina on Sixteen Bars' Facebook as part of an initiative supporting Para Sa Sining and its fundraising project, #HomeNotAlone, where you can donate to after. 
Comments