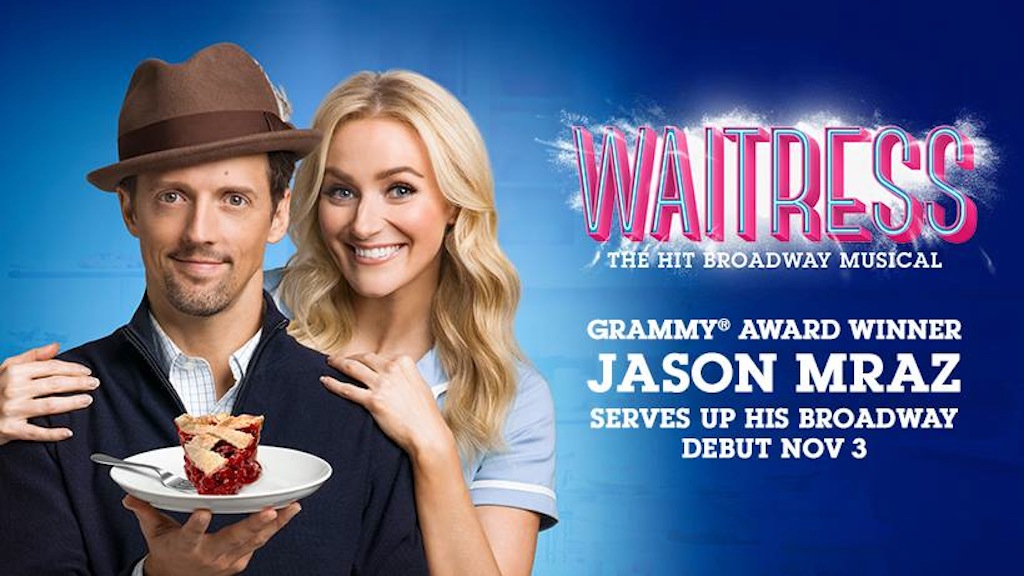 Grammy Winner Jason Mraz Joins 'Waitress' Cast on Broadway!
Sugar, Butter, Mraz!
Singer-songwriter Jason Mraz, whose hits include the songs 'I'm Yours', 'Lucky' and '93 Million Miles', will make his Broadway debut when he joins the cast of 'Waitress' in November.
Both Mraz and the show's composer Sara Bareilles dropped several teasers this week on Facebook and Youtube before the announcement was finally made official yesterday:
'Waitress' is the story of Jenna Hunterson, a small-town woman trapped in an unhappy marriage, and how she finally finds the courage to build a new life for herself. The musical is based on the movie of the same name, with a book by Jessie Nelson, direction by Tony winner Diane Paulus, and music by Tony nominee Bareilles.
Mraz will take on the role of Dr. Pomatter, the doctor who starts a relationship with Jenna and helps in her journey of self-discovery. Though this is Mraz' first time on Broadway, he's already performed some of his character's songs before. He collaborated with Bareilles on her 2015 album 'What's Inside: Songs from Waitress', where they duetted on 'Bad Idea' and the poignant 'You Matter To Me'. Bareilles herself played Jenna on stage for a limited time early this year, before current lead Betsy Wolfe took over in June.
Mraz is a two-time Grammy winner who's celebrating the 15th anniversary of his first album 'Waiting For My Rocket to Come' next month. He will start his 10-week run as Dr. Pomatter on November 3. He will replace Drew Gehling, who originated the role when the musical opened on Broadway last year.
Comments