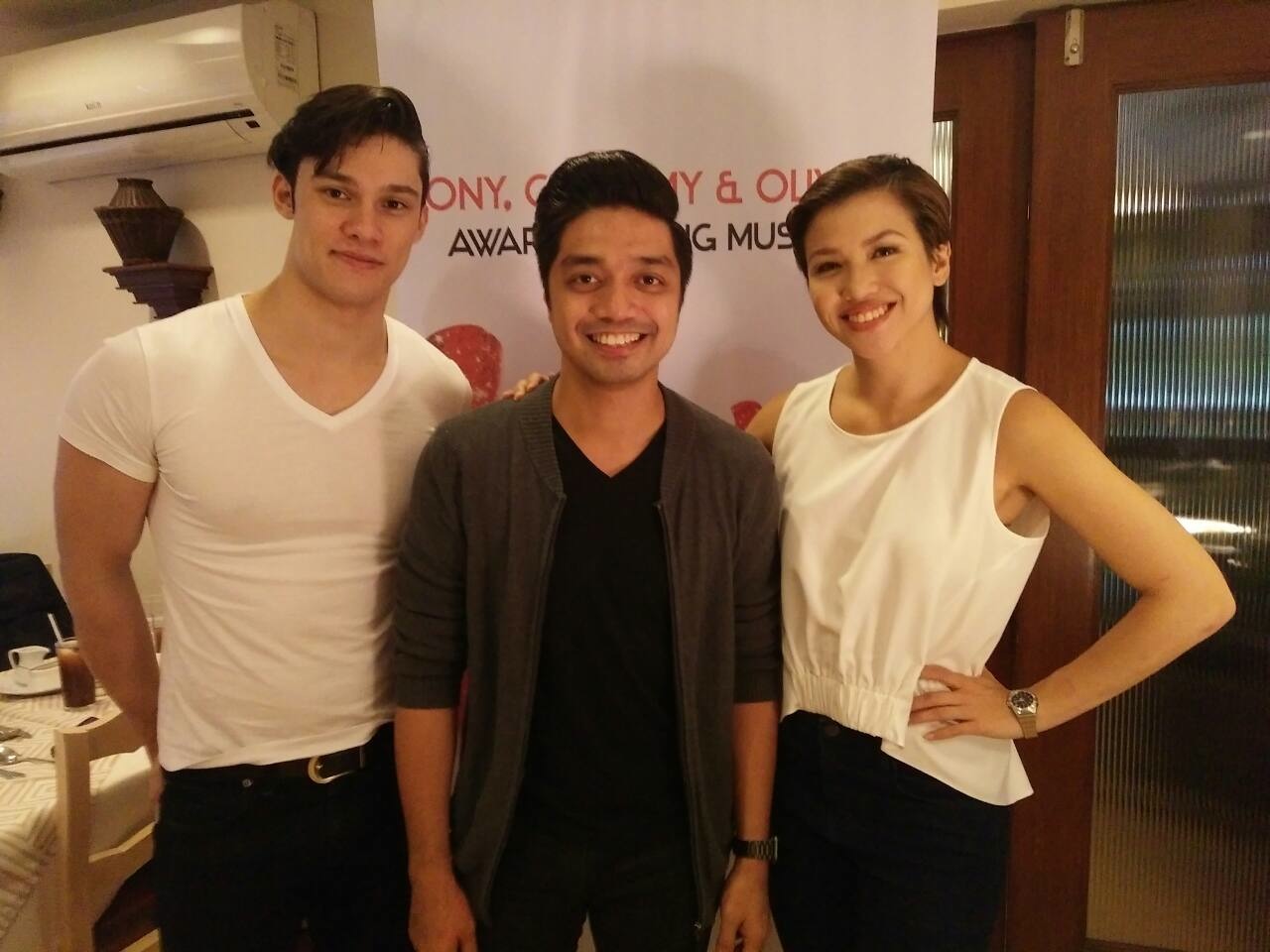 Get to Know the Cast of ATEG's Kinky Boots
Winner of six Tony Awards, including Best Musical, Kinky Boots features a joyous, Tony-winning score by Cyndi Lauper and a hilarious, uplifting book by four-time Tony winner, Harvey Fierstein. The show opens on June 30, 2017 at the Carlos P. Romulo Auditorium, RCBC Plaza, Makati. You can buy tickets HERE.
Synopsis
Charlie Price has reluctantly inherited his father's shoe factory, which is on the verge of bankruptcy. Trying to live up to his father's legacy and save his family business, Charlie finds inspiration in the form of Lola. A fabulous entertainer in need of some sturdy stilettos, Lola turns out to be the one person who can help Charlie become the man that he is meant to be. As they work to turn the factory around, this unlikely pair finds that they have more in common than they ever dreamed possible… and discovers that, when you change your mind about someone, you can change your whole world.
Cast
Leading the cast as Simon/Lola is critically acclaimed musical theatre performer and acoustic balladeer Nyoy Volante, last seen on stage as Frankie Valli in JERSEY BOYS.
How do you feel about landing the role of Lola?
Nyoy: I feel happy about it. My personality, not a lot of people know this, but I like being crazy. I like, and the people who love me and the people who know me know, that I love making a fool of myself. I'm not saying being in drag is making a fool of myself, but you know, it's something out of the box for a normal person. I enjoy it.
"As long as it's anything out of character, I'd love that."
Nyoy has been playing a series of out-of-the-box characters for Atlantis over the years.
Nyoy: I think that's what they have in mind when Nyoy Volante comes into their heads. Donkey (from Shrek), Frankie Valli, Grandma (from Addams Family), the rockstar in Rock of Ages, iyung mga unorthodox na roles. Iyun iyung mga, pagka may mga ganun roles, they think Nyoy Volante because they know I'll enjoy that."
Is it harder to play real life characters like Frankie Valli compared to roles such as this?
Nyoy: Yes. There's a certain degree of difficulty channeling a real person kasi may totoong ganun e. You have to somehow respect and kahit papaano you have to up to a certain degree be that person. Meron kang hinahabol na quality, na likeness, whereas this one, you have to have the guidelines of what the character's about, but it can be you.
Laurence Mossman, last seen playing multiple roles in FUN HOME, takes on the role of factory owner Charlie Price. Mossman grew up in New Zealand and has only been in the Philippines for approximately 2.5 years.
How does it feel to land your first lead role in such a big musical?
Laurence: I'm not gonna lie. I'm so excited. I'm really, really, really, excited for a musician, a singer, to have this kind of opportunity in such a big country, especially when it comes to musical theater, and in such a fantastic theater company. On one hand it's kind of nerve-wracking because it's the biggest thing I've ever done with so much responsibility. There's a lot weighing on your shoulders because you want to prove the director and the team right that they chose the right person for the role. But on the other hand I know that it's something I can definitely do. So for a couple of months I've just been like, 'Let's just do it! Come on! Let's get to rehearsals!' because it's so exciting. And with the music, when I heard the music for the very first time, obviously being by Cyndi Lauper, it's such fantastic music. Every single song is memorable, exciting, especially the ensemble numbers and the big dance numbers. It's just one of those musicals that I know people are gonna go along to. And they'll definitely feel really good at the end of it.
"The hope is people are up and dancing by the end of the show."
Yanah Laurel, who was also last seen in FUN HOME, plays factory worker Lauren.
How do you identify with your character?
Yanah: The way I identify with her is she's very brave. She's not exactly the loudest person in the room. It's a very quiet strength. She's not afraid to stand her ground and to just go for whatever she wants to achieve. And I relate to her in that way. What we do here in theater, and even in life is, you need a lot of courage to pursue the arts and to pursue what you want to do. That's the way I identify with her. She's very pro-woman. She's not maarte. She works in a factory. She doesn't think like 'Ay babae ako, hindi pwede'. If a guy can do it, she can do it better.
How is the musical relevant today?
Laurence: The whole premise of the musical is being who you are. Being who you wanna be and just learning to accept others the way they are is the overarching theme. Learning to accept others, learning to be comfortable with yourself, no matter what other people say about you. Or if they bully you for being different, or whatever, just learning to be comfortable with yourself and trusting that at the end of the day, you can be who you wanna be.
Yanah: I think something that's really relevant in the story that resonates today is that you can be a game changer, and in this story, Kinky Boots, the landscape of, say for the shoe factory, completely changes. Charlie coming in to the position that his father was in. It's changing the game. It's changing the landscape. Making your own path. And I think that's something that's really relevant today, whether it be millennials, or whether it be with individuals, you don't have to follow that stereotypical path in order for you to make a life or to make a career or to make a name for yourself. Go through the road less traveled. Create your path. Create your own landscape. Change the game. Be a game-changer. And I think that's something that really resonates and is beautiful from Kinky Boots. Meet people. Collaborate with people. Meet young people. Meet people from all walks of life– a cross-dresser, a factory worker, a person who works in a factory, and make something really big out of something people don't expect you to. I think that's something that's really relevant today.
Nyoy: Unfortunately there are scenes there also that's sad. This is very relevant, where my character sings, 'Not my Father's Son". I sing about not being accepted by my father because my character chooses to be a cross-dresser. I think that's very relevant nowadays. Actually matagal na. The parents don't agree with what you chose, whether it's your profession, or your religion, being a cross dresser, being a musician, being a Born Again Christian when you were born and raised Catholic… a lot of things are still present. And in some ways it's gonna tackle that feeling.
Joining them are Tricia Canilao, Jamie Wilson, Nel Gomez, Christine Flores, Sarah Facuri, Steven Cionde, Rhenwyn Gabalonzo, Ron Gohel, Jill Peña, Japs Treopaldo, and Juancho Escoto. Featured as the Angels are Ritz Beltan, Jorge Jahnke, Michael Jahnke, Jazztin Cacayan, Mark Pineda and Gerhard Krysstopher.
Artistic Team
KINKY BOOTS is directed by Bobby Garcia, Choreography by Cecile Martinez, Set Design by Faust Peneyra, Lighting Design by Adam Honoré, Costume Design by Raven Ong, Sound Design by Kevin Heard, Wig and Make Up Design by Johann dela Fuente, Musical Direction by Molinder Cadiz, and Vocal Direction by ManMan Angsico.
You can buy tickets HERE.
For more details about what's happening in the Manila theater scene, please view our Theater Calendar.
Comments