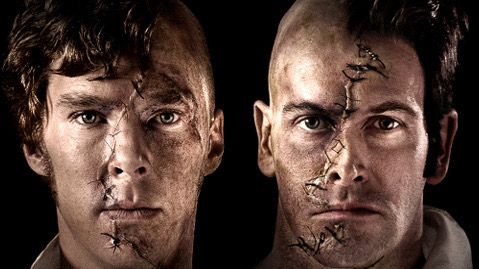 "Frankenstein" Starring Benedict Cumberbatch to Stream Online
As part of the National Theatre at Home initiative, the company will be streaming its 2011 production of Mary Shelley's Frankenstein. 
Directed by Academy Award winner Danny Boyle, this production starred Benedict Cumberbatch and Jonny Lee Miller alternating between the roles of Victor Frankenstein and the Creature. The play centers on the journey of Frankenstein's hapless Creature, who encounters cruelty wherever he goes because of his grotesque form. As he grows increasingly desperate and vengeful, he resolves to track down his creator to strike a terrifying deal.
Audiences will be able to see both actors in each role, as two versions will be shown. Benedict Cumberbatch will be performing as the creature from April 30 at 7pm (London time) to May 7 at 7pm (London time) while Jonny Lee Miller performing as the creature from May 1 at 7pm (London time) to May 8 at 7pm (London time).The streams will be available on the National Theatre's Youtube Channel.
Earlier this month, the National Theatre already streamed One Man, Two Guvnors, Treasure Island, and Jane Eyre. The latest production to stream is Twelfth Night starring Tamsin Greig as the genderbent Malvolia.
Check out the trailer for Frankenstein below:
Comments