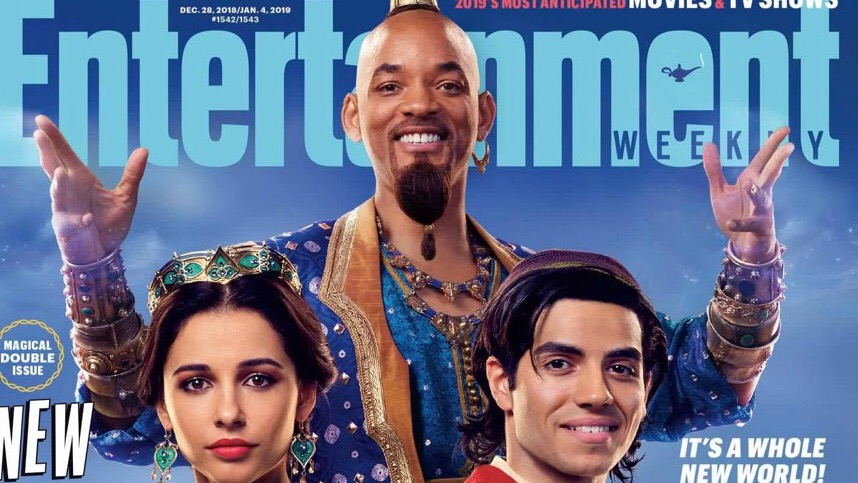 FIRST LOOK: Will Smith as Genie in Aladdin Live-Action Remake
Entertainment Weekly has just released exclusive photos from the live-action remake. In their latest magazine cover, we can see Smith posing with Mena Massoud, who will play Aladdin, and Naomi Scott, who will play Princess Jasmine.
We can show you the world… of Disney's live-action #Aladdin! Get a shining, shimmering, splendid first look at the reimagined classic in our magical First Look issue: https://t.co/Kwkcdfen5v pic.twitter.com/7NbyiRRcLH

— Entertainment Weekly (@EW) December 19, 2018
In Smith's Instagram account, he reveals that he will be blue in the film. "This is how the Genie is in Human / Disguise Form. My character will be CGI most of the movie.)"
Massoud also tweeted the photos, all reminiscent of the city of Agrabah from the 1992 animated film.
This is what it looks like when Genie tells #Aladdin what he wants for Christmas. Thanks @EW for the exclusive pics and interview! pic.twitter.com/nukhzYscu3

— Mena Massoud (@MenaMassoud) December 19, 2018
Here is also a first look at Marwan Kenzari as Jafar.
First look at Marwan Kenzari as Jafar in 'Aladdin'. pic.twitter.com/MetQMoMcRM

— Lights, Camera, Pod (@LightsCameraPod) December 19, 2018
Also joining them are Navid Negahban as the Sultan. The film is written by John August and Guy Ritchie (who also serves as director) based on Disney's "Aladdin." Alan Menken provides the score, which includes new recordings of the original songs written by Menken and lyricists Howard Ashman and Tim Rice, as well as two new songs written by Menken and songwriters Benj Pasek and Justin Paul.
The film is set to open on May 24, 2019.
You can watch the teaser trailer released last October below.
Comments