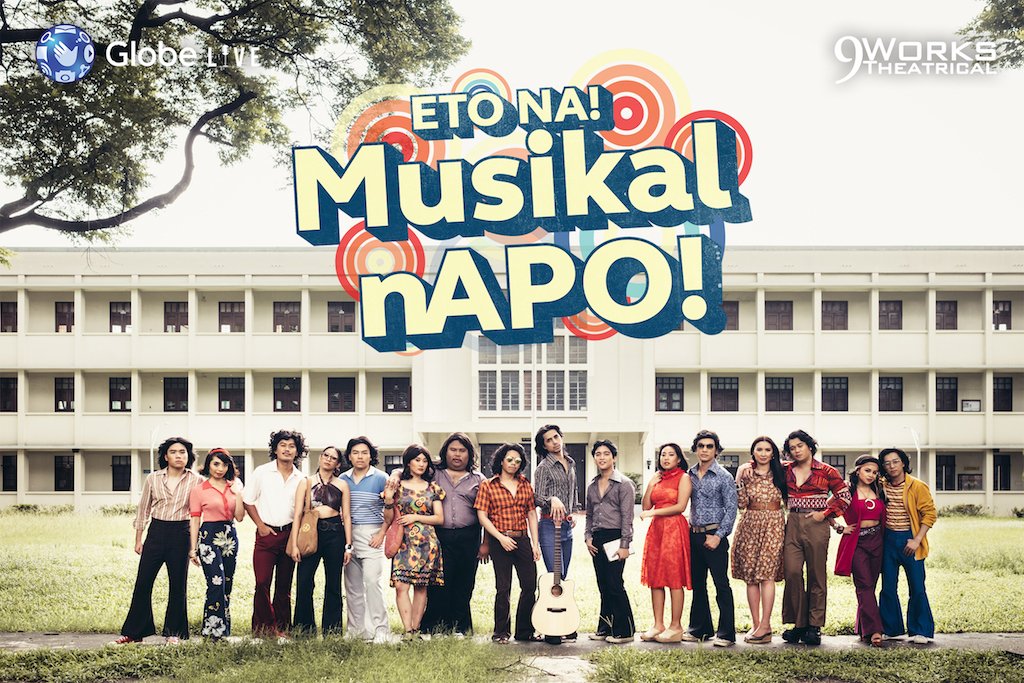 FIRST LOOK: Mark Bautista, Jef Flores, and Cast Perform Medley from Eto Na! Musikal nAPO!
Get ready to have a hearty dose of nostalgia as Eto Na! Musikal nAPO!, an original musical based on the music of the iconic APO Hiking Society, hits the stage this August!
Amidst the popularity of Western music back in the '70s, APO's music mirrored Filipino sensibilities in their tracks 'Panalangin', 'Di Na Natuto', and 'Blue Jeans', among many others.
"We wanted to write about Filipinos—songs about love, about friendship, relationships," said APO's Jim Paredes. "That is why people can relate to them. Lyrics were simple but authentic. We avoided clichés. We used everyday language." And indeed, in no time, they became a household name and have gone to influence generation after generation of Filipinos through their wonderfully written songs.
Written and directed by Robbie Guevara, Eto Na! Musikal nAPO! tells of a college barkada on their road to win a songwriting and singing competition. The story, set in a university in the 1970s, follows them through all the intricacies of youth and romance, no less. Despite having Martial Law (an "unignorable circumstance", says director Robbie Guevara) as a backdrop, for some of them, their spirit and passion for music thrive.
"In 2013, Boboy Garrovillo lightly suggested we make a musical using their songs," shared director Robbie Guevarra, on how the musical was conceived. "I remembered his story on how APO started and evolved when we did a play together in 2003. And I knew that's what I wanted the musical to be about."
The songs of Danny Javier, Jim Paredes, and Boboy Garrovillo are given new life in the theater, with brand-new arrangements by Daniel Bartolome and Orly de la Cruz. "I personally wouldn't want to touch the original arrangements. The songs are already perfect as it is," shared musical director Daniel Bartolome. "But considering that it would be used in a musical, changes have to be made. Because it's not going to be staged as a concert. But with a story."
Leading the cast is Mark Bautista who recently starred in Seattle Repertory's staging of Here Lies Love. With him are Jon Philippe Go, Jobim Javier (son of APO's Danny Javier), Alfritz Blanche, Jef Flores, Jon Abella, Vyen Villanueva, Rita Daniela, Marika Sasaki, Sab Jose, Raul Montesa, and Noemi Gonzales. Also part of the ensemble are Gian Gloria, Shalee Vicencio, Peachy Atilano-Guevara, Anton Posadas, Jourdan Bartolome, and Derrick Gozos.
During the press conference, the ensemble delivered '70s nostalgia when they performed a medley of APO songs featured in the musical, including 'Batang-bata Ka Pa', 'Pumapatak Ang Ulan, 'Di Na Natuto', and 'Panalangin'. You can excerpts from the video below!
Eto Na! Musikal nAPO!  is written and directed by Robbie Guevara, along with Jonjon Martin as dramaturg, Dingdong Rosales as assistant director, Daniel Bartolome as musical director, PJ Rebullida as choreographer, Shakira Villa Symes as lightning designer, Joey Mendoza as set designer, Eric Pineda as costume designer, Dong Calingacion as technical director, Rards Corpus as sound designer, Myrene Santos as hair and makeup designer, Ronan Ferrer as vocal supervisor and Cathy Azanza-Dy as stage coach.
Eto Na! Musikal nAPO! will be shown at Maybank Performing Arts Theater, Bonifacio Global City, on August 3-5, 10-12, 17-19 & 24-26, 2018, at 8:00pm on Fridays, Saturdays & Sundays, and 3:00pm on Saturdays & Sundays.
You can buy tickets HERE.
Comments