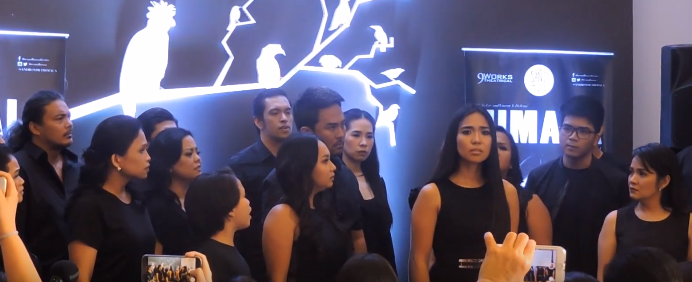 FIRST LOOK: 'Himala' Cast Performs a Medley from the Iconic Musical
"Walang himala!" might be one of the most iconic lines in the history of Philippine Cinema, but try proving that to anyone who's ever been in a theater. This February, The Sandbox Collective and 9 Works Theatrical are bringing Ishmael Bernal's haunting masterpiece of collective hysteria back to the stage to captivate new audiences as Himala: Isang Musikal.
Adapted from the original film penned by Ricky Lee, Himala tells the tale of the townsfolk of Cupang, a rural barrio in a barren landscape cursed with drought. A glimmer of hope appears in Elsa, a young girl who claims to have the power to heal after seeing a vision of the Blessed Virgin Mary. News of her miracles spread far and wide, drawing the ill and the curious to what was once a sleepy town. As events unravel, the community's fractured moral foundations and collective spiritual deprivation surface, all until the chaos escalates past a point of no return.
You can buy tickets HERE.
"This story wouldn't exist anywhere else in the world," says director Ed Lacson Jr. The film may have been released over three decades ago, but its themes of collective hysteria, greed, and compromised moral standards still resonate today.
The libretto by Vincent De Jesus, co-written with Ricky Lee 15 years ago, perfectly captures the characters' emotional turmoil with music that also demands the utmost vocal prowess of its actors. In contrast to the tendency of Western musicals to present grand, overbearing spectacles, De Jesus' solemn, experimental approach to arrangement featuring a single piano leaves plenty of room for emotions to take center stage. He says, "When you hear the naked voice and one instrument, silence is as important as sound."
Himala itself came as a miracle to Anna Santamaria, the Operations Director of the Sandbox Collective, who had been searching far and wide for original Filipino material to mount. She gushes, "It's a beautiful musical. The music is amazing, and the material is iconic."
"It's the type of musical that I think should've been seen by another generation," says Lacson. With that driving force in mind, he and DeJesus gathered an entirely new cast to set it apart from the previous roster who had been performing Himala for its past iterations over the past 15 years.
Aicelle Santos steps up to the iconic role of Elsa, the enigmatic maiden-turned faith healer whose claims set the events of the musical in motion. It's Santos' most challenging role to date, which is no understatement considering that she has starred as the utterly magnetic Aileen in Rak of Aegis and won an Awit Award for her performance in Manila sa Kuko ng Liwanag.
Kakki Teodoro is Nimia, Elsa's childhood friend who leaves a life of prostitution in Manila behind to open a cabaret, to the dismay of the townspeople. She played Natividad in the recently concluded Aurelio Sedisyoso. For the 2008 Beijing Olympics, Teodoro starred
as the Female Lead in Hong Kong Disneyland's special show. She also goes by the name Ate Maya in TV5's Batibot.
Neomi Gonzales plays Chayong, Elsa's right-hand woman with a tragic fate. Aside from being part of Rak of Aegis and Katy!, she was also in Noli at Fili Dekada Dos Mil.
Sandino Martin is cast as Pilo, Chayong's former lover who is driven to do unspeakable crimes. No stranger to daring roles, his performance in Esprit de Corps, garnered the Best Actor Award at the Cinema One Originals Awards. He also recently acted in Ang Larawan: the Musical, which swept critics off of their feet in the 2017 Metro Manila Film
Festival.
David Ezra is Orly, a filmmaker from Manila who comes to Cupang to document the events as they unfold, up until the bitter end. He also starred in Aurelio Sedisyoso as the titular character, knocking audiences off their feet in the rock sarswela.
Bituin Escalante, who was most recently seen in Stepping Out, 50 Shades! The Musical Parody, and Kung Paano Ako Naging Leading Lady, plays Nanay Saling. Floyd Tena, from Manila sa Kuko ng Liwanag, is the priest of the town, a sober voice in the midst of the religious frenzy. Omar Uddin, who was part of A Christmas Carol, is a child of the town of Cupang.
Joining the cast are Jenny Villegas, Glenda Liao, Cristy Peredo, Matel Patayon, Sigrid Balbas, Hazel Maranan, Raflesia Bravo, Roxy Aldiosa, EJ Pepito, Joshua Cabiladas, Kits Falcis, Roby Malubay, Gary Junsay, Mano Domingo, Neil Tolentino, Eizel Marcelo and Jasper Jimenez.
Rounding out the cast are Onyl Torres, Chuck Hipol, Ivan Panganiban, Alfritz Blanche, Ronna Gubba, Nel Gumalog, Katreen Dela Cruz, CK Manlili, Anjanette Vargas, Hannah Grefaroa, Joshua Isidera, Nhoel Obsequio and Andrew Estacio. Himala: Isang Musikal is an original musical with book and lyrics by Ricky Lee, and music and lyrics by Vincent De Jesus, with direction and set design by Ed Lacson Jr., musical arrangement by Joed Balsamo, lighting design by Barbie Tan-Tiongco and costume design by Carlo Pagunaling.
Heading the production team are executive producer Santi Santamaria, Anna Santamaria as operations director, Sab Jose as Marketing & PR director, Erwin Romulo as creative consultant, Maine Manalansan as design director, Jonjon Martin as PR manager, Perky Parong as production manager and Pat Gascon as stage manager. Ricky Lee and Vincent De Jesus' Himala: Isang Musikal will be showing at the Power MAC Center Spotlight, Circuit Makati from February 10 to March 4, 2018.
Get a first look of the cast performing a medley of songs from the show in the video below.
You can buy tickets HERE.
Comments