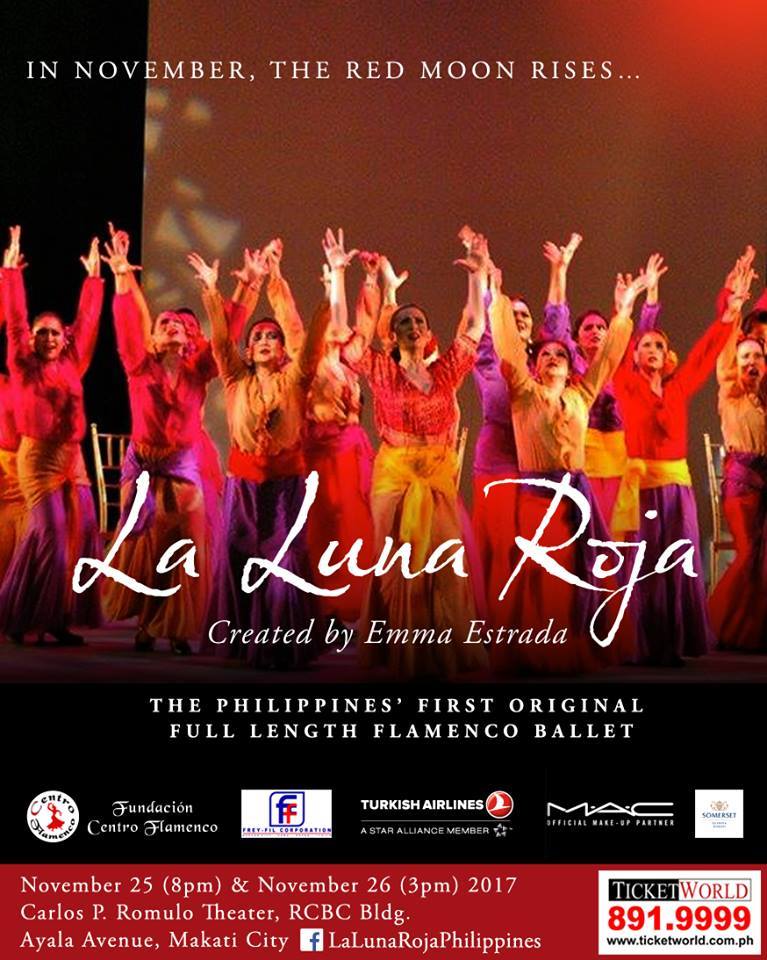 First Full-Length Original Flamenco Ballet 'La Luna Roja' comes to the stage this November
In November, Fundacion Centro Flamenco (Centro Flamenco), the country's premiere Flamenco dance school, shall present what would be the country's first full-length original flamenco ballet entitled "La Luna Roja" (The Red Moon).
The production, directed by acclaimed stage and screen director and actor, Leo Rialp, is an ambitious project created and choreographed by Emma Estrada, artistic directress of the Centro Flamenco. The story plays like a dark fairytale, involving a sorceress, unrequited love, a curse and freedom at the cost of true love's sacrifice. All this told through the passionate and fiery art form that is flamenco.
Joining the predominantly local cast of dancers are special invited guest artists from Spain. Javier Martos plays "Jamil" the stories romantic lead, who also provided additional choreography for the show. He is joined by a trio of musicians; singer Sergio Gómez "El Colorao", guitarist Rubén Campos and percussionist (Cajon) José Cortez. The rest of the cast is led by stage actress and trained flamenco dancer Tami Monsod as the sorceress together with Professional Flamenco dancer and teacher, formerly based in Singapore, Angel Gomez. They are joined by members of Grupo Nuevo Flamenco, performing company of the Centro Flamenco as well as many others.

You can watch a trailer of the ballet below.
This red moon will rise on November 25 and 26, 2017 at the Carlos P. Romulo Theater at the RCBC bldg., Makati. La Luna Roja is brought to by Fundacion Centro Flamenco with the help Frey-Fil Corp., Turkish Airlines, Somerset Olympia Makati and Mac cosmetics.
You can buy tickets HERE.
For more details about what's happening in the Manila theater scene, please view our Theater Calendar.
Comments