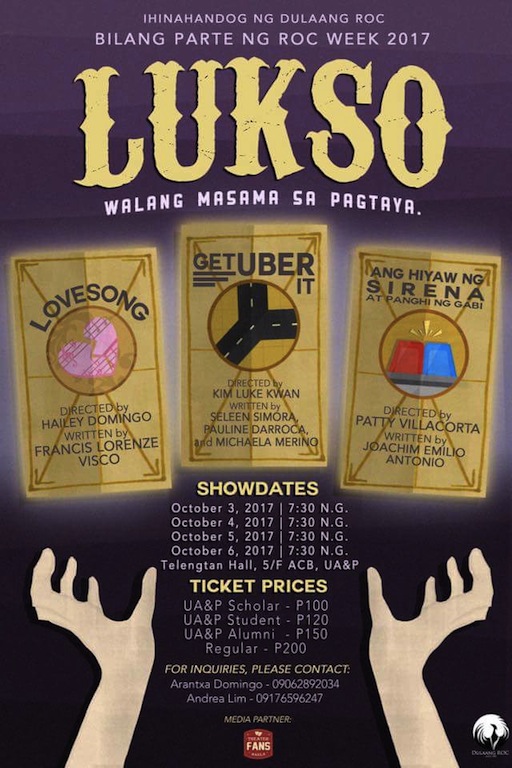 Dulaang ROC Celebrates 28th Year with 'Lukso: Walang Masama sa Pagtaya'
Along with University of Asia and the Pacific's Golden Jubilee, Dulaang ROC also celebrates its 28th year as an organization in the university. To commemorate the dual celebration, Dulaang ROC will stage a 3-play production entitled "Lukso" from October 3-6, 2017 in the Telengtan Hall of UA&P, which is organized and prepared by the new members of the organization. The three plays are 'Lovesong', 'Ang Hiyaw ng Sirena at Panghi ng Gabi' and 'Get Uber It'.
Revolving around the theme "Lukso" which is to take risks, the first play entitled 'Love Song', written by Francis Lorenze Visco and directed by Hailey Domingo, presents a story of friendship and love. Andi asks help from Juni, her bestfriend, to write a song for Tony, the boy she likes. In the process of songwriting and Tony suddenly butting in between, will Andi be able to tell her feelings for Tony? Or will she realize a different feeling when she finds out what has been going on?
The second play written by award-winning playwright Dr. Joachim Emilio Antonio and directed by Patty Villacorta, 'Ang Hiyaw ng Sirena at Panghi ng Gabi' will show a story of two young parents, Delia and Jayson, who are striving for stable living conditions for their family. But if building a good life involves crime, is it still worth it?
"Get Uber It", writen by Seleen Simora, Pauline Darroca and Michaela Merino and directed by Kim Luke Kwan, focuses on the life and love story of Ponso. Being in an UberPool with the driver and 2 other passengers, Ponso narrated his problems of choosing between his law school and his girlfriend. With the passengers intervening in his problems, will Ponso still make the right choose?
This production will serve as the highlight of the organization's week-long anniversary celebration through the ROC Week: Tumaya't Sumaya. Ticket prices are P200 (regular), P150 (UA&P Alumni), P120 (UA&P Student), and P100 (UA&P Scholar). For inquiries, please contact Arantxa Domingo (09062892034) or Andrea Lim (09176596247).
For more details about what's happening in the Manila theater scene, please view our Theater Calendar.
Comments